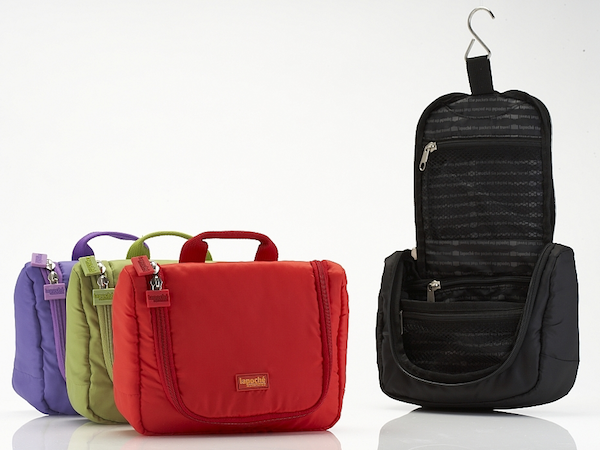 Exquisite design is often quiet and unobtrusive. It is bad (or severely restricted) design that always sticks out like a sore thumb: stairs that are an inconvenient width or height, roads that disorientate and enrage drivers, shoes too uncomfortable or too delicate to do any actual walking in. When physical objects and negative spaces are combined in a way that mimics the organic, responding to the intuitive way that we do things, we are in a designed environment that not only makes life easier and more pleasant, but which is also potentially directing your actions in a subtle manner by creating new patterns of behaviour.
Take my Travel Toiletry Organiser from Lapoché. Designed, and readily available in Australia, it is true to its name: a toiletries bag that actually helps you to get organised when you are travelling. The exterior is made of soft, durable fabric and reinforced with foam, so the contents are protected when it is in your suitcase. The bottom is flat to stand bottles upright, and to take up a minimum amount of table space; there is also a hook to allow you to hang it up, saving you even more space. The front unzips to display a very spacious central compartment surrounded by 3 zippered mesh pouches and 5 side pockets for bottles.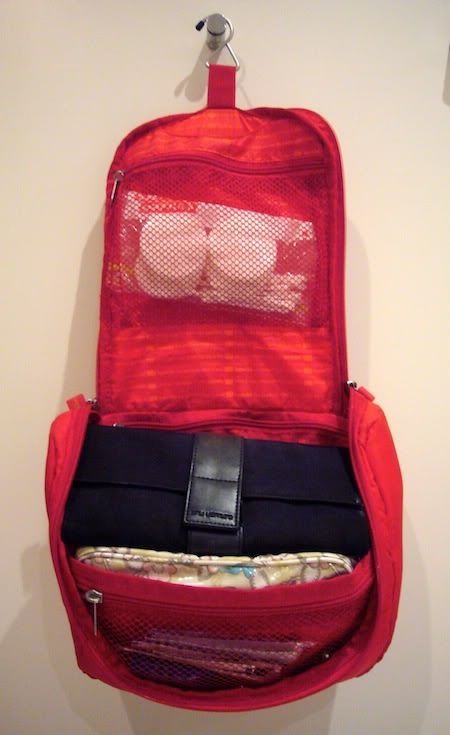 The beauty of the bag is that it is large enough to hold everything that you could possibly want to take on a trip, but it also suits the minimalists because it is both lightweight and compressible in itself. The large, open front means that everything you bring is easily visible and accessible, which helps you to realise when something is either superfluous or missing.
The way I use my Lapoché is to store my body/skincare and hair products directly in the central compartment, and to keep small, delicate or easily-lost items in two separate bags that are zipped into the Lapoché when I am on the go. All makeup goes into a Bloom makeup bag which rests upright, and my makeup brushes travel in a slim Shu Uemura travel roll. Everything - from tweezers to cotton buds to toothpaste - has its own place, and I can locate anything I want in a second.
When I arrive at a hotel, I take out my brush roll and makeup bag, un-pack only the bulkiest products, hang my Lapoché from the hook on the back of the bathroom door, and I'm done! Packing up to go is just as quick and hassle-free. In more than a dozen trips that I have taken with the Lapoché, I have never left a single thing behind in a hotel room.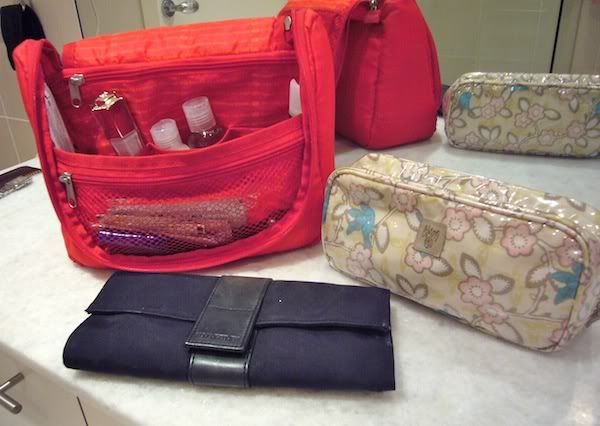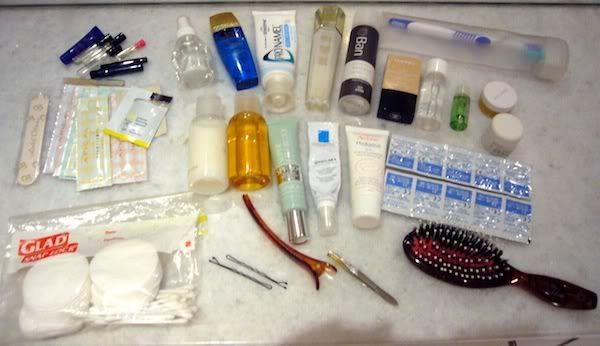 Pictured above is all the contents of the main bag:
Full-sized: Avene Hydrance Optimale Riche, La Roche Posay Effaclar K, Guerlain Abeille Royale Youth Serum, Clinique City Block, Chanel Vitalumiere Aqua, Pronamel (toothpaste) and toothbrush


Sample/travel sized: NARS Potent EFA Cream, Shu Uemura Cleansing Oil, Bioderma Sensibio H2O, deodorant, Hada Labo Super Hyaluronic Acid Moisturizing Lotion (in Guerlain lotion bottle), shampoo and conditioner, DAX Indian Hemp (in travel tub), rubbing alcohol for cleaning brushes (in refillable spray bottle), and various perfumes


Mason Pearson travel brush, tweezers, emery board, hair clip and pins


Zip-lock bag w/ cotton pads and cotton buds


Contact lenses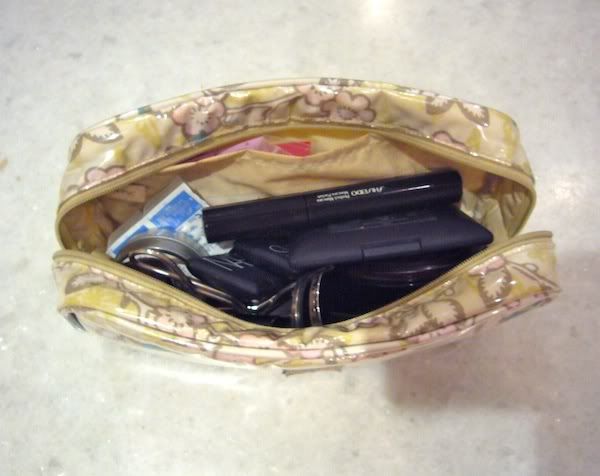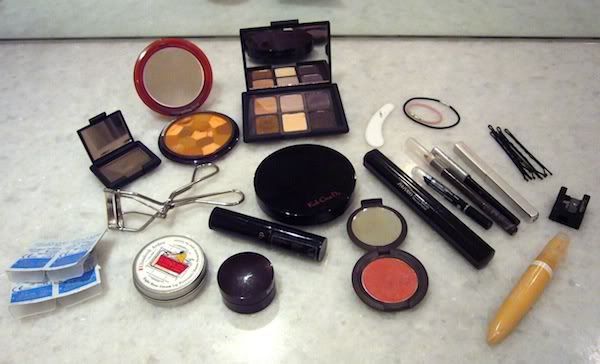 And that's not including everything in the smaller makeup bag:

Eyeshadow, bronzer, pressed powder, cream blush, concealer, under-eye concealer, lip balm


Mascara, eyeliner pencils, brow pencil, eyelash curler


Sharpener, hair elastics, spatula, lip brush, hairpins


Spare contact lenses
If you have noticed that something extremely vital is missing - do not fear! I keep lipsticks as the last, finishing step of my toilette, in a leather case that holds not one, but three tubes, and that fits in my handbag. I find that three (a natural/MLBB, a photo-friendly berry/clove, and a dramatic red) is usually enough to cover all events and situations on a single trip.
Labels: beauty notes, lapoché