Shiseido debuted their Shimmering Rouge Lip Colour with 13 shades last year, following the trend of lipstick/gloss hybrids which also multi-task as lip conditioners (Chanel Rouge Coco Shine, Dior Addict, Guerlain Rouge Automatique, etc.). The shades released in 2011 were mostly warm peachy/pinky nudes, and while they were nothing so demure as the Rouge Coco Shines (can you tell that those are not my favourites?), none really caught my eye in particular until RS619 Venus.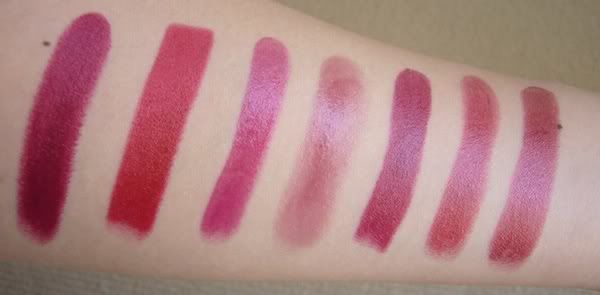 Guerlain Gigolo // Cle de Peau R1 Black Baccara // Shiseido Venus // Chantecaille Heirloom // Shu Uemura WN270 // Guerlain 124 Samsara // Giorgio Armani Armanisilk 30
Described accurately by Shiseido as a "profound reddish violet", Venus (3rd from left) is a newly released Shimmering Rouge from the SS12 collection. Bold and bright, it is fully as pigmented as most lipsticks - a single swipe delivering even, opaque colour - yet has a soft, balmy texture and slightly glossy finish. On me, the wear-time before reapplication is roughly 4 hours with drinks and smoking breaks, which is also similar to a lipstick. When the colour fades, it does so evenly and leaves a hint of a stain.
Comparison with the Chantecaille Lip Chics, my favourite lipstick/gloss hybrid formula, I'm pleased to say, is favourable. Both are extremely moisturising and comfortable to wear. Although the Shiseido Shimmering Rouge is considerably more pigmented and requires greater precision to apply than the Lip Chics (my go-to lipsticks to put on whilst driving or without a mirror), I appreciate its flexibility: you can easily sheer it out to create the effect of a stain, or layer it on to achieve an intense, dimensional look. And like the Lip Chics, the packaging of the Shimmering Rouge lipsticks is light, slim and discrete, ideal for the handbag.
I have worn Venus several times this week at work, and I am finding it to be the perfect pick-me-up for these drab, rainy days Sydney has been having this summer.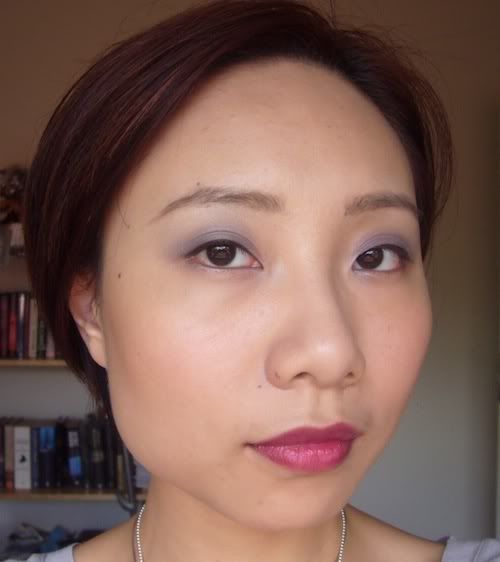 Eyes: NARS Jolie Poupee // Lips: Shiseido RS619 Venus
Floating images of my own disembodied lips somewhat creep me out, but you can see a close up lip swatch of Venus here.
Labels: beauty notes, chantecaille, shiseido