My work day make-up, never very adventurous, has attained a new pinnacle of corporate monotony. I won't bored you with the details; suffice it to say that I have lapsed to a ready-in-5 ethos, and can frequently be seen heading out the door without eyeliner. And what is more: I'm okay with that.
And perhaps it is to counterbalance all that unobtrusive naturalism I wear in the office that, when I do get the time and the inclination to play with colour, I tend to go all out.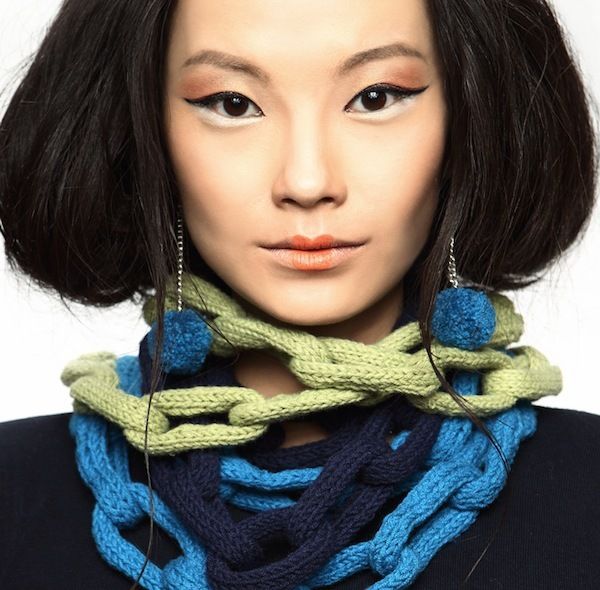 The incredibly adorable Shokay S/S 2012 Campaign
One of the common questions that beauty bloggers get asked: "How do you do make-up on an Asian eye?" 
I have seen lots of very helpful videos on the topic (from Lisa Eldridge, Rae Morris, and others), but without fail, I personally find the question quite annoying and fetishistic. There isn't a one-shape-fits-all, stereotypical "Asian eye", just as there is no such thing as a "standard (i.e. Caucasian) eye". If you have a monolid, or long narrow eyes, or a creaseless lid, my best advice would be to start looking at images of women with monolids, narrow eyes, or creaseless lids. A copy of Vogue China will probably teach you more about make-up that is flattering for your eye shape than I could in a dozen posts. 
That, and practice. 
Take the above image from the Shokay S/S 2012 campaign, featuring a long, eye-lengthening flick of black liner, orange eyeshadow, and rosebud lips painted not in your typical geisha red, but a glossy tangerine. Since my eyes are more rounded than the model's, recreating the whimsical, wide-eyed look on my features took some adjustment in the width and angle of the flick, but the placement of the coloured pigments is more or less the same.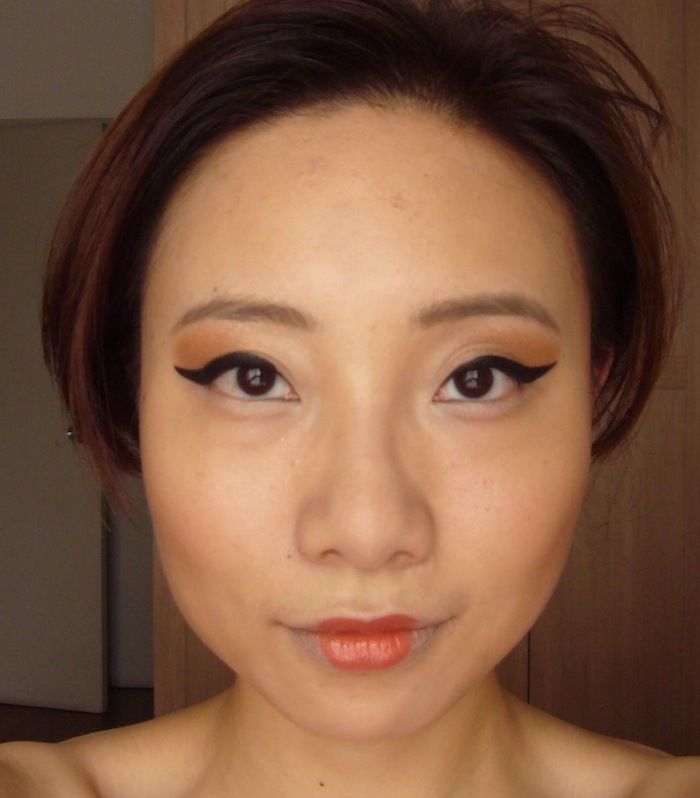 Full coverage foundation would have been better for this look, to more closely match HD "perfection", but lazy as I was on a Saturday, I opted for the minimal coverage afforded by Koh Gen Do Aqua Foundation, with some concealing around the nose, mouth, and under the eyes. Brows were filled in with my current favourite brow product, Cle de Peau Eyebrow Pencil in 101 (a mechanical pencil with built-in brush), and shaped in as much of a rounded arch as I could achieve. My own brows are very straight, nearly-perpendicular to the line down the centre of my nose; to get the same angle in the brows as the model in the photo would have taken more plucking and masking than I was prepared to deal with. (Compromises, compromises…)
To match the eyeshadow, I blended two vivid metallics from Shu Uemura (their names long lost to me, as they were depotted into a palette years ago), for a warm, shimmery orange that stands out just enough from my skin tone. Toward the inner third of the eyelid, I faded the orange slightly with NARS Silk Road, a very glittery pink-nude, and the outer corner was deepened with Kevyn Aucoin Copper, which is more brown and less metallic. 
The white under the eyes would have been best achieved with a pencil, but with none in my stash, I made do with a layer of Shu Uemura P42 (matte white with pink undertone), followed by Addiction Cigarette to better catch the light. A hint of Cigarette also went under the brow as a highlight.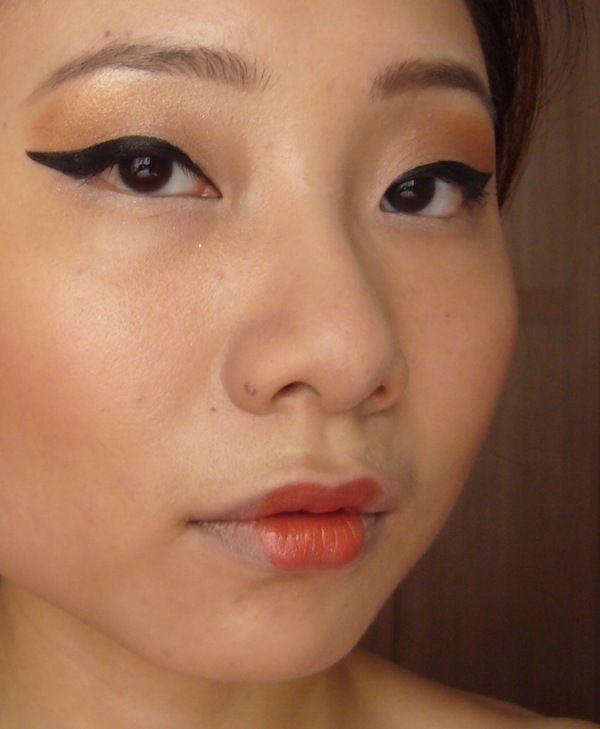 The main attraction, the liner, was drawn in with a liquid liner pen, Lancome Liner Definition in 01 (Black). Its soft, flexible felt tip is not as fine as I would like, but it is very easy to work with, even for someone as unused to drawing flicks as I am. It delivers very crisp edges and dark, velvety pigment. NARS Zen beneath cheekbones and a light dusting of Shiseido RD103 Petal on the cheeks finished off the face.
I am less than happy with the lips - not the lipstick, which is a mix of Shiseido Day Lily and Chantecaille Canna - but with the mauve undertone that peeked through despite the foundation and concealer I used to mask the natural colour of my lips. A seam between face and lips destroys the illusion of skin melding invisibly into the sides of the mouth, and draws attention to the unnaturalness of the painted "pout". A peach corrector might have been more effective here to counteract the dark purple. 
L-R (click to enlarge):
Shu Uemura P42 blush (as a white eyeshadow base)
Shu Uemura metallic orange eyeshadow (discontinued)
Shu Uemura metallic bronze eyeshadow (discontinued)
Kevyn Aucoin Copper (contour)
NARS Silk Road
Addiction Cigarette (highlight)
Shiseido OR418 Day Lily
Chantecaille Canna
Image source: Shokay 
Labels: addiction, beauty notes, chantecaille, cle de peau, kevyn aucoin, lancome, nars, shiseido, shokay, shu uemura