Announcements
If you're new to this blog, then read our guides to the basics: Skin (Part I), Skin (Part II), The Supernatural, Color Theory I, Color Theory II, Eyes, and Brushes.

Also, check out the blogsale.
Contents
· Beauty Notes: McArthur Natural Products

Favored

Art Tattler
the glamourai
The Non-Blonde
Perfume Shrine
Lisa Eldridge
Garance Doré
Smitten Kitchen
Into The Gloss
Grain de Musc
Lacquerized
Res Pulchrae
Drivel About Frivol
The Selfish Seamstress
Killer Colours
Bois de Jasmin
Glossed In Translation
Jak and Jil
Toto Kaelo
Worship at the House of Blues
I Smell Therefore I Am
Food Wishes
The Natural Haven
Messy Wands
1000 Fragrances
Moving Image Source
Wondegondigo
The Emperor's Old Clothes
M. Guerlain
Colin's Beauty Pages
Barney's jewelry department
Parfümrien
loodie loodie loodie
The Straight Dope
Sea of Shoes
London Makeup Girl
Sakecat's Scent Project
Asian Models
Ratzilla Cosme
Smart Skincare
Illustrated Obscurity
A.V. Club
Tom & Lorenzo: Mad Style
Eiderdown Press
Beauty and the Bullshit
La Garçonne
Flame Warriors
Everyday Beauty
Fashion Gone Rogue
Now Smell This
Dempeaux
Fashionista
The Cut
A Fevered Dictation
Nathan Branch
101 Cookbooks
Beauty Notes: McArthur Natural Products
by Li Wen
How much we choose to spend on skincare is a very personal thing, as generally are the condition of the skin, irritations, environmental and dietary factors, and - let's be honest - subjective willingness to believe that a product is making a noticeable difference. The more overtly luxurious a skincare brand is, the less likely I am to mention it on the blog, lest I contribute to the hype that surrounds it with opinions that, by dint of the products' extravagance, must be taken with no small amount of reservation. In other words, above a certain price range, you are buying less and less a dermatological result, and more and more an image and a dream.

Some products - Helena Rubenstein Prodigy Powercell Youth Grafter, for instance - I might cautiously warn against after a bad personal experience, for reasons of sensitivity. But to go so far as a recommendation, a product has to do more than impress - it really has to knock my socks off.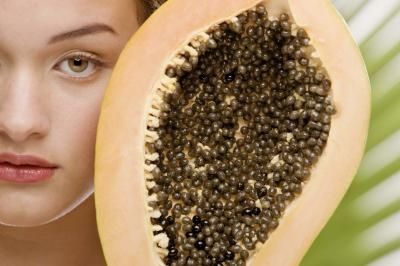 McArthur Natural Products is a range of natural skincare made in Australia. All their products contain pawpaw (papaya) extract, an ingredient known for its excellent exfoliating properties, effectiveness in stabilising oily skin, and high amounts of vitamins A, C, E, antioxidants and enzymes. In fact, the concentrations of pawpaw in McArthur Natural Products are higher than I've seen in any other brands. To make a comparison, the popular Lucas' Papaw Ointment contains only 3.9% fresh fermented papaya fruit, whereas McArthur products will be 25% (Hydrating Facial Cream), 30% (Scalp Care Shampoo), or 60% (Complete Skincare Cream) pawpaw extract.

Pawpaw extract itself is fantastic for treating wounds, sores, extremely dry or rough skin, and skin infections. From the customer testimonials on the website, the McArthur range appears to be popular among Australians living in dry/harsh environments, who suffer from skin conditions or sensitive skin, or who want a gentle product that can be used on small children.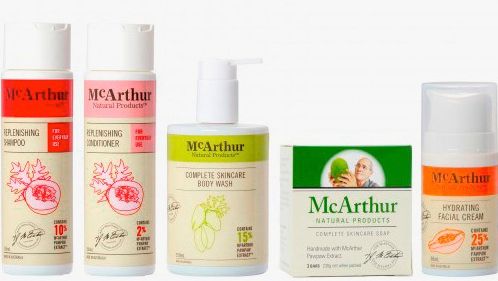 The only product from the range I've tried, the McArthur Hydrating Facial Cream, contains 25% pawpaw extract (Carica papaya). It is a light, unscented cream that comes in an opaque pump bottle to prevent contamination and exposure to sunlight. I apply it to my face and neck last thing at night, an even layer over serum and facial oil. The texture is unlike a normal cream: instead of sinking into the epidermis, it will quickly settle and form a film over the skin, similar to a gel. I will only apply the cream in the mornings if I am staying home, because for the next couple of hours, the film it creates will cause pilling if you apply anything (like foundation) over it.


Ingredients: Aqua (Water), Carica papaya, Prunus amygdalus dulcis (Sweet Almond) Oil, Cetearyl Alcohol, Coco-Caprylate, Glycerin, Caprylic/Capric Triglyceride, Glyceryl Stearate, GlycerylStearate Citrate, Beeswax (Cera Alba), Gluconolactone, Tocopherol (Vitamin E), Xanthan Gum, StearicAcid, Glyceryl Caprylate, Magnesium Aluminium Silicate, Fragrance (Parfum), Citric Acid, Sodium Citrate, Sodium Benzoate

I have combination/oily skin, which tends to overproduce sebum at the best of times, and will breakout in pimples whenever I eat anything dairy. Achieving clear, unmarked skin for any prolonged period is therefore an ongoing battle for me, and I have experimented with all kinds of active ingredients and products over the years.

I started to use the Hydrating Facial Cream around the same time that I dramatically cut back on my smoking and increased my sleep hours, so when my complexion began to improve after a few weeks, I put it down to a combination of factors. Recently, however, I have noticed a great reduction in the oiliness of my t-zone in the morning. For as long as I can remember, I wake up from a night's sleep with build-up of sebum on my skin, a visible slickness on the nose and forehead that has to be washed thoroughly before I can apply any moisturiser or makeup.

That oiliness? All gone after 4 weeks of using McArthur Hydrating Facial Cream. I also haven't had a bad breakout in weeks, despite having eaten cheese and butter, but any other superficial improvements I've noticed in my skin aside, this dramatic reduction in my skin's sebum production would be sufficient for my glowing praise of this product. It made a difference where nothing else I've tried did. I'm very eager to try the McArthur Scalp Care Shampoo and Conditioner next, to see if pawpaw extract is equally effective at controlling my oily scalp.

McArthur Natural Products are not tested on animals, are made from all natural ingredients, and do not contain parabens, sodium lauryl sulphate or propylene glycol. I highly recommend the range for skin that is oily, sensitive, or damaged.

McArthur products are available at the McArthur online store, Pharmacy Online, and selected pharmacies in Australia.

Labels: beauty notes, mcarthur natural products, pawpaw extract
6/27/2013 [3]
Subscribe to
Posts [Atom]. Or
follow on bloglovin'. If
you'd like to contact Dain,
feel free to email me.
I'm also on Pinterest.
Features

The Mnemonic Sense
Most Wanted
The Beauty Primer
Lookbook
Bestsellers
Consumer Diaries
Closet Confidential
On The Label
Beauty Notebook
The Hit List
Color Me In
The Makeup Artist
Wedding Bells
Globe Trotter
Desert Island
perfume notes
beauty notes
fashion notes
culture notes
minimalism
chypre arc
floral arc
fresh arc
masculines arc
gourmands
& orientals arc
Archives

August 2008
September 2008
October 2008
November 2008
December 2008
January 2009
February 2009
March 2009
April 2009
May 2009
June 2009
July 2009
August 2009
September 2009
October 2009
November 2009
December 2009
January 2010
February 2010
March 2010
April 2010
May 2010
August 2010
November 2010
December 2010
January 2011
March 2011
August 2011
September 2011
October 2011
November 2011
December 2011
January 2012
February 2012
June 2012
July 2012
August 2012
September 2012
October 2012
December 2012
January 2013
February 2013
March 2013
June 2013
July 2013
Images

Photobucket