Announcements
If you're new to this blog, then read our guides to the basics: Skin (Part I), Skin (Part II), The Supernatural, Color Theory I, Color Theory II, Eyes, and Brushes.

Also, check out the blogsale.
Contents
· Lookbook: Bronzed

· Perfume Notes: Deneuve

· Color Me In: The Minimalist Makeover

· Color Me In: Carol

· Just Notes: Moving In

· Perfume Notes: Jean Patou 1000

· Globe Trotter: On Location

· Beauty Notes: Warm Red Lipstick

· Globe Trotter: In Transit

· Globe Trotter: At the Airport

· Most Wanted: Something Wicked This Way Comes

· Perfume Notes: Vero Profumo Onda

· Lookbook: Au Naturel

· Culture Notes: High Maintenance

· Perfume Notes: Clinique Aromatics Elixir

· Fashion Notes: Clothing Care I

· Beauty Notebook: DHC Q10 Set

· Color Me In: Dorothy

· Color Me In: Open call for models!

· Fashion Notes: Shoe Advice from Bruno Frisoni

· Perfume Notes: YSL Y

· Beauty Notes: An Ode to All About Eve

· Culture Notes: The Cult of Skinny

· Perfume Notes: Chanel Cristalle

· Sketchbook: Dorothy

Favored

Art Tattler
the glamourai
The Non-Blonde
Perfume Shrine
Lisa Eldridge
Garance Doré
Smitten Kitchen
Into The Gloss
Grain de Musc
Lacquerized
Res Pulchrae
Drivel About Frivol
The Selfish Seamstress
Killer Colours
Bois de Jasmin
Glossed In Translation
Jak and Jil
Toto Kaelo
Worship at the House of Blues
I Smell Therefore I Am
Food Wishes
The Natural Haven
Messy Wands
1000 Fragrances
Moving Image Source
Wondegondigo
The Emperor's Old Clothes
M. Guerlain
Colin's Beauty Pages
Barney's jewelry department
Parfümrien
loodie loodie loodie
The Straight Dope
Sea of Shoes
London Makeup Girl
Sakecat's Scent Project
Asian Models
Ratzilla Cosme
Smart Skincare
Illustrated Obscurity
A.V. Club
Tom & Lorenzo: Mad Style
Eiderdown Press
Beauty and the Bullshit
La Garçonne
Flame Warriors
Everyday Beauty
Fashion Gone Rogue
Now Smell This
Dempeaux
Fashionista
The Cut
A Fevered Dictation
Nathan Branch
101 Cookbooks
Lookbook: Bronzed
by Dain

From François Nars' Makeup Your Mind, a very young Adriana Lima.


Bronze is not one of the looks I personally favor, but it has been very popular of late, approximately parallel to the rise of Gisele Bündchen who perhaps best epitomizes the modern bronzed beauty: beachy glamourous, wind tossed hair, toasty, dewy skin. It is in truth a variation on au naturel, albeit with a seasonal twist that makes the appropriate deferences to deeper, shinier complexions. Consequently, some of the elements are the same, so I will dispense with any discussion of undereye concealer and groomed brows.

THE BASICS
the tan A natural tan is by far the best, imparting a glow to the skin that cannot be mimicked by tanning salons and the million variants on fake bakes that flood the market. I speak only of optimum aesthetics, without concerns for health hazards, which everyone has already heard. Too dark a tan is an obscenity, you should look healthily sunkissed, no more. Recommended products: I have minimal experience with self-tanners, so I can only point to the industry classics by Clarins or Jergens.


mascara Because a tan adds color to the face, the bronzed look requires less makeup overall. Just a touch of mascara will do, one that won't smear or budge in the humidity, which you can enhance with some black liner on the inner rim. Recommended product: Kiss Me Mascara.
OPTION 1
If your tan is perfect and requires no enhancement, the most longlasting, fuss-free option is a multipurpose pigment like Becca Beach Tint or NARS South Beach Multiple, or even better, both. Dab the watermelon-tinted Becca on cheeks and lips, and add a veil of amber shimmer with the NARS (especially the eyes).

OPTION 2
For an extra touch of sun, a good bronzer like Guerlain Terracotta, no shimmer, no orange, should be applied with a large, dense, flat-top brush like Trish McEvoy #5 to the parts of the face that sunlight will hit: the forehead, the tip of the nose, the chin, and the cheeks. Follow with rose-terracotta blush, such as NARS Dolce Vita, as a natural tan is not an even brown, but glows and flushes all the more. For lips, a natural tawny is a subtle complement, but why not take the opportunity to wear some bright, juicy lipgloss, such as coral or watermelon, so fresh against summer skin? Recommended products: Revlon Raisin Glaze SuperLustrous Lipgloss (a sheer rose-tawny), Fresh Desire Gloss Absolute (cherry popsicle).



ADDITIONS
A bit of gold highlight can look absolutely delicious on bronzed skin, especially on the eyes. Summer is not kind to makeup, so less is better and less is required, but if you cannot bear such nakedness before the world, a slick of black liquid liner is a simple but flattering touch. Tans will let you get away with brighter colors, so this is one of the few times that blue or mint eyeshadow or any chalky pastel will look more appropriate than bold.

Labels: becca, clarins, fresh, guerlain, jergens, kiss me, lookbook, nars, revlon, trish mcevoy
8/30/2008 [2]
Perfume Notes: Deneuve
by Dain

Gustave Klimt, The Kiss (1907-1908). A bit of cliché, but it fits so well.


"Celebrity" is a dirty word for perfume, most of the time. Hit or miss industries, such as perfume or poetry, find themselves better served by eccentric theatrics rather than the more genial conventions of fame, fortune, and beauty. People seem to expect perfumes to lend an aura of distinction to their presence, if not an intellectual challenge outright, and perhaps a starlet of dubious talent is less than compelling. As Victoria Beckham put it, "I'm not sure anyone would want to smell like me," and yet this does not hold universally true, after all magazines can no longer sell covers without borrowing a celebrity face, and it need not be A-List. I can offer no substantive theories on why celebrity perfumes are maligned, and why obscurity only seems to fuel the furor behind rare, limited edition, vintage, and discontinued fragrances, as they are technically made by the same people (noses and houses), but here at least is one eponymous juice that has attained cult status. Certainly, it helps that public opinion of Deneuve is reverent (rather than merely entertained); known simply as "La France" by her countrymen, it is not too difficult to aspire to a YSL-clad, cold exterior of creamy skin and perfect blonde coiffure. It also helps that Deneuve has had many intimate associations with perfume: she was the face of Chanel No. 5, was the inspiration for Guerlain's Nahéma, and ecstatically recommends Frédéric Malle.

But most of all, Deneuve is just plain good—a complex succession of notes, from a heady floral top built on geranium, neroli, and ylang ylang, settling into the resinous intensity of sandalwood, galbanum, amber, and cloves, with earthy hints of patchouli and iris. And yet, it does not veer into ponderous gravitas, for all that it is so darkly ornamented, a golden sweetness illuminates its whole, as if someone has bottled up a particularly fine sunset for Ms. Deneuve.

OTHER REVIEWS
Basenotes
Fragrantica

Labels: catherine deneuve, celebrity, chypre, gustave klimt, perfume notes
8/29/2008 [0]
Color Me In: The Minimalist Makeover
by Dain
Makeovers are very well for static editorials, but they rarely translate into real life. One cannot, after all, incorporate such things as hours of expert hair and makeup, perfect lighting, and extensive Photoshop into everyday existence. In deference of that fact, I've never really followed the exotic color stories offered bi-monthly by brands like MAC. Makeup does have transformative powers, but one does not want it to take over: most women want to look better, not unrecognizable.

In the future I'm planning to explore some bold looks on myself, but first I figure it may be best to show the constants that provide the foundation for all other looks, whether natural or dramatic.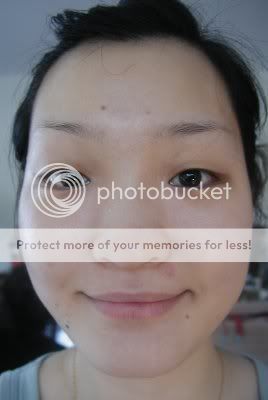 On the left, my naked face (just moisturizer), which is the usual, as I find that makeup is corrosive to my sensitive skin. As it's summer, my complexion is shiny and slightly irritated, and there is a sallow darkness around my eyes, which is perpetual even when I have slept (insomnia). As you can see, my face is a black-white-palette, and my greatest danger is looking like lifeless wax (the light doesn't help either). Plus, my brows are uneven. Nothing too bad though, it's hard to look terrible when you're young.

On the right, it's a world of difference. The lighting is somewhat warmer, because it was later in the day, and I've applied makeup. None of it is "statement makeup"; I haven't even applied blush or mascara. It's all just subtle improvements that target the weakest parts of the face:
First, using my ring finger, I dabbed some creamy concealer under my eyes, especially the inner corner. There was some irritation on the corners of my nose as well, for which the concealer was useful. I used: Cover Girl Invisible Concealer ($5).
I used a porous sponge to apply some pressed powder, which mattifies my skin and provides just a touch of coverage to even out the skin. That's right, from "before" to "after", I never opened a bottle of foundation. I find that most non-translucent pressed powders have coverage that's equivalent to a tinted moisturizer, especially if you need a matte finish. I used: Besamé Cashmere Powder Compact ($22).
Normally, I'd apply mascara, but I knew I'd be applying eyeshadow after this shot, but I did smooth a little creamy black pigment between my lashes along the inner rim, a technique formally known as tightlining. It strengthens the lashline, making my eyes look bigger and brighter. I used: Too Faced Lava Gloss ($16.50), a really intense black with a gel texture that's soft but doesn't meander too much.
Groomed brows are significant shift, they provide strength and structure to the face. I've filled mine in with some brow powder and set the arch with gel. I used: Anastasia Brow Powder Duo ($22) and Brow Gel ($21).
A little lip balm, in preparation of major lipstick, because dry, flakey lips are an enemy to bold lips. I used: NARS Venice Lipstick ($24), a very sheer silvered baby pink, not technically lip balm, but I didn't want anything too greasy.
As you can see, rather a lot of work (but not too much) is involved, for a look that's completely devoid of color cosmetics, but you can definitely tell the difference. I look much more vibrant and alive in the image to the right than on a truly makeup-free face.

Labels: anastasia, besame, color me in, cover girl, nars, too faced
8/27/2008 [0]
Color Me In: Carol
by Dain
A repost for Carol...


Here is Carol, one of our most beloved readers. If you too would like to be featured, be sure to submit the following information to me for a virtual makeover.

FIRST NAME Carol
HAIR COLOR dark brown
SKIN TYPE combination with oily forehead/nose, dry & acne-prone cheeks and chin
SKIN TONE medium with lots of pink undertones
EYE COLOR hazel, a mix of brown, green, and gold.
MAKEUP STYLE natural for everyday, but I do like to experiment with color when I dress up
SPECIFIC CONCERNS I'm getting older and am noticing some changes around my eyes, but got a rollicking case of milia from using too rich of an eye cream, so I'm reeeeally hesitant to experiment any more with them. My pores seem to look gigantic these days too. Mostly, I've got hyper-uber sensitive/finicky skin that likes basic, gentle products. I'm horrible at doing eyeshadow so mainly stick to washes. My cheeks eat blush. I've yet to find something that doesn't complete vanish in a ridiculously short amount of time.
TOP THREE FAVORITE PRODUCTS lipstick, in particular NARS Shanghai Express and Kevyn Aucoin Enchantaberry, mascara, and aloe vera gel.


First off, it looks like Carol's skin has some surface irritation that exacerbate the pink tones of her complexion. Since skincare is always a good place to start, we might want to begin by working on a regimen that really soothes and calms her skin, but keeping it as simple as possible (which is a good rule for all skin types, but especially true for sensitive skin). And though there's no such thing as anti-aging, a gentle exfoliant and a rich, healing moisturizer to "plump" up the skin does go a long way. Dr. Hauschka's Cleansing Cream ($23.95) is the gentlest exfoliant I know of (unless you are allergic, like me), because it does not tear at your skin the way most other exfoliants do: you "press" this onto the skin, instead of scrubbing, add a little water, and the almond meal liquefies and somehow lifts away everything nasty but leaves the skin intact, just purified and lightly moisturized. It can get expensive, but fortunately, you can make it at home for a fraction of the price:
grind up whole, unroasted almonds in a coffee grinder
mix well with a light oil, such as grapeseed oil
add some cooled, strong herbal tea, I like lavender and chamomile (four bags)
add a tablespoon of honey
let the mixture sit for a day before using
All of these ingredients are easily found at the supermarket, and I find the paste is actually quite a delicious alternative to peanut butter. For moisture, perhaps we can combine the calming properties of Carol's favorite aloe vera with restorative calendula, such as this California Baby Calendula Cream ($10) (there's also an aloe-vera cream which is probably lighter, it has calendula in it too).

A bit of undereye concealer, mascara, and well groomed brows are standard, so let us consider Carol's more specific concerns.

Unfortunately, pore size is not something you can do anything about, though it helps to keep them clear of clogs (which stretch the pores). The solution has to be cosmetic: a silicone-based primer and a very finely milled powder to smooth and perfect the texture of the skin. Neither primers or mineral makeup is my area of expertise, but fanatics insist that Smashbox Photo Finish ($36) and Jane Iredale ($48) are the absolute best splurges. It seems to me that Carol's issues with blush is that pigment is easily swallowed by the pink tones in her skin. It may help to begin by choosing a foundation with a pronounced yellow tones to counteract ruddiness, and instead of blush, try out a bronzer such as Wet 'n' Wild Bronzzer ($2.99), which should be brushed wherever the sun naturally hits the face: the top of the cheekbones swept to the temples, the bridge of nose, the chin, and the forehead. Then, because the skin does get a little ruddy when its gets real sun, add a pop of blush on the apples of the cheeks.


Now that we have addressed "natural improvements", let us consider the more expressive world of color makeup. Carol luckily has the kind of coloring that can easily work almost any shade: she is neither too pale nor too dark, and her brown hair and hazel eyes are a human neutral. Since she already has some favorite reds, I've tried to work around those favored lipcolors. If Carol's looking to experiment with a next NARS duo: NARS Sugarland ($32) may be an excellent choice. One side is a golden peach-pink that would flatter the green/gold tints in her eyes, and can be worn casually no matter what her lipstick choice that day might be, and the gilded orchid is a touch more color but still quite flattering. Since Carol tends only to use shadow as a wash, it may be a wise decision to invest in a small, soft, dense, tapered detail brush (there are many out there at a range of prices). She can use this brush to brighten the inner corner of the eye, or sweep a rich jewel tone around the outer corner of the eye for a subtly smoky eye. I find this is much easier when you layer a powder over a bronze pencil, which ensure that the pigment is both soft and intense, making sure to balance the pigment along both the upper and lower lashline. Here are some suggested colors for experimentation: a rich plum-brown, a darkly lit emerald such as L'Oréal HIP in Gunmetal, or a chalky periwinkle blue.

Labels: california baby, color me in, dr hauschka, jane iredale, l'oreal, nars, smashbox, wet n wild
8/27/2008 [2]
Just Notes: Moving In
by Dorothy
I'm moving into a new apartment at the end of this week, in preparation for the school year. I'm preoccupied, of course, with the bare practicalities of flying myself and my stuff to the town where I go to school; I left a lot of my stuff there over the summer, but moving is always a pain. But I am starting to fuss about decorating the place as well; the previous tenant was a bit of a Hugh Hefner wannabe, and although his vintage soft-core porno ads are gone, he left behind some vaguely mod-looking furniture. (It is cheap furniture, and shipping it would have cost more than replacing it. I am tempted to slipcover it in the most obnoxious floral prints I can find, but that would annoy me too.)

I think I could spend a lot of money decorating, if I had it to spend, but it makes no sense to spend significant money on an apartment I'll only have for a school year. I am looking forward to bringing in a few things that may make the place a little more mine:



Yves Rocher Pivoine is incredibly pretty, one of the softest, cleanest floral scents I've ever smelled. I think I might be too curmudgeonly to wear such a sweet-and-innocent scent in EDT, but the soap, shower gel, etc. are charming. The hand soap is $10 CAD at regular price ($7.50 on the American site), but Yves Rocher has very frequent sales, and last week they were selling this for $4 on the Canadian website. Also, the bottle is hella girly, which will help to get rid of the aura of swingin' bachelor pad (and I can easily decant the soap and recycle the bottle if I later find myself entering an "ugh, no more girly pink crap" phase).


I'm not really big on cooking. I joke about being incompetent, but it's more that I just don't enjoy it. Coffee, on the other hand, I love; I love the whole process. Since I don't have the space or money for a good espresso machine, I use stovetop moka pots; the classic ones, made by Bialetti, are widely available (prices vary by size, but the 6-cup size -- bear in mind, by "cup" they mean espresso cup -- is currently
$24.95 on Amazon
).
I hope
these mugs
become available again, because I think they're adorable. I also collect teapots because I love the way they look, but I've decided I should stop; it's silly to have more than one teapot when you don't really like tea.

I don't really own any art and I don't like buying posters at university poster sales. I'm not really much of a photographer, but I enjoy playing with my Holga; it's terribly hipster-pretentious ("ooo, look at my 'cheap camera' that isn't actually remotely cheap, I'm so ironic"), but I do like the vignetting and the light leaks, and I occasionally get a shot I like enough to blow up and frame, at least temporarily. Aside from that, I expect I'll mostly be decorating the walls with chiyogami -- not exciting, maybe, but cheap and portable and more homey than bare walls (and hey,

something

has to take the place of the porno ads).



In other news, I need something to read on the plane back to school. I'm thinking I will re-read

Wuthering Heights,

since I am in a cynical mood and a friend's description of this book -- "a slow and steady descent into hell" -- sounds more appealing than usual right now. (

Wuthering Heights

is still marketed as a love story -- how many generations of readers has it disappointed? And yet it's fantastic, just not what people are led to expect.) I already own a copy of

Wuthering Heights,

but I'm always tempted by Norton Critical Editions; I made a crappy English major, but I still love reading litcrit.

Labels: bialetti, lomo, notes, yves rocher
8/27/2008 [18]
Perfume Notes: Jean Patou 1000
by Dain

YSL's impeccably tailored Le Smoking.


1000, pronounced in the French, "mille", famously derives its name from the number of trials that nose Jean Kérleo created before its final incarnation was deemed perfection, though such declarations are perhaps impossible in the face of the vagaries of personal opinion.

It is a floral chypre, spun into rich gold, nothing too much or too little: there's a hint of honey and powder on muffled florals, its animal urges tamed. Chypres can be downright bizarre, as oakmoss can take on qualities of bitter green or thick dust by turns, but 1000 is only tastefully offbeat, it speaks quietly and politely, accented by old-money diction. All perfumes depend on an interplay of shifting notes over time—molecules with differing evaporation rates—which the attentive nose may follow, like silent music—1000 might be akin to Mozart's Figaro. A full ten years of painstaking (re)work, the craftsmanship is evident in every exquisite, complicated facet, and though the notes are somewhat unusual, nothing jars or snags at your senses. The first generic impressions include overripe apples, vaguely indolic jasmine, and patchouli clawing its way from a mossy base, but patience will tease out 1000's meticulous, expansive complexities: the bergamot top of the classic chypre is smoothed into a gentle effervescence, punctuated by green, aromatic angelica and icy eucalyptus, while the oakmoss bottom of the classic chypre, rounded out by vetiver, patchouli, sandalwood, and civet, lends an earthy, quasi-masculine foundation for the grand, mellifluous floral heart.

Here, the classic floral patterns of bright, soaring rose, violet powder, and indolic jasmine, ever so costly and rare, do make their presence known, and indeed 1000 is ultimately intended to be a floral, and yet it is without the diamond-encrusted dazzle of its elder by Jean Patou, JOY, displaying instead a sense of discretion that is truly the quintessence of good taste. The complex chypre base provides an air of sobriety, and it is osmanthus, a flower of Chinese origin that has a green, apricot-y aroma, accented by nutty, herbaceous coriander, that takes up central position within that vast but subtle network. 1000 is not a customary floral by any means, but one that is creamy-smooth, mossy-dense, and honey-golden, not dark but full of subtle shadows. It is, like Le Smoking, an alluring combination of intrigue, refinement, and smirking self-confidence.

OTHER REVIEWS
Perfume-Smellin' Things
Basenotes
Makeupalley
Fragrantica

Labels: chypre, jean kerleo, jean patou, osmanthus, perfume notes, ysl
8/26/2008 [0]
Globe Trotter: On Location
by Dain
Packing is an art, it requires a fair degree of self-knowledge and prescience, a combination not too frequently seen even in the homebound. You should be able to answer the following general questions:
What works for you? This is perhaps not the best time for wild experimentations. Bring what flatters.
What kind of weather are you likely to expect? A very important concern, for obvious reasons. A honeymoon in Tahiti, a business trip to Tokyo, your parents' for Thanksgiving, and a road-trip in Alaska all pose markedly different sartorial demands, which should lead us into the next question...
What are your plans? Whether your trip is for business or pleasure, you should consider the duration of the trip and how mobile you will be: whether you intend to remain very stationary, walking around sightseeing, or roaming from location to location.
Other than that, I always try to keep it simple, excepting extreme situations such as hardcore safaris in remote locales, where deodorant, rather than lipstick, is the more crucial.

LUGGAGE It should be easy to carry around, for I find that massive luggage distracts at the mind, with at least one interior pocket for dirty underwear. I like the crisp, graphic look of T. Anthony's duffle, the Concorde ($395) shown above.
BOTTOMS Always, always, work around your bottoms. For a week, two is a good minimum, including the neutral, durable pants that you have worn in transit, which will function as the basis of more casual outfits when you are on your feet all day. The other you will pack, something more specific to the nature of your trip, be it sober trousers for business meetings or a bright and flirty skirt for drinks on the beach. For each successive week (up to a month), it may be advisable to add yet another bottom.
TOPS Rather than anticipating every possibility with too many options, it is far more smart and sensible to bring just a few very chic, very flattering tops. Women are often discouraged from repetition (privately I think, to encourage sales), but who gives a shit? Chic is appropriate any time, any where, and requires no translation. Other than to match my tops to my bottoms, two to four blouses will do for a week (add two for each successive one). At least one should be plain and sensible but beautifully tailored, such as this ecru silk Fendi blouse ($925), should the occasion demand quiet dressing, and at least one other should be more relaxed, such as this pleasingly darksome ivy print from Stella McCartney ($995).
DRESS I always pack on or two. They take the stress out of dressing, as they are complete outfits, and they are perfectly appropriate for more festive events with heels. This Dries Van Noten frock ($1309) almost makes a point of declaring, "I'm here to enjoy myself."
LAYER This is usually a cozy cardigan in a subtly contrasting hue, though a jacket is also an excellent (if more wrinkle-prone) option. With the colors and somewhat conservative shapes chosen here, I felt that the rich burgundy and oversize fit of this Lutz & Patmos cardigan ($475) would hit just the right spot.
ACCESSORIES Nothing too flashy, but with plenty of impact. My selections are clearly geared towards a fairly northern, urban destination, so I've chosen some Manolo slingbacks, exquisite but low in the heel, some delicately feathered Alex Monroe hoops ($415), and a diehard pink Chanel, restrained to the minor impact of a clutch, when one roams the streets at night, rather than be bound to a heavier day bag.
SLEEP I bring a chemise, like this ethereal Myla babydoll ($87) as I hate to be hindered by too much weight while I sleep, and it takes up very little room. Also plenty of underwear, more than you think you may need.
BEACH If your vacation involves the sun and surf, a bikini, sandals, and a towel (I always bring a towel, in any case).
FINALLY, another book. I know they're heavy, but I've never severed that particular umbilical dependency. I need to have at least three books at hand no matter where I go.
This list may seem quite sparse to you, but I guarantee you, it may surprise you how easily you can do without, how much more dignified it is to rely on just a few especially beautiful pieces. Remember that you bring on your person more casual options: the pants with the Stella McCartney blouse and madras-print Chucks and feathered hoops, with the Indian-print scarf for a little extra punch, that's a complete outfit right there, for say visiting the local museums, whereas the skirt topped by the striped heart-pocket knit and saffron peacoat (both from A.P.C.) and Manolos might make an excellent choice for meeting friends at a nice restaurant.

As for beauty products, I just bring the essentials, in mini sizes if available, and a few multi-taskers. I think palettes are smart, but I am much too particular about shades to be satisfied with any of those that are available. Everything goes inside the clutch, in transit it functions perfectly as a makeup bag.

PERFUME It's tricky stuff to bring onto a trip, sometimes I eschew the issue altogether and get myself something new at Duty Free instead. But Frédeacute;ric Malle makes travelling perfume not only easy, but chic, with his sleek, metal-bound travel case ($130), which you can fill with any of his fantastic scents.
MULTI-PURPOSE OIL A bottle of jojoba oil to moisturize the face, body, and hair (especially if you are going to spend a great deal of time in the sun). I hope someday there is an unguent formed from this precious liquid, that one can use in like fashion with much less mess.
SUNSCREEN It's a good idea even if you're not planning to go sunbathing, as we most always get more sun than usual when we travel, simply from walking about. Shiseido's Ultimate Sun Protection Cream SPF 55 PA+++ ($33) is my favorite, it is pleasant in both scent and texture, rare among sunscreens, and it is also offered in a fluid that is somewhat lighter.
CONDITIONER, AT LEAST I can do without a special shampoo, I'm happy to use hotel soap, but a good conditioner is a must. Bumble & Bumble offers their does-what-it-claims Super Rich Conditioner ($8) in 2 oz travel sizes.
CONCEALER & BLUSH Don't fuss too much, you're on vacation! A dab of concealer there and a little rosy blush here will erase the signs of fatigue: I like Clé de Peau Concealer ($68) and Becca Wild Orchid Crème Blush ($28), they require no additional tools because they blend so well with your fingers.
LIPCOLOR A shade that is rich and sophisticated, bring a favorite, so you know how it will perform.
BROWS I find that faces look weak if brows are not filled in and groomed well, so include a brow pencil, such as Kevyn Aucoin's slim The Precision Brow as well.
EYES I bring mascara and some smudgy, smoky kohl, and an eyeshadow in a pretty, flattering shade that can be applied with a finger, like Chanel Lavande ($28), but otherwise I keep it simple, you can always pick up a cool new palette of shades at Duty Free.
OTHER NECESSITIES Tylenol PM, I have trouble sleeping even in normal circumstances, much less under the influence of jet lag, flashy Marvis mini toothpaste ($6), a brand new tooth brush, some deodorant, incense (for stinky hotel rooms), and some tampons and comdoms, just in case. If I'm planning a stay longer than a week, I also bring a small bottle of Dr. Bronner's, like the jojoba oil, it is multipurpose, sufficing as laundry detergent in a pinch.
That's pretty much it. You want to be prepared for all eventualities, but the last thing you'll want to do is approach your travels with an attitude that tries to control every aspect.

Labels: alex monroe, becca, bumble and bumble, chanel, cle de peau, dries van noten, fendi, frederic malle, globe trotter, kevyn aucoin, lutz and patmos, manolo blahnik, marvis, shiseido, stella mccartney
8/25/2008 [3]
Beauty Notes: Warm Red Lipstick
by Dorothy
I'm new to fashion and beauty blogging, and because I'm obsessive and undisciplined and almost everything I know of cosmetics is the product of my own explorations, I know a lot about the things that interest me and very little about other topics.

Red lipstick is definitely one of my obsessions. I think I might one day end up being one of those women who wear red lipstick all the time, although I'm too shy for that now. My experience supports Dain's contention that we are particularists in the shades we buy, acquiring multiple variations on the same colour. In my case it's really a spectrum, coral through warm red; I'm not nearly as interested in the nude or the tastefully understated.

My preferences are partly a function of having unusual colouring. I'll probably end up writing more about this because it's one of the major reasons for my interest in cosmetics. I don't understand the theory (or theories) of undertones all that well, but sometimes I think that's because nobody quite has it worked out. I've read that pale women of European descent invariably have cool pink undertones to their skin (um, no); I've been told my own skin is everything from "very pink" to "olive-y". It doesn't really signify, since the upshot is always the same: I can't wear most "universal" shades, they are either boring or flat-out awful on me. Blushes look sickly or too dark, lipsticks turn mauve or fuchsia, and "true, neutral reds" are not. I fairly easily found a blush that suits me (MAC Tenderling, a sort of washed-out terra cotta) and stuck with it, but I find lipsticks more interesting and more variable, and red lipsticks especially so.

I suppose I could go into detail about all the different kinds of red lipsticks I've tried, but I think that would get boring, so instead I'll just list my favourite warm reds in three categories: bright, true (but still warm), and dark.



Bright red:

MAC Lady Danger ($14) is fantastically late-'40s, an uncompromisingly bright, matte orange-red that lights up pale warm-toned skin, although it can be a little overpowering -- but then, that's true to the era. The swatches on the MAC website are useless, and unfortunately I no longer own a tube, but I shall keep looking for photos. My cursory Google search turned up a good Flickr photo of a woman wearing it; her colouring is similar to mine.

Similar shades: MAC So Chaud (practically the same colour as Lady Danger, so I have no idea why they sell both), Julie Hewett Belle Noir (which is what I currently own). The brightest orange-red I've ever seen is NARS Heat Wave, but I think you need a tan and a serious attitude to pull that one off; on me it's hideous.





True-but-warm red:

Ah, Guerlain. You've produced such beautiful, classic perfumes; whatever possessed you to name a line of lipsticks "KissKiss" and put them in this tastelessly bling-y packaging? (It doesn't look so bad in this photo, but bear in mind, it's large, and this is what it looks like with the cap on. Some people like it, but to me it's very LOOK AT MY EXPENSIVE MAKEUP.) Never mind. Sexy Tango ($29) is a beautiful, flattering red, not nearly as dark as it looks in the tube but not overpoweringly bright, with just enough orange, brown and rose to make it wearable for someone with warm undertones. The texture is balm-like, not dry, and the staying power is surprisingly good. I ordered mine from StrawberryNet, since Canadian retail prices are absurd.

If I had to pick one red to live with, it would be either this or MAC Chili, another matte lipstick in a beautiful bright brick red. Again, MAC's own swatches are crap, so here's a very unglamorous photo of my own tube.

Similar shades: MAC Lady Bug, NARS Manhunt and Flamenco. All three of those shades are slightly cooler than Sexy Tango; I find them slightly too cool (yes!), but most women probably won't.




Dark red:

I think Julie Hewett's Noir lipsticks ($22.50) are excellent, as highly pigmented as MAC's Mattes but smoother and less drying, and the tubes are gold-tone packaging done right, not too large or heavily ornamented. Coco Noir is as close to dark, gothic red as I care to go (which is to say, not very). The website sells it as a red for women who think they can't wear red, which I don't understand, because although it's fairly neutral, it's a strong colour, even on women with darker skintones than mine (see The Non-Blonde's review). If you think you can't wear red you should probably pick a more toned-down shade, something with a lot of rose or brown in it, and apply it lightly until you get used to the strength of the colour. Dain has recommended Bésame Red Velvet, which I can't try because I refuse to pay $18-$25 in shipping charges for one tiny lipstick(!?!?!), but I'd suggest experimenting with MAC or Lipstick Queen lipsticks; each line has a great number of variations on red, including several softer, more toned-down shades.

Incidentally, Julie Hewett's lipsticks are available in Canada through Essential Day Spa, and the prices are not stupidly marked up.

Similar shades: Sue Devitt's Great Australian Bight is very similar in tone to Coco Noir, but browner and not as heavily pigmented. NARS Velvet Matte lip pencil in Forbidden Red is described as "brick red," but it's more of a ruby on me, slightly more orange than Coco Noir and not as deep.

Labels: beauty notes, guerlain, julie hewett, mac
8/24/2008 [8]
Globe Trotter: In Transit
by Dain
Walk softly and carry a big bag. Or in this case, Anya Hindmarch's Shirley ($995), which is not only an objet d'art (albeit discreetly so) but actually designed for travel—it's no coincidence that the front pocket is just right for a passport. This is where you carry the essentials, which I urge you to strip to a minimum:
gum & chocolate To clean teeth, freshen breath, and alleviate nausea and the changes of pressure when you change altitudes, I keep a pack of Orbit's Mojito Mint gum handy. The chocolate (I like Schaeffen Berger's chocolate dipped figs) has a more psychological purpose, even though I'm not particularly partial to chocolate. It stalls the pangs of appetite—even if you are full, you are not necessarily satisfied, and airplane food can be rather bleak—and provides an instant mood lift.
wallet/passport/tickets Duh.
antisocial signifiers Dark glasses and an iPod discourage interactions.
the liquid problem I bring only some lip balm and DHC Deep Cleansing Oil ($11) (which comes in mini size and doesn't demand a moisturizer afterwards) when I travel, neither of which are likely to draw too much suspicion. If I'm desperate to impress, I'll throw on some rosy pigment on my lips and cheeks, one of Becca's creme blushes. But I don't like to carry makeup on my person, as I find I always feel filthy by the end of a trip.
two books Travel constitutes a lot of waiting around, so I bring always keep a couple books at hand, in preference of glossy editorials which leave me with vague sense of literary nausea, one that is dense and thinky and another that provides lighter entertainment. For the former, I like Ovid's Metamorphoses best, as it does not demand an overall coherence of attention (a poetry anthology makes an excellent alternative), and for the latter I might choose some old favorite like Serve It Forth by M.F.K Fisher.
notebook and pen To capture and tame the collusion of sensations that travel inevitably exerts on even the most modest of voyagers (Vineyard's Eco Diary ($9.50) shown above).
It may also be a good idea to bring some Tylenol PM (I always pack some in my carry-on, to battle jet lag), but I prefer simply to ride out the entirety of the trip, as I'm well practiced in not sleeping. No camera, you'll see. I hate to walk around gawping and clicking, only to miss out on the trip itself; I believe the human creature was born with a memory for a reason.

Labels: anya hindmarch, becca, dhc, dr hauschka, etro, globe trotter, mfk fisher, orbit, ovid, scharffen berger
8/24/2008 [3]
Globe Trotter: At the Airport
by Dain
Summer and travel go hand in hand (with a little ice cream =P), but the last thing you want is for the stress of transit to take over the pleasures of your vacation. It's best to keep things simple, organized but simple, and not give into the urge to trail your entire closet behind you.

After all we do not always wear what we buy. Perhaps it appealed to us in the store, we thought we might get use from it, or we had a bad day and needed the retail therapy, whatever the reasons for our purchases, there are inevitably pieces that languish in our closet while others still become threadbare and worn. We are not usually aware of this difference, not consciously anyway, and normally it does not signify much to anyone (except your wallet), but when you are staring at a suitcase full of clothes, feeling like you've packed too much and yet have nothing to wear, it is exactly because you have not attended to this distinction, subtle but important, between admiring clothes and how to wear them. A sign of good packing is when clothes become the very last concern on your mind.

You may be surprised at how few clothes you need. Unless you are planning on an extended stay, one roomy carry-on will suffice for most trips (my eye is on this graphic T. Anthony Concorde Duffle ($395)). There's no possibility of the airline losing it, and at the end of a long flight you can just leave—have you ever been in an airport worth revisiting?

You'll need to pack more specifically in terms of where you are going and what you will be doing, but I always stick to the same formula for the transit itself:


A favorite bra that's comfortable, nothing that digs into your skin or needs adjusting, even when you're sleeping in awkward positions.
A sturdy, comfortable pair of pants, usually chinos in a dark neutral color, because they are nicer than jeans but just as little fuss
Layered comfortable tops: an easy (not racy) camisole, a pretty tee, and a cozy sweater. I am one who generally feels overheated than chilled, but you can really run a gamut of climates while you travel, so you want to have the option of stripping down or bundling up.
Flats you can run in, in case you're about to miss your flight. I've chosen Chucks here, but a particularly svelte option would be riding boots in fine brown leather, especially as you move about a rainy city later on.
A supersoft shawl, hands down the ultimate travel essential in my book. It's not only an extra layer of warmth, it also functions as an impromptu pillow or eye mask, if you find yourself stuck on a long bus ride to a more remote destination.
A neatly turned out coat (the classic trenchcoat is always reliable), better to wear it than pack it in case of inclement weather.
A practical, roomy handbag that is designed for easy organization over visual impact.
This combination endures not only the grit and discomforts of travel, it's also customizable. If it turns chilly, the layers ensure that you stay warm, but when the heat is unbearable, I stuff the scarf into my bag and the knit into my coat (with the arms, one inside the other, knotted). That this ensemble is the height of chic, rather than harassed and sloppy, is just icing on the cake.

Next time, what's inside.

Labels: globe trotter, t anthony
8/23/2008 [4]
Most Wanted: Something Wicked This Way Comes
by Dain
I'm not sure whether I ought to continue doing these, they involve rather a lot of effort that ought to be channeled elsewhere, but they are fun to look at. For the moment, I'll put one up to fill the label. The theme this time around is dark romance, an evil grin with a fantastical lilt.


Magazines, which have become increasingly preoccupied with celebrity culture, tends to get carried away by showstopping gowns and jewels, but in real life, a woman can better depend on a great fucking coat. As far as I'm concerned, this is the closest thing to utter perfection as my personal taste will ever demand, the enchanted rose garden from La Belle et la Bête envisioned in black velvet by Viktor & Rolf.


I recently bought a pair of Wolford stockings in plain sheer black, but these Louise (£59) stockings are even more exciting: lacy fishnet with a provocative seam running up the back. I haven't the legs to pull it off, but they're an unusual bid for attention, at least in this day and age when sexy and glamorous are no longer joined at the hip, and one means expensively vulgar while the other signifies a frigid egomania (à la Paltrow).


I've never heard of illimanite before, but it is a marvel as the brooding center of Lucifer Vir Honestus' Quercus Ring ($5800), clutched covetously by fluid, organic rose gold. Plus—rather as a side note—diamonds.


Feminine sensuality comes in many forms: the delights of the body (Fracas), a passionate interchange of fiery wits (Tabac Blond), the goddess out of earthly reach (Chanel No. 19), even the purity of an angel (Diorissimo). Within this succession of possibilities, YSL Opium ($63) surely represents the corruption of the soul, an expression of a dense, languid excitement.


And underneath it all? You'll need a perfect figure to pull off a Hervé Léger Bandage Dress ($1250) (even if it's in modest rose), but if you've got it, why not flaunt it? It's the kind of dress that declares, as you step into a party and shrug off your coat: watch out, maneater on the loose!

Labels: lucifer vir honestus, marchesa, most wanted, viktor and rolf, wolford
8/22/2008 [3]
Perfume Notes: Vero Profumo Onda
by Dain
Now is the winter of our discontent
Made glorious summer by this sun of York;
And all the clouds that lour'd upon our house
In the deep bosom of the ocean buried...
...But I, that am not shaped for sportive tricks,
Nor made to court an amorous looking-glass;
I, that am rudely stamped, and want love's majesty...
...Cheated of feature by dissembling nature.
–Richard, before he is king, opening Richard III
John Constable, Seascape Study with Rain Cloud (1827)


It is perhaps easy to get carried away by poetic impressions when one has assumed the task of reviewing perfumes, but this is so unusual off the bat—eschewing the feminine conventions of floral and sweet so entirely—that Richard rises unbidden in my mind, that stalking and scheming charisma of evil (though the real Richard was very likely the target of false propaganda by the Tudors) even amidst a succession of such bloodthirsty, savage nobles. It is not possible, be you audience or ancillary character, to question Richard's character, and yet the compulsion to give way to him is almost exquisite. (Watch Ian McKellen's lush performance of this speech.)

Certainly Onda isn't pretty according to any conventional definition, but what a complicated, dangerous beauty. The opening is an unsettling interplay between the aromas of rough, metallic earth and the irradiation of oil spilled on a wet road, patchouli subtly spiced by ginger and mace. The harshness dissipates into a softer, but no less daring, accord of black leather and nutty, animalic vetiver (not the opulence of Serge Lutens Vétiver Oriental but a drier darkness like pumpernickel bread) and oakmoss aplenty, with a hint of silky myrrh. Leather chypres tend to linger on the fringes of good taste, an estrangement from conventional forms of beauty, more strangely arresting than pretty: between the bergamot top and oakmoss bottom that structure almost all chypres, the leathers depend on isobutyl quinolein and smoky resins like galbanum to bridge that gap, such as the ultimate avatar of the genre, Robert Piguet Bandit, an essay on aggressions through crackling green-floral smoke. But Bandit's not enough leather for me—there's never enough leather for me—Onda is essentially what I hoped Bandit would be. It's not as prim as the aldehydic Chanel Cuir de Russie, and without the dulcet sweet overtones of Guerlain Vol de Nuit and Caron Tabac Blond, and not so filthy as Montale Oud Cuir d'Arabie. Onda, in spite of its ungainly, unpleasant opening, is that long desired wicked leather umbrage I could never find—only the expense is absurd ($145 for 7.5 mL, $235 for 15 mL, only in parfum).

Evidently, this is the closest you can come to the long discontinued Guerlain Djedi, a perfume so rare it can go for a thousand on ebay.

PERFUME REVIEWS
Sakecat
Perfume Shrine
Grain de Musc
A Minx By Any Other Name
Nathan Branch
PerfumeQueen
Basenotes
Makeupalley

Labels: chypre, john constable, perfume notes, shakespeare, vero kern, vero profumo
8/22/2008 [0]
Lookbook: Au Naturel
by Dain
Above: Julia Stegner made up by Pat McGrath for Carolina Herrera FW 2005, from Bazaar. Note how you can only pick out a bit of definition at the lashline and just the barest touch of lipcolor.

The first color story barely is one at all. It is a look often seen, because models are plenty beautiful (it being the job description) and require little accentuation, and mere mortals are lazy. Natural makeup is a look that should belong to every woman's arsenal, it is a philosophy that hews to making women look better than they do without makeup, and yet without giving the impression that they're wearing makeup.

What the look actually translates into is precise, targeted makeup that zones in on problem areas but refrains from too much coloration.

THE BASICS
undereye concealer: Everyone is naturally darker here, it tends to be the weakest part of the face, which is why concealer is of universal benefit even for the perfect of skin. Apply a shade slightly lighter than your skin tone to inner corner of eye, with finger of least pressure (ring), that's all. Recommended products: Clé de Peau, if you don't mind the expense.


groomed brows: There is never a moment when perfect brows are not appropriate. They lift the face, open up the eyes, and add balance to asymmetries. Recommended products: Tweezerman Slant Tweezers and Kevyn Aucoin The Precision Brow*.


perfect blush: Blush is the most important color cosmetic. Its particular flattery (when chosen rightly) affects the entire face, and serves as the linchpin for the lipcolors and even eyecolors you choose. The right blush will make you look healthy, more awake, even youthful, and to a small degree, will even out the skin. Recommended products (depending on coloring), all from NARS: Malibu Multiple, Zen, Amour, Desire, and Exhibit A


the lashline: A thin smudge of eyeliner, preferably in brown, charcoal, or black, will make you look like you have lusher lashes but doesn't scream "MAKEUP!". Some creamy pigment smudged between lashes just above the inner rim (a technique known as tightlining) is perfectly suited for your purpose. Add mascara to intensify effect. Recommended products: Too Faced Liquid Lava (it comes in brown and black) and L'Oreal Voluminous mascara, you can also try a gel liner with a fine brush like Laura Mercier's, but this is more time-consuming.


YLBB, of course: A shade deeper and richer than your natural liptone is called for here. The easy choice here is sheer lipstick, but lipliner+lip balm, tinted lip balm, or just a dab of creamy lipstick will all work. The perfect shade tends to differ on everyone, even those who have similar colorings, and it is not necessarily intuitive for everyone. Even though my skin is a creamy yellow, I look best in berry-infused roses—rich, cool tones. Universal shades (like MAC Viva Glam V, Cover Girl Blushberry TruShine, and Clinique Black Honey) do work on a number of people, but on the whole women are particularists when it comes to lipcolor, working within a range of shades. The easiest thing of all? Plain lip balm.
WORTHY ADDITIONS
While foundation is not recommended for the au naturel look, tinted moisturizer may suit you if unevenness is a concern. If you are prone to shine, powder may also be necessary, and if it has a little coverage, so much the better. A bit of fleshy shimmer (ivory on the pale, champagne on the light, fawn on the medium, bronze on the deep, chocolate on the very dark) on the lid is a subtle effect that opens up the eyes.

A natural look should never take too long, between three to five minutes (depending on how meticulous you are). The trick to natural makeup is mainly in being exact, to target specific areas of the face rather than flashy pigments.

* Or one of the many copycats.

Labels: cle de peau, clinique, cover girl, kevyn aucoin, l'oreal, lookbook, mac, nars, natural makeup, too faced, tweezerman
8/21/2008 [0]
Culture Notes: High Maintenance
by Dain
One Friday night, I was drinking wine in my friend A.'s room. She was rather melancholy because she had fallen in love with an itinerant Brazilian the weekend before. R. was making out with his then boyfriend. I felt a bit awkward, not really knowing anyone, so I reached for one of Angela's Elle. A bunch of my guy friends came by, and not knowing what to do with all these drunk women and the two gay men making out in the corner, they arrayed themselves at my feet. "Funny," I thought, "I'm like a queen sitting on a throne. Or it's storytime, at any rate." B. noticed the Elle. "What are you reading? Stop reading that."

I felt rather ashamed, so I put it down. Why? I don't know. I can't imagine anyone who could possibly be more high-maintenance, as far as such things aesthetic, personal style, and hygiene go. I just bought a black tee for the first time in my life two weeks ago. I wear heels and updos and red lipstick and parfum—if I didn't read fashion magazines, who would?

And yet, somehow, he meant it as a compliment. It meant that even despite everything superficial I'm devoted to, I'm "cooler than that", somehow a girl who is more chill and low-maintenance rather than a screeching, overdyed harpy who talks endlessly about lip gloss. I had a similar experience when I received my monthly Vogue, and someone saw it and said, "I wouldn't have expected you to read that." At which point my girl friend chimed, "You don't know Dain very well."

Of course, B. was wrong. Fashion and makeup are just as important to me as, say, beer or Red Sox or the progression of male ego in the argument of the king in All's Well that Ends Well or the color of the sky in the evening or Jimi Hendrix. But it taught me something. Men—indeed, women, too, regarding men—don't like to see us putting effort into our looks. They don't like us to look like we haven't put any effort into our looks, either. They don't like to know that there's a backstage. They're hypocrites, of course, but... are we women so deep? Some like their men metro, but I don't, and I don't think most women do, either. Effortlessness is attractive. It approximates confidence, though confidence is only marginally involved.

Yes, it's a game. But what difference does it make?

Labels: culture notes, philosophy
8/21/2008 [0]
Perfume Notes: Clinique Aromatics Elixir
by Dain
Aromatics Elixir has what I would call, somewhat anachronistically, the Angel effect. It is a blinding epiphany on rare individuals, but many are apt to react in horror. Earth goddess patchouli in full force, quite gritty and brooding unless you've got a taste for it, like muddy, fetid leaf drift. It's only when you apply very sparingly that its other qualities shine: a dense herbal undergrowth of geranium, chamomile, and clary sage, a brightening via rose, the green light of oakmoss, black-leather vetiver, and smoky resinous sandalwood. It only goes to show how varied an olfactory family can be: Chanel Cristalle captures an intense, arid luminosity, while the elegant YSL Y is a languid green glow, but Aromatics Elixir is an essay on dirt. It's not a meaty, animalic darkness, but quite mineral, with a little vegetable accent. The result is quite stark, almost a hippie 70s cliché, which is perhaps not exactly in tune with Clinique's clinical pretensions, but it remains one of the more unusual in the battalion of commercial offerings, neither floral nor sweet, but wild, dark, and earthy.

Personally, I find Aromatics Elixir much too severe, and prefer the softer, more floral body lotion, Otherwise, it's best reserved for those whose chemistry swallows up patchouli.

Shown at left: Francisco Goya, "The Sleep of Reason Begets Monsters" (1799).

OTHER REVIEWS
Perfume Shrine
Perfume Posse
Basenotes
Makeupalley

Labels: chypre, clinique, francisco goya, perfume notes
8/21/2008 [0]
Fashion Notes: Clothing Care I
by Dorothy
I've been mulling over clothing care for a little while now; it's not something one sees much of in fashion magazines, but it's necessary to know about it, unless you have the money to get everything dry cleaned and are busy or profligate enough to do so. I'm still figuring it out myself, since I seem to keep buying clothes too delicate to be thrown in the machine.

I use liquid detergent for machine washing; it's more expensive, but there's no risk of it failing to dissolve and winding up in a lump in one of your socks. (I also use regular detergent for light clothes and "for darks" detergent for dark clothes, which may just indicate that I'm a fool for marketing.) I'd suggest a brand, except that I haven't noticed major differences between the big brands and tend to just buy whatever's on sale at Loblaws. I almost invariably wash clothes on the cold cycle and use less detergent per wash than it says on the package directions -- partly for economy and partly out of plain old liberal guilt.

Being the clumsy type, I spill things on myself with some regularity. Liquid detergent can double as a stain treatment, but I've yet to find an all-purpose stain remover better than Cadie's

Laundry Stick

(about $3). This can be a bit of a pain to find sometimes; I thought it had been discontinued until I saw a display of laundry sticks in a supermarket in Fredericton, New Brunswick (I promptly bought about five). You're supposed to test stain removers on a "discreet" part of your garment before you use them. I am far too lazy to do this and have never suffered for it, but do it if you're concerned.


I hand-wash almost all my tops, save for loungewear and the odd T-shirt. It's a good way to cut back on both machine-washing (rough) and dry-cleaning (expensive). Some items marked "dry clean only" really are dry clean only (suits, coats, anything lined, really), but others, particularly knits and blouses, do fine when hand-washed in cool water. In my experience, "dry clean only" often means something like "don't put this in the washing machine,

seriously, I mean it."





My favourite soap for hand-washing is Soak; it's quite gentle, reasonably priced, comes in pleasant scents that don't linger after your clothes have dried (I especially like Aquae and Sola; there's also an unscented version), and doesn't have to be rinsed out. Again, I find that I can use less of it per wash than the directions indicate. A large bottle ($16) lasts me about a year. It's available in knitting shops, but it can also be ordered online. There's a list of retailers on the Soak website. (I don't recommend ordering from Soak directly; they take forever to ship.)





I use cheap drying racks from Zellers (basically a Canadian Wal-Mart/Target), but they tend to warp. If I weren't constantly moving for school, I might invest in one of these collapsible drying racks from Stenic ($129.99). For very delicate items, a mesh sweater dryer is also nice.

Labels: cadie, fashion notes, soak wash, stenic
8/20/2008 [3]
Beauty Notebook: DHC Q10 Set
by Dain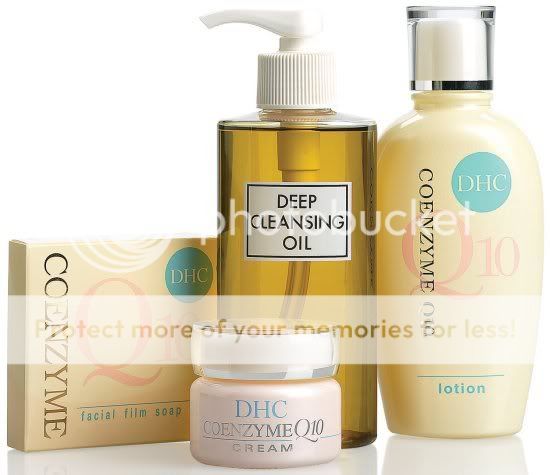 Much thanks to DHC for sponsoring these reviews. Their product range is very extensive, from your traditional Japanese foams to a dizzying array of "essences", but I had the opportunity to try out the Q10 set, show below:




First up, is the bestselling Deep Cleansing Oil ($24), an olive-oil based cleanser that should be massaged onto dry skin, to remove every hint of makeup, even stubborn waterproof mascara. It is certainly gentle and nutritive enough for dry, sensitive skins, but it is completely water-soluable upon contact with water, so it does not leave an occlusive residue, just soft skin. In fact, if you have oily skin, this may be all the skincare you need, and for a quick getaway weekend, the travel size is all I need. The scent is the mild aroma from the olive oil and rosemary (the preservative) in the formula, and there are no sulfates to cause concern, and I've been assured that DHC is working to remove parabens from all their products.

The Q10 Facial Film Soap ($9.50) is oddly both useful and useless to an incredible degree. When you need cleanser but don't want to add any weight to your bag, such as for travel, work, or the gym, this is absolutely brilliant: a paper-thin film of soap that comes individually prepackaged. The lather is soft and rich, not stripping, indeed, one square is more than you'll need—I usually cut them into three. But for normal use, this product is a huge hassle, especially for the double-cleansing method after the Deep Cleansing Oil, when your wet fingers fumble and liquefy the sheet by accident, and it's not particularly cost-effective, considering that DHC offers such excellent bar soaps.


Toners are difficult to review. Though it feels slightly sticky, Q10 Lotion ($36) is otherwise well formulated, with gentle hydrating and brightening ingredients like coenzyme 10, willow bark extract, and olive leaf extract, with no harsh preservatives or alcohol, plus the bottle has a pleasing heft to it for a luxurious touch. All the same I don't feel like this is a necessary step at all, especially at this price.
The texture of this Q10 Cream ($48) seems rich and buttery, loaded with such nutritive ingredients as olive oil, coenzyme Q10 (which is responsible for its deep yellow color), amino acids, and minerals. A little goes a long way, I find that a small dab can be worked around the entire face. Unlike most rich creams, this does not simply sit on top as a protective layer, but penetrates deeply into the skin, so that it feels exquisitely soft and supple, "plumping up" fine lines and brightening dull skin. Coenzyme Q10 has highly antioxidant properties, so while it won't reverse aging, it will help slow down the damage from free radicals. My skin just drinks it up. After a few minutes, I find that it has absorbed beautifully, leaving behind a trace of dimethicone that makes this an excellent base under makeup. Gorgeous product, perfect for dehydrated skin that doesn't want anything that feels heavy, especially in the summer humidity. The scent is minimal, and it aggravates neither sensitivities nor pores (indeed, I find this seems to diminish shine). It's a little pricey, but totally worth every cost-effective penny.


A couple of the products are absolutely excellent (none of the Q10 products reviewed above have any parabens!), others need a few kinks ironed out, but overall I am pleased with the quality of these products. Though they are more expensive than offerings from the drugstore, they are better, too, and yet not so expensive that they are ludicrous. There are no promises of miracles, just sound, well made products that work.

Labels: beauty notebook, dhc
8/20/2008 [0]
Color Me In: Dorothy
by Dain
Dorothy is a regular contributor on this blog. Again, if you too would like to be featured as she has, please drop me a line with the same information.

FIRST NAME Dorothy
HAIR COLOR medium reddish brown
SKIN TYPE combination; shiny/oily T-zone, dry elsewhere
SKIN TONE fair with freckles and warm undertones
EYE COLOR green
MAKEUP STYLE usually pretty subtle, although I like strong lips
SPECIFIC CONCERNS I have hereditary dark circles/bags under my eyes, which means I wear concealer pretty much all the time, and I worry about wearing much eye makeup lest I emphasize the circles. I describe my skin as "cranky"; it's generally pretty good, but if I skip sunscreen or moisturizer I see the results immediately, and it somehow manages to be both dry and congested (and nothing really seems to help with the clogs). I find that with this colouring and freckles it's easy to look overdone or messy. "Universal" colours seldom work on me; they are usually too cool.
TOP THREE FAVORITE PRODUCTS lipstick; MAC blush in Tenderling; powder.



As always, we begin with the skin. Since Dorothy's skin is imbalanced and prone to congestion, she should invest in a good exfoliant first and foremost, such as the lactic acid and witch hazel combination found in Biologique Recherche P50 Lotion ($45). It is rather harsh and stinky, so I recommend using only a drop or two on a damp cotton, rinsing it off after a few minutes, and only at night. Yet another possibility is MD Skincare's Alpha Beta Face Peel ($125), gentler than the name "peel" implies, but rather pricey. Detoxifying the skin is a delicate process that demands patience, and one must be careful not to overload the skin whilst it purges, so I'd keep the rest of the skincare as gentle as possible with a no-frills cleanser and moisturizer. During a rigorous exfoliation period, especially if you are pale as Dorothy, a good sun block like Shiseido Extra Smooth Sun Protection Lotion SPF 33 PA++ ($28) is crucial, but otherwise simplicity should hold sway.



When it comes to makeup, a pale redhead must strike a careful balance. It is easy to overwhelm such colorful features, and yet without any makeup one runs the danger of looking drawn. A pigmented concealer applied selectively and topped off with some translucent powder, as well as groomed brows provides a simple foundation. For a natural, effortless look, the peach-rose amber of NARS South Beach ($37) provides an allover warmth to soften the severity of pale skin. A dab of coralline pigment on the lips and a swipe of plum mascara (softer than black, more green-friendly than brown) adds the final polish.

Since Dorothy is hesitant to use too much eye makeup, I've rounded up a few options that might flatter rather than overwhelm her coloring. A warm white with gold sparkles, like Urban Decay Polyester Bride ($16), poses no danger, because it adds nothing but light. Alternatively, a soft but rich graphite shimmer adds just a hint of definition when tempered by brown and lavender, such as Bobbi Brown Black Mauve Shimmer Ink ($21). For just a little adventure, there's always NARS Rebecca Duo ($32): a shimmering amber rose and a soft veil of spring green that looks smashing on pale redheads, one is an easy flatterer of green eyes and the other provides a delicate contrast to the rich tones of the hair. Initially, Dorothy can use just one shade at a time to keep the look clean, but they will also layer excellently with each other when she feels more comfortable with eye makeup. For a real graphic statement, I think a shot of sapphire liner is particularly exquisite on redheads.

Labels: biologique recherche, bobbi brown, color me in, makeover, md skincare, nars, shiseido, urban decay
8/20/2008 [1]
Color Me In: Open call for models!
by Dain
ATTENTION! This section of the blog has now been closed. We apologize for the inconvenience.

FIRST NAME
HAIR COLOR
SKIN TYPE
SKIN TONE
EYE COLOR
MAKEUP STYLE
SPECIFIC CONCERNS
TOP THREE FAVORITE PRODUCTS

We will also need a close faceshot, preferably one without makeup. If that makes you uneasy, send us a favorite look instead, but one that is minimal on the makeup. I will probably be in contact with you, to ask you questions about your preferences and habits—as a rule I attempt to hit a sensitive balance between what already works and what might be improved.

A legal note: all of this information will be published (as coloring is quite the point). You are welcome to send us an alias, and your email will remain entirely private.

Labels: color me in, makeover
8/20/2008 [2]
Fashion Notes: Shoe Advice from Bruno Frisoni
by Dain
Long before the flame-colored sole of the "Loub" was the obligatory status symbol for every starlet and wannabe starlet, there was Roger Vivier, who in 1954 collaborated with the ultimate master of fantasy, Christian Dior, in creating the stiletto heel. Nowadays, the label is under the helm of Bruno Frisoni, whose idiom is somewhat more avant garde, but he is no less devoted to the upper echelon of artisanal luxury: bags made of posh fur or Indian tribal beads, ultraviolet crocodile, sandals that froth with handmade lace or silk rosettes, heels that resemble vines with thorns or meticulously covered in feathers. It's stuff so fantastical that one wonders if they are intended for wear at all. Below is an example of Frisoni's work for the house, based on some vintage Dior prints:

All things considered, it is a relatively tame, relatively commercial offering, some of these shoes are seriously abstract. Most of the shoes are quite outside of my comprehension. It isn't merely an immediate response of "wow, what an intensely beautiful shoe", I'm sitting here thinking, "OK, someone actually molded those petals by hand, it is actually sculpture". That is, as they say, too rich for my blood.

Somewhat to my delight, Frisoni has been interviewed in the March Allure, and he is a minimalist! And I quote:
Imagine the impossible: If you could own only four pairs of shoes—or even only two—Frisoni offers this shopping list.

Indispensable Shoe: Glamour Pumps Look for "pumps with a nice décolleté" (meaning toe cleavage) and a ten-centimeter (approximately four-inch) stiletto heel. "Those are killer shoes for allure and sexiness," Frisoni says.

Indispensable Shoe: Ballerina Flats They're "cool and young" and can be worn for everyday with short skirts or trousers. These, with the pumps, "are the two extremes that always work."

Optional Shoe: Boots Or booties with a substantial heel. These are "for walking in a skirt or trousers."

Optional Shoe: "Very sexy sandals" In other words, sandals with a very high heel. Frisoni's prescription for wearing them: parties, dinners, and the theater.
Four inches is a whimsical height for me, but otherwise this is almost word for word my shoe collection—as it exists, not in my head, but sitting on my bedroom floor. Glamour pumps with décolleté? Check. Ballerina flats for everyday? Check. Boots for walking? Check. Very sexy sandals? Check. The first two, and Frisoni is so dead right about this, are quotidian standbys, for a very simple reason: chic really goes with everything. After that, what do you need? Something practical and sturdy for inclement weather (the boots) and something festive and frivolous for special occasions (the sandals). I'd add a fifth pair, flat sandals for the summer, since you can't wear heels to the beach.

Labels: bruno frisoni, fashion notes, roger vivier, shoes
8/20/2008 [0]
Perfume Notes: YSL Y
by Dain
Much thanks to beautiful, gracious Elena for providing me with a sample. If you love chypres, you should try this, and if you're new to them, you should try this.


Samuel Palmer, Garden in Shoeham (1820s-1830s).


Y is oakmoss, in full and only slightly ornamented, it rides on your skin like a delicate emerald necklace. Oakmoss is like that, verdant as a forest, as tranquil and dusky, but quietly magnificent, and it does not make apologies for itself. There are more famous YSL perfumes—Paris, Opium, Rive Gauche, In Love Again—but this was the first, and it is as strange, reticent, gentle, elegant, and intelligent as Saint Laurent himself (the name is of course a play on his name, as well as the indefinite French pronoun). Y is a far cry from the usual fruity-floral fare, and though its verdant deeps are brightened by peachy aldehydes and "the twilight-colored smell of honeysuckle", its chypre character is highlighted, rather than obscured, with galbanum, hyacinth, narcissus, rose, vetiver, and patchouli, and the drydown is quite silky. Y strikes a gracious balance: its presence is quite distinctive, very much the chypre, but it remains very discrete and smooth, not even a hint of harshness, enough for the proverbial trapped-in-an-elevator-in-high-summer scenario. Its dignity seems to effect a outward froideur, but there's a Belle du Jour sense of inner life that makes it a far more sensuous fragrance than, say, No. 19, another green chypre.


The subdued good taste of the French, to put it plainly. Y is a highly underappreciated gem, even by its own company, and at least in the United States, is easiest to find online. For such a chic, beautiful, interesting, yet easy to wear fragrance, the prices are very palatable (I've seen it for $19.99). Though this is delicate enough for summer wear, it's got quite enough gravitas to layer beneath citruses and light florals, say, if you've got an orange blossom soliflore that is just too clean and fleeting, Y provides a gorgeous anchor.


OTHER REVIEWS
Perfume Shrine
Now Smell This
Base Notes
Makeupalley

Labels: catherine deneuve, chypre, jean amic, perfume notes, samuel palmer, ysl
8/20/2008 [0]
Beauty Notes: An Ode to All About Eve
by Dain
All things considered, my eye is better trained than my nose.

NARS is my favorite line, so I am very loyal and quick to sense any and all subtleties within the brand. The lipsticks and foundations could do with reformulation, and I'd love a vivid cool pink multiple (they're all so warm), but the powder products simply reign supreme. I was browsing the fall 2008 collection, and was disappointed by how bland and uninspired it was: revisitations and too many rich browns. I can hardly blame François Nars for this outcome, for he is lounging about on his private island and allowing celebrated makeup designer Ayako to take over the reins of creative development. But may I be frank? NARS has lost its luster. Even the most basic shades have unique brilliance, which makes them stand out from the crowd—to whit, All About Eve (I also kind of love how so many classic NARS are named after great films).


My pic of the duo.


As you can see, both are beiges, shimmery, so therefore, more specifically, champagnes. It is easy to make the assumption that they are boring; I assure you, they are not. The left is milky, somewhat peachier with a very subtle satin finish. As for the right... The best fleshtone highlight in all of existence. PERIOD. There are positively dozens of champagnes on the market, but not a single one has the multidimensional shimmer of All About Eve. Not only are the shimmers themselves of different size, which imparts a diffused, candlelit glow without resorting to overfrostiness, they are also several different colors, mostly beige, silvery, pink, lilac, gold, and even green. The finest shimmer, as even as fine satin, is a pearly beige, and it provides the base. A little more sparse are ever-so-slightly larger flecks of the more exotic colors mentioned above. None of this is obvious, it is purely my own observation, but this is what makes such a soft color so remarkable. Anyone with a rudimentary knowledge of optics may remember that white light, in fact, is composed of many colors. That is exactly what All About Eve imitates: light itself.

Sole caveat: I do not know of anything comparable for deeper skintones. Maybe the famous Shu.

Labels: beauty notes, nars
8/19/2008 [0]
Culture Notes: The Cult of Skinny
by Dain
Above: Brazilian model Ana Carolina Reston, who died last year at 88 pounds.

Much ink has been spilled on this topic, but it strikes me as one of those things that are easy to denounce, but harder to address. I have nothing new to add to the debate, just my humble opinions.

Now, modern fashion has ever favored the thin, and since definitions of modernity vary widely, I mean post-1920s, the beginning of consumer culture as we know it and America's ascendance to the international stage. Fashion favors the thin, because they look better in clothes, and it is better that representations are out of reach of the general public, because aspiration is 90% consumer desire. This is just smart business, and business is not particularly concerned with the health and mental well-being of others if it reaps no profit. I do not think this is so much evil as it is objective. It is far more lucrative to exploit human weaknesses, and that is an objective truth. Activists can rant, but... it is ultimately peripheral. Who really wants to look at fat people anyway? People are drawn to beauty, and the standard of beauty these days is without a doubt, thin. Too thin.

I take it as an aesthetic problem, which sounds pretentious but it is not. Art is important, whether it is fashion or painting or music videos. The images we see affect us, for better or worse. Americans are careless about this, because it owes much to Puritan culture, and Puritanism is equally concerned with money (because industry is pleasing to God as well as an affront to the monarchism) and art is a temptation sent from the devil. Most Americans don't believe in these things, but they live in a country for which the parameters were established by people who did, or in the case of the Southerners, were educated in an atmosphere strongly influenced by Puritan intellectuals (Newton, Milton, and so forth), so we live and thrive without really comprehending the implications.

Women, I think, are more vulnerable because they have traditionally been treated as objects, and consumer culture is driven by objectives. This is the problem with art, as ever a male-dominated discipline: women are objective, not subjective. There lacks a language for female subjectivity that isn't obliquely or obviously pejorative: bitch, slut, cunt, whore, feminist, lesbo, dyke, ditz (there are many). Objectifying those who would insist on their own subjectivity. Because so many positive labels are for women are for those who acquiesce to objectivity, such as "princess" (she who must be rescued), "lady" (the word originally means, "she who is charge of the household", literally, "bread-kneader"), or "star" (if celebrities are not objectified, I don't know who is), rather than risk being labeled as a "bad one", it is little wonder that women submit to the pressure. Many of us are driven by a need to please, perhaps it is cultural, perhaps it is biological, but whatever it is, most of us would rather be popular than be identified as aggressive. While I admit this is perhaps too etymological an analysis, it is nevertheless very significant: a false, weighted choice. It certainly makes things easier for men, and for women, too. On the whole. There are many different kinds of men, and there are many different kinds of women, and fashion appeals only to a small number of (mostly young) women, but even if you are not directly affected by a cultural influence, it is still a contaminated atmosphere that you must breathe in.

But it is far easier to accept traditional roles than to think one's role in society for oneself—this is traditionally what men have been allowed to do—much less challenge them, so women... tweeze their eyebrows, wear torturous heels, get facials, buy obscenely expensive bags, fritter about lipstick shades, starve themselves, shake their asses on national television, blah blah blah...

I can't explain it better than John Lennon:


God bless him. He's practically prescient. "We make her paint her face and dance."

If you think we've really progressed so much, here is a contemporary example of evidence to the contrary:


You recognize the face, do you not? Case in point. Maybe you could argue, well, she's rich and famous, and it is her life, even if shallow and stupid. And she's successful at it. Ok, but don't you die a little, deep inside, when you see this? Just because it's a superficial image of a superficial person doesn't mean it's not harmful, and the danger lies in the fact that she is "successful", thus worthy of respect and admiration. Do you know what separates this from a porn photo? Dior booties.

If we are really concerned with how thin celebrities are getting, and the impact it will have on our daughters, then we must teach them that dignity is the greatest attribute they possess. It is its own fulfillment, but it affects how others see us, too. A women with self-possession is so rare, especially in the public eye, but when she has it, is she not the more compelling for it?

Labels: anorexia, culture notes, models, self image
8/19/2008 [5]
Perfume Notes: Chanel Cristalle
by Dain
I never got to finish my series on chypres! The following are all representations from this venerable but now fading olfactory family, in part because of shifting tastes and in part because of the restrictions on oakmoss. This is very unfortunate, because they constitute some of the very best perfumes, an odd and curmudgeonly group that can range from the most ethereal to the most sinister, chained together by a common dusky thread of oakmoss along the bottom.


Raphael, School of Athens. Because Paris has its own perfume, why not Athens?


Hesperides are fantastic team players, with a natural tartness that plays flawlessly to both genders. Aldehydes may sparkle and spices may add fire, but citruses are a distillation of pure sunshine, and on their own, within the antique tradition of kölnish wasser, they are summer's classic paradigm: sturdy enough not to wilt in the heat, and yet so fresh, crisp, and invigorating there is no danger that they might overwhelm the senses. The downside is, of course, that they have no longevity whatsoever—the molecules are simply too volatile. Most better houses do offer giant bottles, so that one may splash at will. This may be provisional reasoning, but if hesperides were stronger, they might not cut through a gelled, oppressive atmosphere quite so well.

The other negative to such extreme transparency is the lack of substance; the notes can be too fleeting to allow for much structural interplay. This is certainly not the case with Cristalle. It may be deceptively simple at first—a crisp, luminous citrus formed through bergamot and lemon—but closer examination reveals complexities in its character. Aldehydes power its diffusion, giving it a certain shimmer and movement, like a billow of chiffon. There's a brittle green twist from oakmoss, the graceful flirtation of a few stray jasmine petals, and just a hint of warmth from cooled melon slices and a rigid raspberry note. All of these accents are very subtle, but balanced so well that the hesperidic core never feels soured or simplified. I also find that these elements make the scent last longer; the initial lemony flash dissipates very quickly, but there is still more to enjoy for even an hour afterward.

Natalie Babbitt once wrote a book called The Search For Delicious, a modern fairytale about an entire kingdom that falls apart over the dissension over what is the most delicious of things, consequently the land is ruined of all food and drink. When their thirst is quenched by a cool stream (thanks to the hero's intervention), they all decide that ice cold water on a parched throat is the most delicious thing of all. That, in short, is Cristalle, something cool and refreshing in a desert seemingly without salvation.

OTHER REVIEWS
Perfume-Smellin' Things
Now Smell This
Bois de Jasmin
Haute Parfum
Basenotes
Makeupalley

Labels: chanel, chypre, henri robert, lemon, perfume notes, raphael
8/19/2008 [0]
Sketchbook: Dorothy
by Dorothy

BASICS
email: teasepickles at gmail dot com (if you get the reference, congratulations; we are both huge nerds)
age & location: 26, the Maritimes
affiliations: Born and raised in Toronto, Upper Canadian Scots-Irish/WASP by heritage, secular, politically left-leaning
education: Pieces of an undergraduate degree from the University of King's College and the University of Toronto; currently in law school
skin type: pretty much your classic "combination", increasingly leaning towards dry
coloring: reddish brown hair, green eyes, pale skin with freckles; I wear brown all the time.

FAVORITES
books: Forster, Austen, Orwell, Mavis Gallant, Alice Munro
music: A lot of classical; The Smiths and their various imitators; deeply earnest Canadian folk music; much of the Great American Songbook; opera, which I often find more fun to listen to than to watch
films & tv: Gentlemen Prefer Blondes, Manhattan, Jesus of Montreal, Swing Time, The Wizard of Oz, From Here To Eternity, All About Eve, The Graduate, The Prime of Miss Jean Brodie, Vertigo; most of my favourite TV series (Six Feet Under, Deadwood, Trailer Park Boys) seem to have ended, although I still love The Office and 30 Rock
brands: very much undecided
color: red

Q&A
What are three things you'd like to do before you die? Graduate from effing law school. I actually cannot see beyond that. It's kind of a problem.
How did you get into beauty and fashion? By accident, really. I had a fascination with costume history when I was a child, my mother sews and knits a lot, and I was a freckle-faced, wavy-haired, flat-chested teenage girl at a time when the fashionable teenage girl was none of those things, so I spent a lot of time trying to figure out how to work with what I had. I used to lurk on alt.fashion looking for tips.
Which ten products would you bring a desert island? A desert island already equipped with the necessities of life? (I'm pedantic, I know.)

1) Sunscreen; I haven't settled on a brand yet, but I burn so easily that it's a necessity
2) Anastasia Brow Pencil in Ash Blonde; there are probably cheaper pencils I could use, but this is the one I have, and the little brush is useful
3) MAC Select Cover-Up (hereditary dark circles)
4) MAC Tenderling blush
5) pressed powder (again, don't know what kind yet)
6) Lancôme Definicils, one of the rare mascaras that don't smudge on me
7) Guerlain lipstick in Sexy Tango, a really lovely, complex warm red with a balm-like texture
8) cleanser (haven't settled on one yet, currently using DHC Deep Cleansing Oil)
9) Kiehl's Creme with Silk Groom, a tiny amount of which takes my hair from "cowlicky mess" to "well, maybe she forgot to brush her hair"
10) A decent flat-iron; mine is from Hot Styler. (I have decided my desert island also has electricity.)

What were you in another life? Probably a very discontented serf.
How do you take your coffee? As close to espresso-strength as I can get, with 18% cream.
What is your biggest pet peeve? Really fatuous writing. Also, Dov Charney and his brand of pseudo-liberal sexist hipster sleaze. Yuck.
What do you admire the most? Kindness and a sharp tongue, ideally in the same person.


You are a Helper Who Finds Missing Children Over The Internet! (Submissive Introverted Concrete Feeler)

You are a HELPER WHO FINDS MISSING CHILDREN OVER THE INTERNET (SICF). You are very tentative in the world and introverted with people— which means you are the shy and silent type (hence the Internet.) But behind your reserved exterior lies a dedicated person with a passion for the concrete truth who wants to, in his heart of hearts, help find missing children. God bless you.

If you replace "missing children" with "new ways to procrastinate," it's dead-on.

Labels: sketchbook
8/18/2008 [0]
Subscribe to
Posts [Atom]. Or
follow on bloglovin'. If
you'd like to contact Dain,
feel free to email me.
I'm also on Pinterest.
Features

The Mnemonic Sense
Most Wanted
The Beauty Primer
Lookbook
Bestsellers
Consumer Diaries
Closet Confidential
On The Label
Beauty Notebook
The Hit List
Color Me In
The Makeup Artist
Wedding Bells
Globe Trotter
Desert Island
perfume notes
beauty notes
fashion notes
culture notes
minimalism
chypre arc
floral arc
fresh arc
masculines arc
gourmands
& orientals arc
Archives

August 2008
September 2008
October 2008
November 2008
December 2008
January 2009
February 2009
March 2009
April 2009
May 2009
June 2009
July 2009
August 2009
September 2009
October 2009
November 2009
December 2009
January 2010
February 2010
March 2010
April 2010
May 2010
June 2010
August 2010
September 2010
October 2010
November 2010
December 2010
January 2011
February 2011
March 2011
April 2011
May 2011
June 2011
July 2011
August 2011
September 2011
October 2011
November 2011
December 2011
January 2012
February 2012
April 2012
May 2012
June 2012
July 2012
August 2012
September 2012
October 2012
November 2012
December 2012
January 2013
February 2013
March 2013
June 2013
July 2013
Images

Photobucket