Announcements
If you're new to this blog, then read our guides to the basics: Skin (Part I), Skin (Part II), The Supernatural, Color Theory I, Color Theory II, Eyes, and Brushes.

Also, check out the blogsale.
Contents
· Consumer Diaries: March 2010

Favored

Art Tattler
the glamourai
The Non-Blonde
Perfume Shrine
Lisa Eldridge
Garance Doré
Smitten Kitchen
Into The Gloss
Grain de Musc
Lacquerized
Res Pulchrae
Drivel About Frivol
The Selfish Seamstress
Killer Colours
Bois de Jasmin
Glossed In Translation
Jak and Jil
Toto Kaelo
Worship at the House of Blues
I Smell Therefore I Am
Food Wishes
The Natural Haven
Messy Wands
1000 Fragrances
Moving Image Source
Wondegondigo
The Emperor's Old Clothes
M. Guerlain
Colin's Beauty Pages
Barney's jewelry department
Parfümrien
loodie loodie loodie
The Straight Dope
Sea of Shoes
London Makeup Girl
Sakecat's Scent Project
Asian Models
Ratzilla Cosme
Smart Skincare
Illustrated Obscurity
A.V. Club
Tom & Lorenzo: Mad Style
Eiderdown Press
Beauty and the Bullshit
La Garçonne
Flame Warriors
Everyday Beauty
Fashion Gone Rogue
Now Smell This
Dempeaux
Fashionista
The Cut
A Fevered Dictation
Nathan Branch
101 Cookbooks
Consumer Diaries: March 2010
by The Kindly One
WATCHING





There has been exactly one season of America's Next Top Model that I've missed. Otherwise, there has not been one moment that I've missed, and the mayhem has gotten even better with the addition of Andre Leon Talley, who has become my New Favorite Thing.

READING




I've recently gotten back into reading American Vogue. It's something I fall in and out of touch with. The last couple of months have had more interesting articles and editorials to me than in the previous months. Plus, I think that step away made me appreciate it more. I get Vogue now. It's not meant to be taken seriously, really. It's meant to be some reportage of the real world of very privileged people saying very frivolous things and 90% fantasy, an exploration of what happens when you combine very fanciful, exquisite clothing with an Upper East Side sensibility. Because let's face it - even when Vogue does street, it's Lily and Serena van der Woodsen's* idea of "street," not Jenny's. Or even Vanessa's.

This image, sadly, is from Vogue Italia, which promotes captivating cover art, and not American Vogue, which does not.

DAUBING




Laura Mercier Metallic Creme Eye Colour in Burnished Copper ($22) has turned out to be a sleeper hit in my stash. I probably swatched this color for the first time a year or two ago and fell in love with its complexity, with hints of gold and orange suspended in shimmery red brown. I did not fall in love with the price or the likelihood of it's having very poor lasting power on my very oily lids. I finally caved on it a few months ago and find it's now one of my very favorite toys to reach for. I've found that using the smudger side of a cheap Sephora brush to thinly line my top and bottom lashes works beautifully to give a either a crisp, opaque line or a smudgier, sheer finish, depending on how I work the brush. I then either leave the line as is and tightline with black liner or add NYX's Eggplant or Red Bean Pie on top of Burnished Copper for a vibrant, shimmery pop of purple (the purple side of NARS Eurydice works well, too). The key to the look is Too Faced Shadow Insurance, which gives Burnished Copper lasting power and opacity (it's too sheer otherwise).

WEARING




I'm really not a fan of leggings as outerwear. I think they lend the wearer to laziness and are largely unflattering. However, I had to break down and buy some when my tights failed to keep me warm in an unreasonably cold, bleak winter. I ended up getting these brushed leggings from Gap ($19.50) in athletic grey and black on sale (which look like they've sold out, leaving only navy). I get it now; there is nothing more comfortable than wearing something formfitting, soft and soothing on the skin. I leave mine under clothes or for loungewear, though.

LISTENING





I have a job that requires me to sit in front of a computer eight hours a day. It is very tedious and very boring (and so are my coworkers). To get through it, I listen to YouTube videos all day long. My favorites are cosmetics reviews and Ricky Gervais podcasts/radio edits. This is one of my favorite Karl Pilkington stories. I just like how he takes something somewhat commonplace and normal - the discussion of cloning - and weaves it into this bizarrely fantastical tale that has its own sense of the commonplace and ordinary to it.

WISHLIST

This could take an age.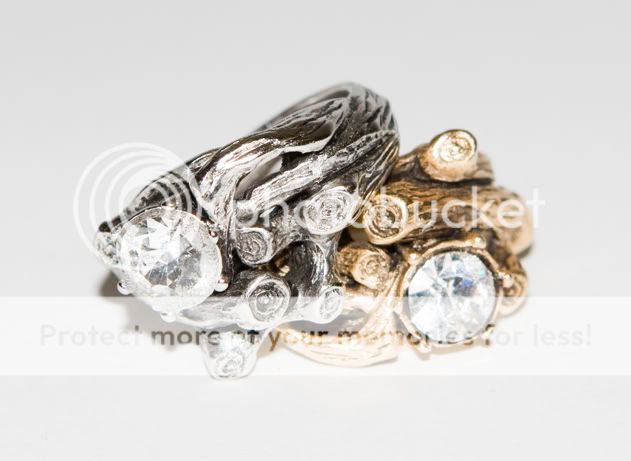 I knew I was in trouble when BleachBlack's Kristin posted this ring a couple of weeks ago. The site's coauthors have extended their collaboration with Urban Outfitters to include this ring. Though I typically don't wear jewelry, I think I could make an exception for something this stand-out and unusual, particularly as it is only $18 and I have a 10% UO code.




I've been excited about MAC's upcoming Art Supplies collection for a couple of months (US release date April 1; international release later in month). The collection features new Pearlglides and Pro Longwear Lipstain Markers, both of which I wanted to invest in heavily. I love Pearlglides; as I've discussed extensively with Dain, Dorothy, and Anne, my eyelids are too oily to keep on any gel pencil liners except these, which have the requisite grit to stay through the day. I was also excited to try the Lipstain Markers, having grown to prefer lip stains over gloss and lipstick. I'm a bit disappointed by the initial reviews, none of which are impressed with the color range of the Lipstain Markers, with some even saying they smell bad and taste weird. However, everyone's in agreement: the Pearlglides rock. I'm going to get mine on April 1 (I'll be damned if I miss out on these). The ones I'm particularly interested in are Undercurrent, a teal base with gold and green flecks, and Almost Noir, a browned-out plum.

While I'm at MAC, I'd also like a 208 Brow Brush ($19.50). I've never had a brush specifically made for the brow area, and let's be honest, some days it shows.

*In a total aside, perhaps Lily and Serena are the creepy Stepford, less cool, parallax universe version of Judy and Jane Aldridge?

Labels: america's next top model, consumer diaries, gap, gossip girl, laura mercier, mac, sea of shoes, urban outfitters, vogue
3/27/2010 [2]
Subscribe to
Posts [Atom]. Or
follow on bloglovin'. If
you'd like to contact Dain,
feel free to email me.
I'm also on Pinterest.
Features

The Mnemonic Sense
Most Wanted
The Beauty Primer
Lookbook
Bestsellers
Consumer Diaries
Closet Confidential
On The Label
Beauty Notebook
The Hit List
Color Me In
The Makeup Artist
Wedding Bells
Globe Trotter
Desert Island
perfume notes
beauty notes
fashion notes
culture notes
minimalism
chypre arc
floral arc
fresh arc
masculines arc
gourmands
& orientals arc
Archives

August 2008
September 2008
October 2008
November 2008
December 2008
January 2009
February 2009
March 2009
April 2009
May 2009
June 2009
July 2009
August 2009
September 2009
October 2009
November 2009
December 2009
January 2010
February 2010
March 2010
April 2010
May 2010
August 2010
November 2010
December 2010
January 2011
March 2011
August 2011
September 2011
October 2011
November 2011
December 2011
January 2012
February 2012
June 2012
July 2012
August 2012
September 2012
October 2012
December 2012
January 2013
February 2013
March 2013
June 2013
July 2013
Images

Photobucket