I love backstage photos of models' makeup from fashion shows, and frequently use them as sources of inspiration. Some looks are kooky and extreme, others are wearable and natural, easily emulated. While face-charts and beauty breakdowns are primarily released for the benefit of beauty editors, they are also an excellent resource for makeup fanatics and makeup artists, which is why you will commonly find them now posted on beauty blogs.
During the week-long Chinese National Day Holiday, I picked three photos from my album of inspiration images on my iPad, and tried to recreate them using only what I have on hand here in Shanghai*. Bear in mind that I am not a makeup artist, merely an enthusiast. Skill is something only acquired through practice and observation; all you need to arm yourself with is a sense of adventure, and a willingness to go a little out of your everyday comfort zone. Makeup, after all, is not permanent. If you don't like the result, just wash it off.
Since my original intention when I started these experiments was not to show the pictures online, but to merely have some fun on my day off, I did not research that were products used in any systematic way until after I had completed my own take on it. Nor was I aiming for perfect verisimilitude - if I knew a pale lip was going to be ghastly on me, I substituted it with a brighter pigment. However, I have included links to the breakdowns wherever I could identify the show and the makeup artist behind it.
Base used throughout: Chanel Vitalumiere Aqua (B30 Beige-Sable) and Cle de Peau Beaute Concealer (Beige). I was putting on and removing looks too quickly, however, to be bothered with powder, so pray excuse the shine.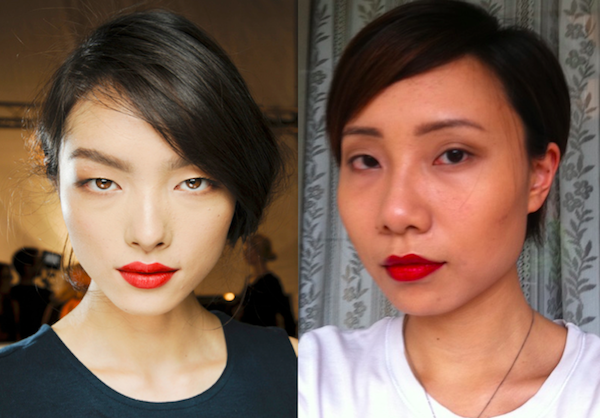 Look 1. Christian Dior S/S 2012 - Pat McGrath
An easy one to start with. The model is Sun Fei Fei, and there are some more images of the look here.

Eyes: Sun's eyebrows are pretty amazing to begin with; mine naturally needed more work, pencil and powder to make them thicker and darker. There appears to be some tan/golden brown eyeshadow on outer half of the model's eyes. Adapting slightly from the photo to suit my differently shaped eyes, I applied the middle shade from the Shiseido Strata trio into my crease. A dark brown pencil smudged into the lashline, then a layer of brown mascara finished off the eyes.

Cheeks: NARS Zen, a nude blush, to contour beneath the cheekbones.

Lips: An orangey-red lipstick, applied with a lipbrush. I only have one warm red with me in Shanghai, Cle de Peau Beaute R2, so I used that. Sun looks like she was wearing a gloss over the lipstick, but I couldn't find one so I left the lipstick fairly matte.

Wearability: 7/10. A slightly bolder variant of my normal day-off makeup.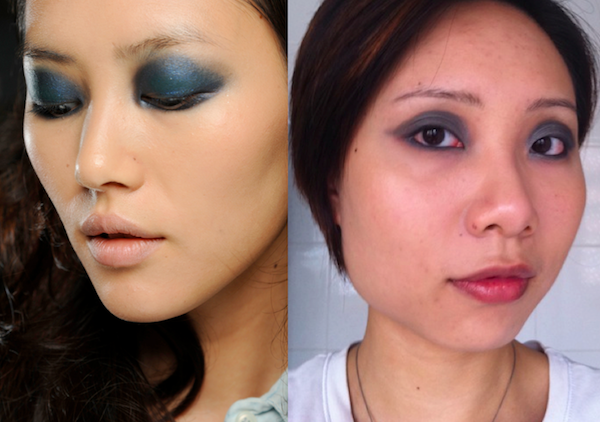 Look 2. Rodarte S/S 2011 - James Kaliardos for NARS
Round, navy-blue smokey eye with lavender lips. Beauty breakdown here, which shows the same look on a Caucasian model with deep-set eyes; the shape of my eyes are somewhere in between that and Liu Wen's monolid, so once again, I changed it from the inspiration photos.
Eyes: Instead of navy, I used a blackened teal (Chanel Murano quad), layered under a shimmery sky blue from Shu Uemura. A creamy black pencil went on my waterline, while mascara was neglected entirely. Brows had just the tiniest bit of NARS Bali brushed through them with the Shu Uemura 6OB to fill in gaps.

Cheeks: Skipped it. Kaliardos, however, used a NARS cream blush (Penny Lane).

Lips: Not having any nude or lavender lipsticks or glosses, I used the closest thing I had, a shimmering coral lipstick from NARS called Outsider. Ideally, though, I would have gone for something paler and more neutral, maybe a light mauve like Chanel Ingenue.

Wearability: 5/10. Strictly a night-time look, but not outrageous.
Look 3. Derek Lam S/S 2010 - Tom Pecheux for NARS
This circus-inspired makeup pre-dates Pecheux becoming the creative makeup director for Estee Lauder. A shame, because while his work is never less than gorgeous, I don't think he has done anything quite as weird and wonderful since going to Estee Lauder. This look he created with NARS products has stuck in my mind ever since I first saw it. Breakdown here.
Eyes: Here is where a few extra eyeshadow brushes would have come in handy, so all these colours didn't get muddied from being applied with dirty brushes.

Because I was working off just the image I had on my iPad, I had to guess at the colours and their placement. The purple I used was NARS Jolie Poupee (right side) mixed with MUFE 92, the blue in the inner corner a mixture of Jolie Poupee (left side) and the same light blue Shu Uemura shadow I used in Look 2. An orange shadow from Shu Uemura replaced NARS Mediteranee on the browbone, while a shimmery Shu Uemura green mixed with the olive side of NARS Nouveau Monde was my substitute for the emerald green from NARS Misfits under the eye. The lightest coat of brown mascara was used. Brows were left over from previous look.

Cheeks: I forgot about the cheeks, although checking the breakdown of the look now, I can see that Pecheux used a pink (Desire) and an orange (Taj Mahal) blush.

Lips: My lips are naturally quite dark, so I went with a sheer pink lipstick, Granville Dior Addict, instead of trying to tone them down with a lighter colour.

Wearability: 3/10 on me. I think this would be amazing on someone fairer, with light-coloured eyes, but with my features, it just makes me look unfocused and tired.
*My main residence and the larger part of my stash is in Sydney.
Labels: beauty notes, james kaliardos, nars, pat mcgrath, tom pecheux