Announcements
If you're new to this blog, then read our guides to the basics: Skin (Part I), Skin (Part II), The Supernatural, Color Theory I, Color Theory II, Eyes, and Brushes.

Also, check out the blogsale.
Contents
· Fashion Notes: In Her Shoes

· Perfume Notes: Anné Pliska

· Beauty Notes: Tangerine Dream

· Beauty Notebook: Dr. Alkaitis

· Bestsellers: Creative Nail Design Super Shiney Topcoat

Favored

Art Tattler
the glamourai
The Non-Blonde
Perfume Shrine
Lisa Eldridge
Garance Doré
Smitten Kitchen
Into The Gloss
Grain de Musc
Lacquerized
Res Pulchrae
Drivel About Frivol
The Selfish Seamstress
Killer Colours
Bois de Jasmin
Glossed In Translation
Jak and Jil
Toto Kaelo
Worship at the House of Blues
I Smell Therefore I Am
Food Wishes
The Natural Haven
Messy Wands
1000 Fragrances
Moving Image Source
Wondegondigo
The Emperor's Old Clothes
M. Guerlain
Colin's Beauty Pages
Barney's jewelry department
Parfümrien
loodie loodie loodie
The Straight Dope
Sea of Shoes
London Makeup Girl
Sakecat's Scent Project
Asian Models
Ratzilla Cosme
Smart Skincare
Illustrated Obscurity
A.V. Club
Tom & Lorenzo: Mad Style
Eiderdown Press
Beauty and the Bullshit
La Garçonne
Flame Warriors
Everyday Beauty
Fashion Gone Rogue
Now Smell This
Dempeaux
Fashionista
The Cut
A Fevered Dictation
Nathan Branch
101 Cookbooks
Fashion Notes: In Her Shoes
by Li Wen
In his Theory of the Leisure Class (1899), Thorstein Veblen - one of my favourite economists, the Sir David Attenborough of the species Homo sapiens sapiens (breed: Capitalist), much beloved by the Institutionalists - wryly observed the inverse relationship between the practicality and comfort of footwear and the wearer's level of (implied) participation in conspicuous consumption:

"Our dress…in order to serve its purpose effectually, should not only be expensive, but it should also make plain to all observers that the wearer is not engaged in any kind of productive labor… A detailed examination of what passes in popular apprehension for elegant apparel will show that it is contrived at every point to convey the impression that the wearer does not habitually put forth any useful effort. […]
"The dress of women goes even farther than that of men in the way of demonstrating the wearer's abstinence from productive employment. It needs no argument to enforce the generalization that the more elegant styles of feminine bonnets go even farther towards making work impossible than does the man's high hat. The woman's shoe adds the so-called French heel to the evidence of enforced leisure afforded by its polish; because this high heel obviously makes any, even the simplest and most necessary manual work extremely difficult. […]
"But the woman's apparel not only goes beyond that of the modern man in the degree in which it argues exemption from labor; it also adds a peculiar and highly characteristic feature which differs in kind from anything habitually practiced by the men. This feature is the class of contrivances of which the corset is the typical example. The corset is, in economic theory, substantially a mutilation, undergone for the purpose of lowering the subject's vitality and rendering her permanently and obviously unfit for work. It is true, the corset impairs the personal attractions of the wearer, but the loss suffered on that score is offset by the gain in reputability which comes of her visibly increased expensiveness and infirmity. It may broadly be set down that the womanliness of woman's apparel resolves itself, in point of substantial fact, into the more effective hindrance to useful exertion offered by the garments peculiar to women" (emphases mine).
For those unfamiliar with Veblen's sharp tongue, here it is in 21st century speak, with my own feminist slant added in:

What is "fashionable" and "desirable" in a society conveys the impression that the wearer belongs to the "leisure class", i.e. can afford not to engage in something so distasteful as actual physical work
Women in particular who aspire to fashion, by dint of the gender division of labour and women's station in life as symbolic extensions of their patriarchal figures, are expected to dress in a manner that actively impedes their range of movement, dexterity and stamina. Think Christian Louboutins, or the painful and crippling practice of foot-binding in dynastic China.
The more frail, delicate, and obviously unfit for any kind of physical activity you are as a women, the better this reflects upon your social status, and more importantly, the social and economic status of your parents, boyfriend, or husband.
That practicality and fashion are two very different - and often diametrically opposing, according to Veblen - concepts, should be no news to anyone. Few of us can afford to walk around in un-scuffed stilettos all day, every day. Fewer of us, I hope, would even want to. And yet, this norm persists - despite counterculture, and the feminist movement, and grunge, and women's increased participation in the paid labour force. Women nowadays are praised for doing the work and still looking "good" whilst doing it. Or, to put a darker spin on things: "What if you couldn't get away because the company dress code required you wear shoes designed to keep you from running?" (Carol Diehl to Men Who Still Don't Get It).

Thankfully, there have been some compromises for the modern-day woman. Flats are generally considered acceptance office wear (although in many industries, heels are still encourage for any engagements with clients). Unisex casual footwear (Converse, Vans, flip-flops) are not thorough objects of scorn and unwomanliness (although they will still get you kicked out of high-end restaurants). Shoemakers have cottoned onto the fact that women would prefer to have the height without sacrificing the ability to still walk (at least, get around a boardroom or a supermarket), and thus come up with such helpful innovations as the platform heel and wedges. Car designers have yet to discover a way for me to drive safely without having to remove my heels, but I expect they will eventually. ("Drives like a woman", oh, ha di-ha-hah.)

We live with these compromises every day. Live in them, literally, when it comes to fashion, every pair of shoes a consideration of the usual parameters: "Do they fit comfortably? What outfit will these go with?" But also some which are particular to women: "How far will I need to walk? Will I have to drive, or be driven? How long will I be able to stand up in them?"

And above all: "How much pain am I willing to tolerate, in this instance, for the sake of beauty?"

In my own personal case, the easy answer to the last is: Not much.


A look over my summer shoe collection here in China - leaving out my many, barely distinguishable pairs of black ballet flats which are worn to work on rotation - finds flats and mid-height heels in strong representation. What heels I do own, however, are all expressly chosen for their comfort. Seeing as I don't drive in China (and barely drive in Australia, either, to be honest), getting around mainly on foot, metro, or taxi, it is crucial that I be able to walk easily, even whilst carrying a handbag, a laptop bag, and a sack of heavy groceries, as it were. The condition of pedestrian spaces in Shanghai present further challenges: frequent roadwork, uneven pavements, slippery surfaces and poorly visible steps (accident liability being an underdeveloped arena in China).

Even my evening and party heels (magenta suede platforms, goes-with-everything black patent pumps, Milana slingbacks) have been altered or selected to accommodate the environment: leather outersoles overlaid with hard rubber to prevent slips and provide some cushioning for the foot, and colours on which cement dust will not show too obviously. I would not go so far as to say that I could run in them, much less harvest a field or do much housework, but I could definitely walk a mile or three without needing a male arm to steady me.

my Instagram (click to enlarge)

Labels: bcbgeneration, chloe chen, fashion notes, gaimo, lottusse, milana, peeptoe, rebeca sanver, sheme, thorstein veblen
8/29/2012 [8]
Perfume Notes: Anné Pliska
by Dain

Alain A. Fournier, Sailboats at Port.


In high school, I had a signature scent. It was called Organza Indécence, from Givenchy, a blowsy vanillic amber with a dominating sillage. I wore it exclusively, until it saturated every facet of my seventeen-year-old existence, from turtlenecks to love letters. Some twelve years later, I still have the bottle, but I can't go near Organza Indecence without gagging. Familiarity, evidently, breeds scrubbers.It has grown into such a monster—so quickly does my nose now fatigue of amber, overdosed on vanilla—that I can no longer broach gourmands without a sympathetic surge of nausea.

This unfortunate bit of early conditioning has barred me from the vast proliferation of sweet fragrances in the past two decades. From POTL (1998) to Chergui (2001) to Angel (1992), I react with unthinking, visceral repulsion, all except for Anné Pliska (1987). From first sniff to drydown revisited, Anné Pliska never lost its appeal.


On the surface, Anné Pliska is a genial thing, toothsome as dessert: candied orange zest and opulent amber bridged by vanilla. If you only caught a whiff of the sillage in passing, you would sense nothing but easy charm. Why vanilla, it always smells good. But this would not give proper credit to its maverick role in Anne Pliska, which transitions seamlessly from good ice cream to the powdery accord of benzoin and tonka bean of Shalimar, from modern literalism to classical form, with effortless skill.

Like my other enduring sweet, L'Heure Bleue—technically an oriental, but heavy syrup all the same— Anné Pliska blooms best in the heat, when the complexity of its structure expands more voluminously. It invites you to look more closely. Now, more than blood orange, you now pick up bitter, camphoraceous herbs in the opening, so distinctively inedible you now wonder how you dismissed it as a crowd-pleaser. The creamy vanillic heart is faintly savory, with a bitter edge—from saffron, perhaps. Beneath the heady incense base, the roughness of patchouli adds depth and melancholy, with leathery overtones from oakmoss. From top to bottom, therefore, Anne Pliska's progression is marked by contrasts: the inedible always acts as a foil to the edible, like a frame to a picture.

The history of perfumery is marked by innovations in structure, from the fougère to the great gourmands. This style, of mismatched notes that build to an unexpected harmony, though it borrows from classical convention (animalics add dimension to florals) is characteristic of the properly abstract, contemporary composition. It is not the cocoa and candy floss that makes Angel, Angel—cocoa and candy floss would be Pink Sugar—but the indolic jasmine, though it plays a supporting role, that makes it the eccentric marvel that it is, unique even in the company of a hundred imitations.

OTHER REVIEWS
Beauty On The Outside
Perfume Smellin' Things
Now Smell This
Victoria's Own
Basenotes
Makeupalley

Labels: alain a fournier, anne pliska, juliette binoche, perfume notes
8/18/2012 [2]
Beauty Notes: Tangerine Dream
by Li Wen
My work day make-up, never very adventurous, has attained a new pinnacle of corporate monotony. I won't bored you with the details; suffice it to say that I have lapsed to a ready-in-5 ethos, and can frequently be seen heading out the door without eyeliner. And what is more: I'm okay with that.
And perhaps it is to counterbalance all that unobtrusive naturalism I wear in the office that, when I do get the time and the inclination to play with colour, I tend to go all out.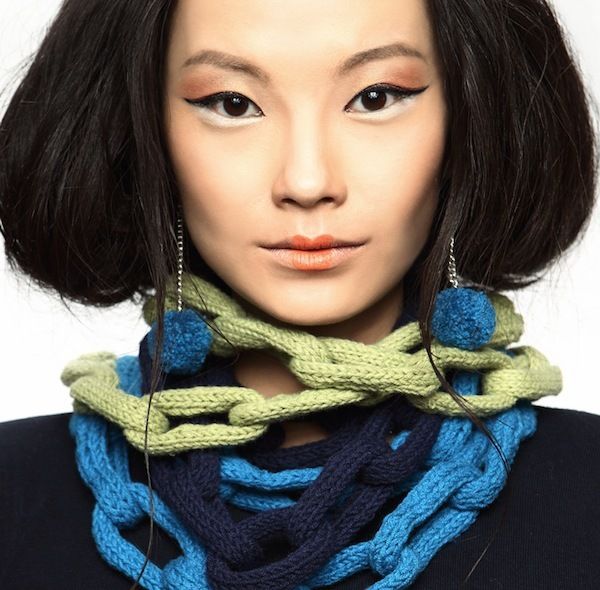 The incredibly adorable Shokay S/S 2012 Campaign
One of the common questions that beauty bloggers get asked: "How do you do make-up on an Asian eye?" 
I have seen lots of very helpful videos on the topic (from Lisa Eldridge, Rae Morris, and others), but without fail, I personally find the question quite annoying and fetishistic. There isn't a one-shape-fits-all, stereotypical "Asian eye", just as there is no such thing as a "standard (i.e. Caucasian) eye". If you have a monolid, or long narrow eyes, or a creaseless lid, my best advice would be to start looking at images of women with monolids, narrow eyes, or creaseless lids. A copy of Vogue China will probably teach you more about make-up that is flattering for your eye shape than I could in a dozen posts. 
That, and practice. 
Take the above image from the Shokay S/S 2012 campaign, featuring a long, eye-lengthening flick of black liner, orange eyeshadow, and rosebud lips painted not in your typical geisha red, but a glossy tangerine. Since my eyes are more rounded than the model's, recreating the whimsical, wide-eyed look on my features took some adjustment in the width and angle of the flick, but the placement of the coloured pigments is more or less the same.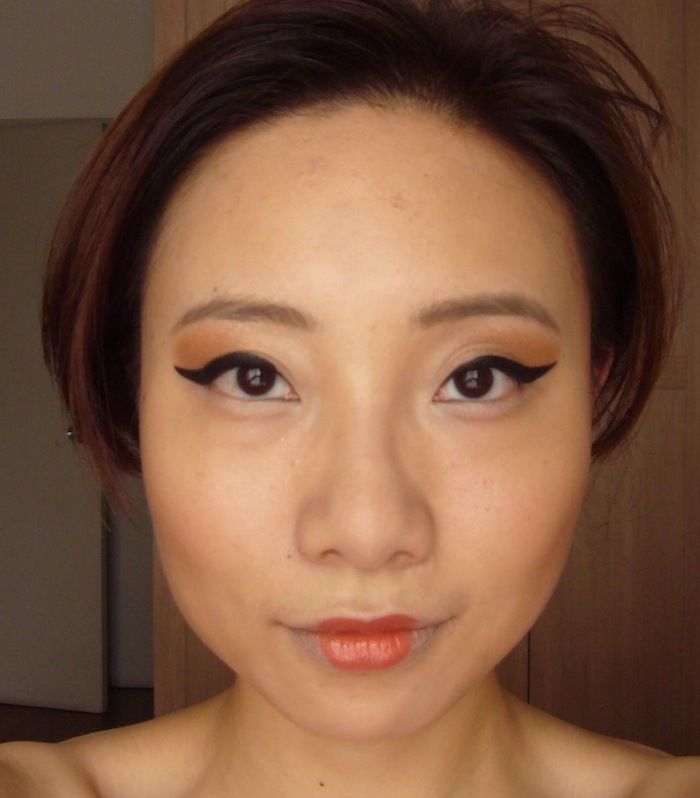 Full coverage foundation would have been better for this look, to more closely match HD "perfection", but lazy as I was on a Saturday, I opted for the minimal coverage afforded by Koh Gen Do Aqua Foundation, with some concealing around the nose, mouth, and under the eyes. Brows were filled in with my current favourite brow product, Cle de Peau Eyebrow Pencil in 101 (a mechanical pencil with built-in brush), and shaped in as much of a rounded arch as I could achieve. My own brows are very straight, nearly-perpendicular to the line down the centre of my nose; to get the same angle in the brows as the model in the photo would have taken more plucking and masking than I was prepared to deal with. (Compromises, compromises…)
To match the eyeshadow, I blended two vivid metallics from Shu Uemura (their names long lost to me, as they were depotted into a palette years ago), for a warm, shimmery orange that stands out just enough from my skin tone. Toward the inner third of the eyelid, I faded the orange slightly with NARS Silk Road, a very glittery pink-nude, and the outer corner was deepened with Kevyn Aucoin Copper, which is more brown and less metallic. 
The white under the eyes would have been best achieved with a pencil, but with none in my stash, I made do with a layer of Shu Uemura P42 (matte white with pink undertone), followed by Addiction Cigarette to better catch the light. A hint of Cigarette also went under the brow as a highlight.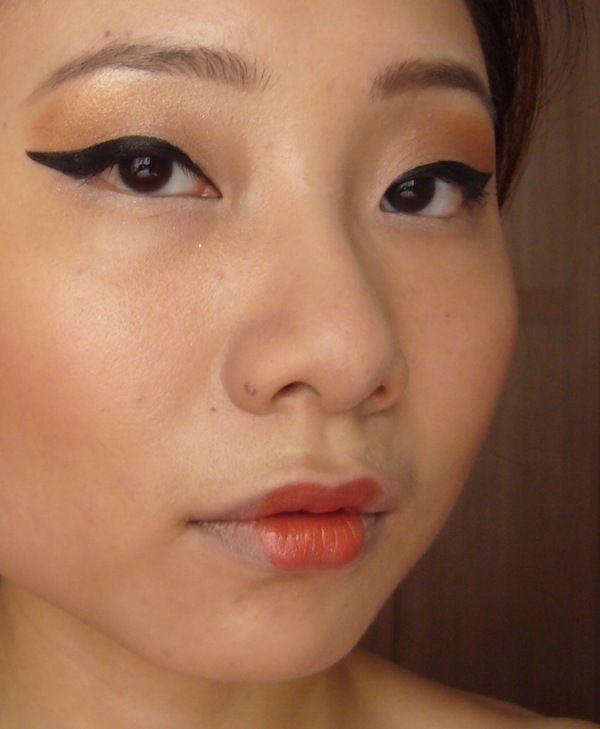 The main attraction, the liner, was drawn in with a liquid liner pen, Lancome Liner Definition in 01 (Black). Its soft, flexible felt tip is not as fine as I would like, but it is very easy to work with, even for someone as unused to drawing flicks as I am. It delivers very crisp edges and dark, velvety pigment. NARS Zen beneath cheekbones and a light dusting of Shiseido RD103 Petal on the cheeks finished off the face.
I am less than happy with the lips - not the lipstick, which is a mix of Shiseido Day Lily and Chantecaille Canna - but with the mauve undertone that peeked through despite the foundation and concealer I used to mask the natural colour of my lips. A seam between face and lips destroys the illusion of skin melding invisibly into the sides of the mouth, and draws attention to the unnaturalness of the painted "pout". A peach corrector might have been more effective here to counteract the dark purple. 
L-R (click to enlarge):
Shu Uemura P42 blush (as a white eyeshadow base)
Shu Uemura metallic orange eyeshadow (discontinued)
Shu Uemura metallic bronze eyeshadow (discontinued)
Kevyn Aucoin Copper (contour)
NARS Silk Road
Addiction Cigarette (highlight)
Shiseido OR418 Day Lily
Chantecaille Canna
Image source: Shokay 
Labels: addiction, beauty notes, chantecaille, cle de peau, kevyn aucoin, lancome, nars, shiseido, shokay, shu uemura
8/10/2012 [9]
Beauty Notebook: Dr. Alkaitis
by Dain
There isn't all that much you can do with your skin. Skincare offers very little beyond maintenance and prevention—prudence informs us that whatever we were born with, we're lucky to keep—and yet the promise of perfect skin proves an irresistible lure. I am particularly guilty of chasing mirages. Nevermind that my forays into the new and untried haven't shifted my routine in two years, I persist in fooling around, even though my skin is too fragile for much experimentation.

More than dehydration or dryness, only a plague during the winter months, sensitivity is the defining feature of my skin: physically very thin, moderately reactive. Avobenzone burns, niacinamide breaks me out into minute whiteheads, cyclomethicone builds up a dull itch, the humble muslin cloth abrades, and honey gives me a rash. The most potent actives are entirely out of the question. Wiser heads than mine are nodding now; yes, I ought to know better than to experiment. Dealing with sensitive skin is largely a matter of avoidance, by scanning ingredients lists for potential irritants, rather than treatment. Time is often the only cure. Still, I'm drawn, willy nilly, by anything that claims to boost the skin's own powers of recuperation. So, as you might have guessed, I've never found anything that heals the vague, low-level irritation that simmers perennially beneath the surface of my skin, ready to erupt into a violent tantrum at the slightest provocation. I didn't think such a thing existed.


That is, until I stumbled onto Dr. Alkaitis' Nourishing Treatment Oil ($80).

Would it be too much, dear reader, if I declared this fragrant, silky oil is magic? Rashy, reddened, inflamed, irritated, itchy, generally tenderized skin is mollified overnight. Active breakouts shrink and lose their pus-filled contours. Congestion loosens up, for (though I should not encourage this) quick, clean, painless extractions. It fades old marks and scars. The texture is too fine and absorbent, even slightly astringent, to function as protective barrier on my skin. So I treat it as a serum; the actives make first contact, followed by moisturizer. It is richly aromatic, complex and earthy and herbal, reminiscent of Ayuervedic medicine.

INGREDIENTS Into a base of virgin cold pressed organic oils (jojoba, St. John's Wort, and Andean mountain rosehip seed), the following organic and wild-crafted herbals are blended: Indian madder, country sarsparilla, Amazon root, liquorice, country mallow, turmeric, china root, costus, white sandalwood, cuscus grass, olive, eagle wood, nut grass, bermuda grass, and ashwagandha. Also added are natural vitamin E complex (alpha, beta, gamma and delta tocopherols) and 100% pure essential oils.

A roster of unknown plant extracts like this is some cause for anxiety: who knows how my skin will react? But for once, the gamble has paid off.

The Nourishing Treatment Oil is no more capable of 'improving' my skin than any other skincare. It merely returns it to a calmed state, closer to therapy than treatment, an organ (as it actually is) whose health depends on longterm factors. Indeed, Dr. Alkaitis' claims are refreshingly modest: first, to "bring one's skin into a healthy balance that is unique to that individual," and second, to "maintain that healthy balance".

None of the products follow a prescription; it's up to you however you want to use them. I'm curious, for example, how it'll fare on my extremely irritable and itchy scalp, once I invest in the economically sized bottle (a full 4 oz). That said, for acne-prone skin, in its own right a kind of sensitivity, I do think the Soothing Gel ($60) might be a better bet. Its base of aloe vera, witch hazel, and organic grape ethanol, infused with antiseptic herbs, has more of a cooling, anti-inflammatory effect. It might serve as a lightweight hydrating gel, on its own on oilier skins, with quite a well executed incense fragrance.


When Dr. Alkaitis began development fourteen years ago, natural skincare was still a developing market. Now, 'organic' is thrown about like a catchphrase, that it's become difficult to separate the affectation of simplicity from the sincere.

Let us consider Echinacea purpurea, one of the ingredients from the Night Crème ($65). Used for hundreds of years in Native-American folk medicine, echinacea is popularly believed to enhance the immune system and function as an analgesic, topically as an anti-inflammatory, wound-healing agent. On its reputation, of relieving the symptoms of the common cold, scientific studies have been inconclusive thus far. There is some slim possibility of an allergic reaction.

Like all plant extracts, echinacea's efficacy varies according to how the raw material is processed, beneficial chemicals in trace amounts. By a vast majority, the beauty industry purchases echinacea extract from independent R&D, just as your MAC Mineralize is not made by Estée Lauder but by a specialist factory in Italy. By contrast, Dr. Alkaitis acquires his raw, whole, biodynamically grown echinacea roots, and performs the extraction himself in his in-house laboratory, in order "to maintain the integrity of the plants, thereby maximizing their therapeutic potential," before blending it into the aloe vera and shea butter that forms the base of the Night Crème.

INGREDIENTS aloe vera gel, shea butter, organic herbal skin repair complex (composed of jojoba, olive, brier rose blossoms, wild carrot, echinacea root, coltsfoot, horsetail, water navelwort, marigold blossoms, and Roman chamomile flowers), vegetable lecithin, citrus seed extract, natural vitamin E (E-alpha, beta, gamma, and delta tocopherols) complex, natural vitamins A, B, and C complexes, 100% pure essential oils.

Of the two moisturizers offered by Dr. Alkaitis, the Night Cr&egraveme is marginally richer, so I prefer it over the Day Crème. The texture is odd: a dense soufflé that, because of the absence of fillers (silicones, fatty alcohols), has a tackiness not easy to smooth onto the skin. A generous application, over the Nourishing Treatment Oil, works best. While it does not prioritize a luxurious, user-friendly texture, the Night Crème is also a concentrated, highly effective moisturizer. It hydrates well, since the product is formulated to absorb more readily into the skin, and yet it forms a longlasting protective barrier. No wonder, shea butter leavened by aloe vera. It smells faintly of rose and a marshmallow-like sweetness.

If you're interested in Dr. Alkaitis, I highly recommend the travel kit ($50) or individual trial sizes. The formulations range from the fairly benign, the Nourishing Treatment Oil to the extremely active masks, dry powders that you may mix with water, honey, or yogurt. There is even a headband included to preserve your hair while you make your ablutions—a thoughtful touch from this exceptionally thorough brand.

Labels: beauty notebook, dr.alkaitis
8/06/2012 [0]
Bestsellers: Creative Nail Design Super Shiney Topcoat
by Dain
Hold up, instead of Chanel polishes, let's talk about topcoat. Because I think I've found the one.



Sometimes I miss my Sinsa manicurists, whom I visited every weekend without fail. Though by now I've acquired a healthy collection of colors and picked up enough skill for a satisfactorily tidy manicure, I could never match the meticulousness of professional work. I need to rely on smoothly pigmented formulas to achieve the neatness that defines a good manicure; they didn't bother with posh brands at all. (No need to, in South Korea, where brands like The Face Shop, Skin Food, and Etude House flood the market with cheap but excellent polishes.) They could work any formula with ease.

While technique takes time to acquire, it helps to have the products behind the manicure down. Some of it is very simple: push back cuticles softened by a shower and keep them moisturized with cuticle oil. But finding a great base and top coat has proved more challenging. I've yet to find a base coat I love, but Creative Nail Design Super Shiney is exactly what I want from a top coat. It dries quickly, I can operate my hands within reason after ten minutes, and sinks into the polish to even out minor streakiness, but does not pucker like Seche Vite or Poshé. It has a glassy, longlasting shine that adds a plushness to even the most unpromising polish. If there's only tipwear, I sometimes layer a second coat of Super Shiney to refresh my manicure. A UV filter protects the polish from discoloration. It's relatively economical; unlike a polish, topcoat dwindles quickly, so I'm unwilling to pay too much.

Super Shiney comes in three sizes: mini (9.8 mL), regular (15 mL), and salon size (68 mL). I buy a few at a time on ebay, one of the few products I stockpile. Now, if only I could find a comparably excellent base coat (I assume this depends on one's nails).

Labels: bestsellers, creative nail design
8/01/2012 [0]
Subscribe to
Posts [Atom]. Or
follow on bloglovin'. If
you'd like to contact Dain,
feel free to email me.
I'm also on Pinterest.
Features

The Mnemonic Sense
Most Wanted
The Beauty Primer
Lookbook
Bestsellers
Consumer Diaries
Closet Confidential
On The Label
Beauty Notebook
The Hit List
Color Me In
The Makeup Artist
Wedding Bells
Globe Trotter
Desert Island
perfume notes
beauty notes
fashion notes
culture notes
minimalism
chypre arc
floral arc
fresh arc
masculines arc
gourmands
& orientals arc
Archives

August 2008
September 2008
October 2008
November 2008
December 2008
January 2009
February 2009
March 2009
April 2009
May 2009
June 2009
July 2009
August 2009
September 2009
October 2009
November 2009
December 2009
January 2010
February 2010
March 2010
April 2010
May 2010
June 2010
August 2010
September 2010
October 2010
November 2010
December 2010
January 2011
February 2011
March 2011
April 2011
May 2011
June 2011
July 2011
August 2011
September 2011
October 2011
November 2011
December 2011
January 2012
February 2012
April 2012
May 2012
June 2012
July 2012
August 2012
September 2012
October 2012
November 2012
December 2012
January 2013
February 2013
March 2013
June 2013
July 2013
Images

Photobucket