Announcements
If you're new to this blog, then read our guides to the basics: Skin (Part I), Skin (Part II), The Supernatural, Color Theory I, Color Theory II, Eyes, and Brushes.

Also, check out the blogsale.
Contents
· Most Wanted: The Black Saint and the Sinner Lady

· Culture Notes: Just An Old-Fashioned Love Song

· Beauty Notes: Methodology

· Beauty Notes: From the Runway

· Globe Trotter: Finding Stillness in Shanghai

· Color Me In: Cassandra

· Beauty Notebook: Leonor Greyl

· Fashion Notes: Cocktail Hour

Favored

Art Tattler
the glamourai
The Non-Blonde
Perfume Shrine
Lisa Eldridge
Garance Doré
Smitten Kitchen
Into The Gloss
Grain de Musc
Lacquerized
Res Pulchrae
Drivel About Frivol
The Selfish Seamstress
Killer Colours
Bois de Jasmin
Glossed In Translation
Jak and Jil
Toto Kaelo
Worship at the House of Blues
I Smell Therefore I Am
Food Wishes
The Natural Haven
Messy Wands
1000 Fragrances
Moving Image Source
Wondegondigo
The Emperor's Old Clothes
M. Guerlain
Colin's Beauty Pages
Barney's jewelry department
Parfümrien
loodie loodie loodie
The Straight Dope
Sea of Shoes
London Makeup Girl
Sakecat's Scent Project
Asian Models
Ratzilla Cosme
Smart Skincare
Illustrated Obscurity
A.V. Club
Tom & Lorenzo: Mad Style
Eiderdown Press
Beauty and the Bullshit
La Garçonne
Flame Warriors
Everyday Beauty
Fashion Gone Rogue
Now Smell This
Dempeaux
Fashionista
The Cut
A Fevered Dictation
Nathan Branch
101 Cookbooks
Most Wanted: The Black Saint and the Sinner Lady
by Li Wen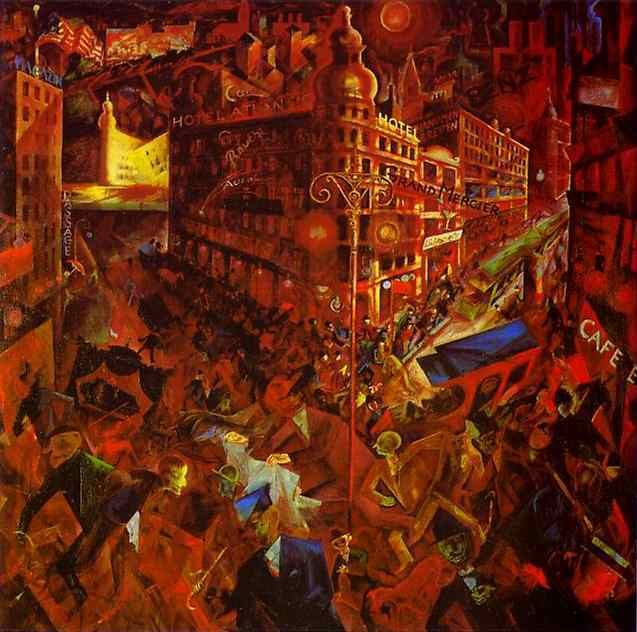 The City, George Grosz (1916/17)
The Black Saint and the Sinner Lady is an album that ought to come with a warning label: Do Not Play While Operating Heavy Machinery. The very antithesis of Norah Jones and Michael Buble - "easy-listening jazz" - dancing between tumult and rapture, overwhelming tenderness and exquisite anguish, it resists any attempts to cast it into the background. It is music so expansive and all-encompassing, you could throw yourself headlong into it and never be seen again. For your own safety, and the safety of your passengers, resist any temptation to play it on a car stereo.

"My music is evidence of my soul's will to live."

- Charles Mingus
Recorded on January 20, 1963 by an eleven-piece band, The Black Saint and the Sinner Lady feels like a spontaneous eruption, a revolution: Charlie Mariano and Booker Ervin on saxophone are the eloquent and virtuosic firebrands at the front of the fray, Rolf Ericson's trumpet an insistent crier, fists pounding the air, Jay Berliner's acoustic guitar the somber and reflexive outsider, the piano (Jaki Byard) a captivating, lyrical Romantic. Both intensely personal (Mingus himself considered The Black Saint and the Sinner Lady his defining masterpiece) and whole-heartedly collaborative, it is a testament to the imagination of the individual and the power of the collective.
While originally written as a ballet, it is difficult to imagine what breathless contortions of the body could further elevate - or keep up with - the shifting themes and tonal complexity of the music. Those 40 minutes, hot-blooded, sensuous and grandiose, scale every register of human emotion, unfolding and culminating in the final movement, "Of Love, Pain, and Passioned Revolt, then Farewell, My Beloved, 'til It's Freedom Day". Like Allen Ginsberg's Howl, that other roaring lament of the Beat era, nothing quite captures it but the experience of listening for yourself.

Track C: Group Dancers, The Black Saint and the Sinner Lady - Charles Mingus (1963)
* * *
The institutionalisation of Classical training led to a deification of the composer as artist and the expectation of strict adherence to the written score; anyone who played Bach out of turn was automatically regarded as "maverick" - or more dismissively, "unorthodox". Little surprise, then, that so many jazz players should be classically trained musicians looking to escape from its strictures. For in jazz - from simple, plaintive standards to the most elaborate freeform ensemble pieces - structure and extemporisation go hand in hand, with spontaneous riffs on a theme often regarded as the highest practice of the art.
The aim: to take what is practiced and familiar, and infuse it with a sense of real time, the contingencies of the moment and the personality of the performer.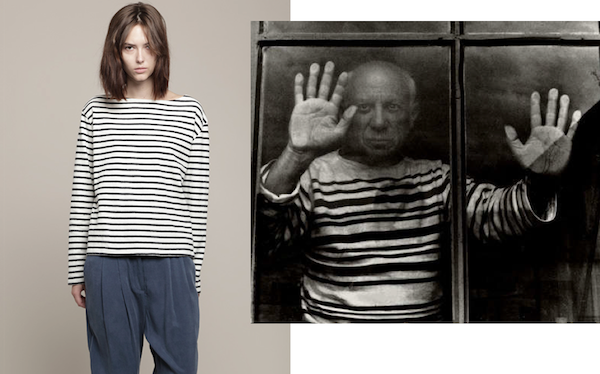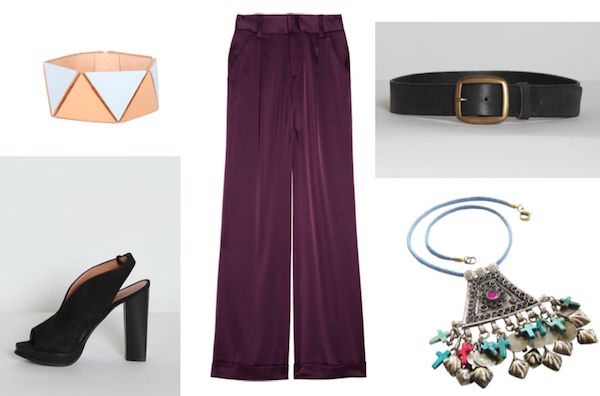 Wood Wood Adrien Striped Tee / Pablo Picasso photo / Isabel Marant Zonca Belt / Kelly Framel turquoise tassel necklace / Alice + Olivia pants / Costume National slingback heels / Lauren Manoogian Triangle Cuff
A modest, unadorned version of the long-sleeve striped shirt - or "Breton stripes", famously worn by Coco Chanel and Pablo Picasso (top right) - that's been a fashion staple for much of the twentieth century, the Wood Wood Adrien Striped Tee ($95 USD) in brushed heavy weight cotton jersey has an appealing, almost rustic, simplicity. Its length and cut is versatile; it can be worn hanging loose over the waist of a pair of tough corduroys, or tucked into a skirt or khaki shorts.
My instinct, though, would be to dress up the shirt a little. Pair it perhaps with Alice + Olivia high-rise wide-leg pants ($330 USD) in a rich burgundy satin, and cinched with a black Isabel Marant belt (right centre). A turquoise tassel necklace by Kelly Framel ($275 USD) and this leather Lauren Manoogian Triangle Cuff ($120 AUD) - with their tribal motif, like something you picked up on holiday - add a touch of the unexpected. And to lend height to the 40s silhouette, these understated Costume National suede slingback heels ($700 USD); they have an attractive casualness, reminiscent of slippers beneath pyjama bottoms, yet are still elegant with their open toe and cutouts at the sides.
Central to this outfit is the play of different textures: dark suede against reflective satin, antiqued silver on brushed cotton. A melange of pieces, each with their own distinctive identities, verging on the haphazard, but grounded by bold black and white stripes.
Labels: alice + olivia, charles mingus, costume national, isabel marant, kelly framel, lauren manoogian, most wanted, pablo picasso, wood wood
10/30/2011 [4]
Culture Notes: Just An Old-Fashioned Love Song
by Dain
Lately I've been listening to soul. Vocal work does not usually appeal to me; I almost always choose songs for the instrumentals. There's too much of the diva in most performances, diminishing the talented and exposing the talentless, ridiculous all around. But the great soul singers are not show offs. At some level, all music is an expression of emotion, and feelings when heavily ornamented lose their sincerity. It is enough to sing well. You know when you're watching a great vocalist because his performance seems so effortless, so you delude yourself into thinking, "Aha, I could sing like that!" But of course, I can't. (Not if my life depended on it.)



Sam Cooke was the entrypoint to this period of obsession. When I discovered him, a month ago, I wondered how on earth I hadn't known about him earlier. Such a beautiful voice, though the syrupy violins ruin it. Some people don't need an orchestral accompaniment.




Most covers of "I'd Rather Go Blind" give into the temptation to overplay their voices, but Etta James's original is sublime precisely because of its simplicity.




Of course, there is some showing off, but you'd have to have Eartha Kitt's self-possession and marvelous sense of play to pull it off, though Kitt really qualifies more as a jazz vocalist with touches of cabaret, a fine but important distinction.




Close sibling though it is, motown isn't really soul, but I love The Four Tops.




Soul is directly descended from gospel, like much of American music. Indeed, it was a major controversy for singers like Sam Cooke to carry music that celebrates God into the realm of pop music, which is, most of the time, about sex. To trace soul's origins, it's worthwhile to study gospel's greats. Trivia: Martin Luther King Jr. was a fan of Mahalia Jackson.




Nina Simone is easily my favorite vocalist of all time. Her voice isn't exactly beautiful, but it has so much timbre, she seems to sing chords when others would merely sing melodies.

Labels: culture notes, eartha kitt, etta james, mahalia jackson, nina simone, sam cooke, the four tops
10/25/2011 [1]
Beauty Notes: Methodology
by Dain
Like building your personal palette, a skincare routine comes down to an intimate knowledge of your own face. The better you know your skin, the more effectively you can train products to specific concerns. Everyone has a slightly different physiology: pattern of pores (commonly termed as 'skin type'), thickness and regeneration rate, and receptivity to specific ingredients—all of which change over time. Your objective is to establish a routine that fits well with your skin, so strive for accuracy. Ideally, you should cherrypick products knowing exactly how your skin will respond. Watch your skin carefully, minutely, taking the time to figure out its needs. Keep your expectations realistic. It's not wise to chase products that promise to perfect your skin; it wreaks hell on the accuracy. Above all, be gentle. It's called skincare for a reason.

To make the most of skincare, proper application is key. Since my philosophy towards cleansing tends to be universal across all skin types, our discussion will cover only moisturizers in depth. I apologize for the length; it's mostly information, no fluff, so feel free to scroll through to the parts most pertinent to you.




1. EMULSION




ShiKai Borage Therapy // Trilogy Vital Moisturising Cream //
Embryolisse // John Masters Mandarin Maximum Moisture


Typically, most people think of emulsions when it comes to moisturizer. Their mechanism is very simple.

Emulsions are primarily differentiated by texture, the balance of water (hydration) and oils (emolliency) in an emulsion. Texture is completely relative to your skin type. When the balance is just right, it should offer good absorption with a faint residue that feels comfortable, not greasy. Shift the balance towards oils, and it becomes heavy, greasy, slow to absorb, though it might make someone with drier skin happy. On the hand, if it evaporates too quickly after application, it's clearly been calibrated to an oilier skin type. While sebum production tends to be relatively constant, dehydration varies wildly with changes in climate. The same skin can suffer severe dehydration in winter, but in the humid summer air, manage to keep up with moisture loss.

For an elegant, highly absorbent emulsion, Trilogy Vital Moisturising Cream ($44) sinks in quickly, if you dislike the feel of an occlusive cream on the skin. It has just enough substance for all but the extremes of oily and dry, but if you find the skin-loving oils of rosehip, evening primrose, jojoba, almond, and carrot oils too nourishing, Trilogy makes a lighter version, called "Energising". For dryness, you'll need a moisturizer that creates a good barrier, such as the blend of shea butter and mineral oil that gives Embryolisse Lait-Crème Concentré ($25) its reputation as a skin salve: you want something that prevents moisture loss but still feels like it breathes. If dehydration is the more bothersome concern, don't be fooled by the thin fluid texture of John Masters Mandarin Maximum Moisture ($48); it offers intense, deep-down hydration. If you're looking for a budget option, the simplicity of ShiKai Borage Dry Skin Therapy 24-Hour Repair Cream ($12) is ideally suited to irritable (or pristine) skin. It provides enough moisture to manage patches of dehydration, but without too greasy a residue.

You can usually adjust the texture a good emulsion slightly. To sheer it out, apply just a dab to skin well saturated with (2) softener, which will thin out the emollients and enhance penetration. However, if your skin tends to be extremely oily, I suggest skipping the emulsion step altogether, than fiddling with so-called mattifying lotions. You can get your hydration elsewhere. If you are so dry that you struggle to find a moisturizer substantive enough for your needs, you can always enrich it with a drop or two of (6) face oil.




***



Emulsions are simple moisturizers. To make more out of your moisturizing step, you can always layer products before or after the emulsion step. If you'd simply like to enhance the hydration of your moisturizer, apply a softener first. To address specific concerns, try a treatment instead. Actives should be applied before emulsions so they make first contact with the skin, and if possible, choose water-based formulations to facilitate delivery of key ingredients to the skin. Softeners and vitamin C can be used night or day, but AHAs and retinoids should be restricted to nighttime use.




2. SOFTENER



Hadalabo // Kahina Toning Mist // Shiseido Eudermine // Liz Earle
Instant Boost Tonic // La Roche-Posay Micellar Solution


By definition, a softener is a water-based solution with a high concentrations of humectants: glycerin, hyaluronic acid, butylene glycol, propylene glycol, xylitol, sodium PCA. Their primary function is hydration, but they also enhance the performance of any moisturizer or treatment. Occasionally, the formula will also include antioxidants. The average serum is no more than a thickened, overpriced softener; softeners are more versatile. Only a few drops should be necessary, patted in with fingers and palms, until the stickiness absorbs.

Hyaluronic acid is the traditional humectant in most softeners. It features prominently in Rohto Hadalabo Gokujyun Super Hyaluronic Moisture Lotion, along with glycerin, a deliberately downmarket, no-frills inexpensive and perfume-free basic. The only trouble is that, outside of Asia, you have to order it online. With its luminous red bottle and scent of rainwashed peonies, Shiseido Eudermine ($56) delivers if you're more in the mood for luxury, less sticky than the others. If natural formulations are your preference, Kahina Toning Mist ($36) is packed with soothing aloe vera and rosewater, purifying willowbark, and antioxidants from alfafa, argan leaf, and white tea. For some people, glycerin is a more effective, less sticky humectant than hyaluronic acid. A good choice for skin types that favor glycerin would be Liz Earle Instant Boost Skin Tonic ($21), particularly soothing on sensitive skin with aloe vera, cucumber, calendula, and chamomile. If you're skin is oily and prone to congestion, switch your astringent for La Roche-Posay Physiological Micellar Solution ($18), the only product here I'd recommend using with cotton wool. Though gentle, it still rids your skin of pre-clogging debris, with a touch of glycerin to hydrate.




3. AHAs



Silk Naturals 8% AHA Toner // Skin Biology LacSal Serum // Neostrata
Toning Solution Level 2


While nothing can diminish the physical size of your pores, a hydroxy-acid solution helps you keep them clear of debris, especially if you've got thick, sluggish, coarse-grained skin that maintains itself poorly. In general, alpha hydroxies like glycolic and lactic acid are better for resurfacing, while the oil-soluble beta hydroxy, salicylic acid, breaks up congestion, but all of them loosen the glue that binds the skin together. Since all exfoliants are effectively controlled damage to the skin, they must be used with some caution, keeping in mind any physical exfoliation in your routine. It takes some trial and error, to match the concentration and blend of hydroxies to your skin's needs: you may appreciate a tingle as a sign it's working but never take it to the point of a painful burn. Above all, watch the frequency with which you use hydroxies—exfoliation should be periodic rather than daily—tailor it to your skin's specific resilience, determined by its thickness and rate of regeneration. Thin skin doesn't require much exfoliation, once or twice a week with lactic acid is enough, but thick skin can use a potent glycolic/salicylic cocktail every other day without impunity.

For maximum efficacy, apply a simple water-based solution onto bare skin, then wait, for at least twenty minutes, before moving onto your next layer. Or just leave it alone. Then, if your skin is prone to irritation and dehydration, you may supplement a simple moisturizer. Hydroxy acids do increase photosensitivity, so reserve them for nighttime use, and you'll need to be assiduous about sunscreen.

If you're a beginner to chemical exfoliation, start with the mildest: lactic acid, derived from sour milk, spaced at intervals of three to four days. Gently priced for any budget, Silk Naturals 8% AHA Toner ($8.95), with a touch of aloe vera to soothe, won't harm sensitive skin. If you're worried about congestion, not just overall radiance and tone, then the 8.5% lactic acid in Skin Biology LacSal ($18) gets a little extra kick from 1.5% salicylic acid, an antiseptic, anti-inflammatory beta hydroxy extracted from willow bark, with glycerin and aloe vera to hydrate. If your skin is thicker, more resilient, you may use lactic acid more frequently or switch to glycolic acid. With its lower pH and smaller molecular weight, is much more potent (and potentially irritating). Neostrata Toning Solution allows you break into a 8% glycolic acid with the Level 1 ($27), before moving onto the 10% glycolic and 2% salicylic acid of Level 2 ($30). Be careful, it is powerful and quite drying, intended for very resilient skins. Over-the-counter applications of glycolic acid must be at concentrations between 8% and 15% to be effective, but they are not expensive ingredients.




4. VITAMIN C



Skinceuticals Phloretin CF // Ole Henriksen Truth Serum


Vitamin C—in this discussion we'll focus on the most thoroughly tested L-abscorbic acid and magnesium abscorbyl phosphate—addresses a broad range of concerns. A powerful antioxidant that neutralizes damage, particularly from UV radiation, it effectively lightens hyperpigmentation born from sun exposure, such as age spots, and rebuilds the collagen under attack by free radicals. Unlike AHAs or retinoids, which must be restricted to evenings, vitamin C is suitable for daytime, especially as an antioxidant boost under sunscreen. Once it absorbs, twenty minutes after application, the vitamin C stays in your skin for the next 72 hours. For most people, vitamin C is reported to inhibit acne. For some with sensitivities, however, it can trigger break outs; if you were interested in an antioxidant, there are many other options out there.

For all these myriad benefits, vitamin C has a number of significant caveats. It is only effective at high concentrations, 10-20% for L-abscorbic acid (LAA) and 3-10% for magnesium abscorbyl phosphate (MAP), invariably an expensive proposition. It is highly irritating. Though the most effective form of vitamin C, LAA's acidity makes it fit only for tough, resistant skin; it can cause chemical burns if you're not careful. With a higher pH, MAP has a lower incidence of surface irritation, but as the precursor which your skin converts to LAA, there is still a chance of reactivity deeper in the skin (breakouts). Finally, vitamin C is highly unstable, even when refrigerated, oxidizing within a matter of weeks, in the case of LAA, and a couple of months for MAP. By stabilizing LAA with ferulic acid, Skinceuticals CF Phloretin ($152) or CE+Ferulic ($144) extend its shelf life incrementally, but you still have to watch it carefully for the telltale yellowing that lets you know it's gone bad. If you're looking for a flirtation with vitamin C, and Skinceuticals is too serious, then Ole Henriksen Truth Serum ($48) offers a combined 10% blend of MAP and sodium abscorbyl phosphate, with aloe vera, green tea, vitamin E, glycerin, and sodium hyaluronate for extra hydration. If you're determined to cover your bases, unsure whether your skin responds better to LAA or MAP, Garden of Wisdom Natural Majik Vitamin C, E, and White Tea Serum ($47.70) offers a cocktail of vitamin-C based antioxidants: 15% LAA and MAP blend, white tea, vitamin E, and ferulic acid.

If you don't mind the extra effort, mixing your own vitamin C serum is a far more tenable option. Since the shelf life of vitamin C is so short (and when it goes bad, it is potentially harmful), DIY ensures optimum freshness, at a mere fraction of the cost of pre-made products.




5. RETINOIDS



Pai Rosehip BioRegenerate // La Roche-Posay Redermic R // Avène Eluage // Retin-A Micro


When it comes to aging, there's one truly effective active: trans-retinoic acid, otherwise known as tretinoin. A number of studies have shown that tretinoin inhibits acne (Accutane, tazarotene, and adapalene are related), stimulates the synthesis of key structural proteins such as collagen, improve cell regeneration and longevity, and refine the texture of fine lines. Nevertheless, the side effects of tretinoin can be severe: dryness, peeling, hypersensitivity, even damage that negates its benefits. To date, Retin A Micro must be prescribed by a dermatologist.

However, the metabolic precursors to tretinoin—retinaldehyde, retinol, and retinyl palmitate—are available over the counter. Retinaldehyde, which your skin converts directs into tretinoin, has a lower incidence of both efficacy and irritation than tretinoin. A dreamy, emollient base of squalane and hyaluronic acid buffers the 0.05% retinaldehyde concentration in Avène Eluage ($40), suitable for dry, sensitive skin. More commonly encountered is retinol. It needs some care in handling. Since it's a step down the conversion pathway, the chance that your skin will metabolize retinol into retinaldehyde and then into tretinoin is relatively low. A well formulated retinol treatment should offer a sufficient concentration, such as the 0.1% of La Roche-Posay Redermic R ($55), not a trace amount. Also, avoid jar packaging; retinol degrades when exposed to light and oxygen. When a product claims "vitamin A" among its benefits, retinyl palmitate, the most remote precursor to tretinoin, is the most probable source. Its conversion to tretinoin is so negligible it can hardly be considered in the same light; if you're sensitive you would be better served by lowering the concentration of retinaldehyde or retinol. Perhaps a more viable option for skin that's highly intolerant is rosehip oil, with a minute 0.0001% tretinoin content, though the CO2-extracted Pai Rosehip BioRegenerate ($35) is a wee bit more concentrated.

If you decide to incorporate a retinoid into your routine, you must learn how to accommodate it, since alters the physiology of the skin. The level of irritation depends on your skin's specific resilience and its receptivity to the particular active. It is not advisable to use it every night; alternate nights, or once every three nights, will give your skin a chance to recuperate. Most people experience increased dryness, so you may need to supplement a rich but otherwise inert moisturizer, but do not mix it with other actives. If there's heightened sensitivity and tenderness, switch to a mild cleanser and shut down any exfoliation, physical and chemical. Always use a sunscreen; retinoids significantly increase photosensitivity. Even if you've got the toughest skin in the world, you must never use a retinoid during the day.




***



Just because you've applied an emulsion, doesn't mean your skin is sufficiently moisturized. This is particularly true of dry skin, but if you've damaged your skin with AHAs or retinoids, a face oil will add a protective, healing barrier. For daytime, a sunscreen should be the final layer, a shield against the environment. Depending on your skin's needs, you may apply it directly in place of a moisturizer, or layer it over a softener, an antioxidant serum, or an emulsion.




6. OILS



Suki Balancing // Intelligent Nutrients Anti-Aging Serum // Kahina Serum


Oils should not be upheld as panacea, though sometimes called "serums" by companies for fear of alienating squeamish consumers. They cannot compare to actives like (4) vitamin C, with measurable results at specific concentrations. Indeed, if your skin is already in good condition, the improvements will be subtle. Nevertheless, being less active also means fewer side effects; the benefits of face oils are holistic, restorative rather than corrective, and it is often the case that the simplicity of an oil can return the skin to proper balance. Like all emollients, they reinforce the skin's own protective barrier, the acid mantle, by preventing moisture loss and improving the skin's resilience to damage. The most fundamental strategy behind anti-aging is to minimize damage. If dehydration isn't one of your complaints, it's better to skip the emulsion and go straight to a face oil. On the other hand, an oil layered over (1) an emulsion ensures longlasting moisture on the thirstiest skin, but attend to dehydration first, otherwise the oil cannot absorb. In a pinch, you can use them to dissolve makeup, though you'll need a muslin cloth to remove the residue.

As a general rule of thumb, the right oil for your skin comes down to the composition of essential fatty acids (EFAs), but it's still a matter of trial and error. If you haven't a clue, plain rosehip like Pai Rosehip BioRegenerate ($35) is an excellent starting position. For a more sophisticated blend, you can't beat Intelligent Nutrients Anti-Aging Serum ($60) for sheer potency. The silky base of leavened argan accommodates a wide range of skin types, and each oil has been carefully selected for high antioxidant activity: red grape, red raspberry, cranberry, pumpkin, and black cumin. Unlike most face oils, this is not neutral. Approach with caution if your skin is reactive.

Cold-pressed, unrefined plant oils are ideal, since they often have skin-friendly impurities like EFAs, antioxidants, and trace vitamins and minerals. Furthermore, since human sebum is also impure, these impurities can trick dysfunctional pores and inhibit sebum production, a useful feature if oil imbalance and congestion is your particular demon. In fact, high-linoleic, low-oleic oils such as Suki Pure Facial Moisture - Balancing ($29.95), a lightweight blend of jojoba, grapeseed, sunflower, rice bran, borage, and hazelnut, have been shown to diminish blackheads, when combined with a gentle exfoliant. If you tend to abuse your skin, it's also packed with healing extracts to calm the ravages of aggressive acne treatments and exfoliants. Only a drop or two, on skin still damp with softener, is required. If it still feels greasy, cut the texture with a splash of water. Nevertheless, it is a fact that oils are most comfortable on drier skin types, since they directly compensate for lipid deficiency and feed your skin with skin-conditioning, anti-inflammatory EFAs. Squalane-rich argan, such as the enriched version from Kahina ($90), is particularly well known for imparting a healthy glow. Another option for particular devitalized skin is Daybreak Only Face Feed ($24.95), a highly nourishing, concentrated blend of emu, avocado, seabuckthorn berry, borage, rosehip, and sweet almond. For those on a budget, plain apricot kernel has a superb finish on the skin, less likely to contribute to congestion than olive or coconut (capric/caprylic triglycerides).

Many plant oils are delicate and quickly go rancid. It's best to buy in small quantities and use them quickly. Store away from heat, light, and air.




7. SUNSCREEN



Shiseido Senka // Avène Hydrance Optimale // John Masters Suncare


Like (6) an oil, sunscreens qualify as barriers; they should be applied last. By neutralizing free radicals, antioxidants boost the performance of UV filters, so unless your skin is very oily, it's recommended that you may like to layer (4) a vitamin C serum or some other antioxidant serum first. Sunscreens should be applied liberally: between 1/2 to 1/4 teaspoon to the entire face. It's best to apply it incrementally, in patches, rubbing thoroughly to maximize absorption, rather than throwing it all on at once.

A good sunscreen should first be evaluated by the concentration of active ingredients. Unless you are at high risk for cancer or will be exposed to intense sunlight, comprehensive protection is more critical than high protection. Don't be misled by astronomical SPF. Most sunscreens utilize a blend of UV filters, each with their own specific range of coverage across the ultraviolet spectrum, in order to encompass the whole. A good example is La Roche-Posay's Anthélios, which features ecamsule (peak protection at short UVA, 345 nm), avobenzone (peak protection at long UVA, 360 nm), stabilized by octocrylene (UVB, 290-350 nm). Unfortunately, there is no standardized grading system for UVA protection, and many UVA filters have not yet been approved by the FDA, but if PPD is given, shoot for 10 or higher.

The best sunscreen is the one you use. No matter how sophisticated the blend of UV filters, they are notoriously unctuous of texture, a few with distinctive odors, so the base (inert, inactive ingredients) is a challenge to formulate well. If you insist on high protection, such Fallene or Blue Lizard, keep in mind that texture is first to be compromised.

There is no avoiding the fact: sunscreens will never feel invisible. The closest they come to elegance might be Asian sunscreen fluids, which achieve the feat with silica, volatile silicones, polymers, and a touch of alcohol to aid evaporation. The lightest I've found, Shiseido Senka Mineral UV Gel SPF 50 PA+++ ($17), is an excellent choice for oilier skins—slightly drying, even. It is also a good option for those who like to layer serums and moisturizers. Senka offers fairly comprehensive protection with oxtinoxate, octocrylene, parsol SLX, zinc oxide, ensulizole, and uvinul a plus (320-390 nm). If you want your sunscreen to offer a little hydration, Avène Hydrance Optimale SPF 20 ($24), which comes in the oil-free Legère and the mediumweight Riche, both with a soft fresh scent. Like most Tinosorb S (280-400 nm) sunscreens, the absorption is spectacular, close in texture to a regular moisturizer after five to ten minutes. For UVB protection, it has octinoxate and octocrylene. Take care not to buy the US version, an SPF 25 with titanium dioxide (290-350 nm). For those who find that chemical filters are irritants, physical blocks are a viable option. Furthermore, zinc oxide offers the most comprehensive coverage (290-400 nm) of all UV filters, though its efficacy is significantly reduced when micronized. Unfortunately, mineral sunscreens, since they form a physical barrier on the surface, are the worst offenders when it comes to texture. Without exception, they are heavy. John Masters Suncare SPF 30 ($32) offers some elegance of texture with skin-compatible aloe vera and humectants; still, it is best for drier skin types. Reapply frequently. Physical blocks rub off easily.

None of these sunscreens pill. None are waterproof, though Senka is water-resistant, and should remove easily with a mild cleanser. I've given range of ultraviolet coverage, not peak protection, for all UVA filters.




***





BIAS


My skin is extremely sensitive, so it is not always possible to test every active, namely glycolic acid and tretinoin. Otherwise, I've attempted the majority of these recommendations; its extreme reactivity actually tends to draw out the special properties of formulations very well.




RESOURCES


For clear, concise, impartial information about actives, I highly recommend smartskincare.com. I also used MUA to reference my opinions against others, in case bias was clouding my judgement; my username is ella343, if you're interested. Here is an informative post on the Japanese method on Ratzilla Cosme. I also owe much to the kindness of Dempeaux for mixing up a number of vitamin C serums (CE+ferulic, MAP, and tetra) for me to test. They were invaluable research for this article.

Labels: avene, beauty notes, embryolisse, hadalabo, kahina, la roche-posay, liz earle, neostrata, ole henriksen, pai, shikai, shiseido, silk naturals, skin biology, skinceuticals, suki, trilogy
10/19/2011 [17]
Beauty Notes: From the Runway
by Li Wen
I love backstage photos of models' makeup from fashion shows, and frequently use them as sources of inspiration. Some looks are kooky and extreme, others are wearable and natural, easily emulated. While face-charts and beauty breakdowns are primarily released for the benefit of beauty editors, they are also an excellent resource for makeup fanatics and makeup artists, which is why you will commonly find them now posted on beauty blogs.
During the week-long Chinese National Day Holiday, I picked three photos from my album of inspiration images on my iPad, and tried to recreate them using only what I have on hand here in Shanghai*. Bear in mind that I am not a makeup artist, merely an enthusiast. Skill is something only acquired through practice and observation; all you need to arm yourself with is a sense of adventure, and a willingness to go a little out of your everyday comfort zone. Makeup, after all, is not permanent. If you don't like the result, just wash it off.
Since my original intention when I started these experiments was not to show the pictures online, but to merely have some fun on my day off, I did not research that were products used in any systematic way until after I had completed my own take on it. Nor was I aiming for perfect verisimilitude - if I knew a pale lip was going to be ghastly on me, I substituted it with a brighter pigment. However, I have included links to the breakdowns wherever I could identify the show and the makeup artist behind it.
Base used throughout: Chanel Vitalumiere Aqua (B30 Beige-Sable) and Cle de Peau Beaute Concealer (Beige). I was putting on and removing looks too quickly, however, to be bothered with powder, so pray excuse the shine.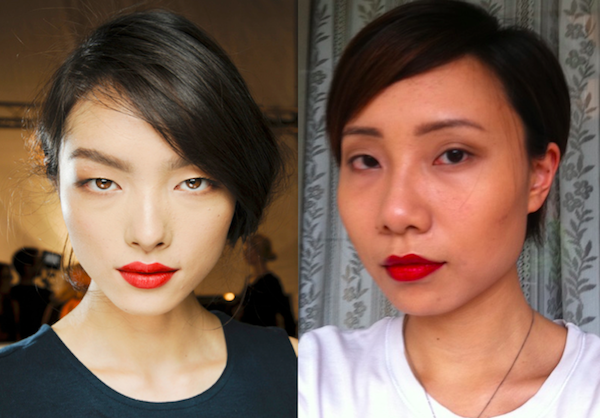 Look 1. Christian Dior S/S 2012 - Pat McGrath
An easy one to start with. The model is Sun Fei Fei, and there are some more images of the look here.

Eyes: Sun's eyebrows are pretty amazing to begin with; mine naturally needed more work, pencil and powder to make them thicker and darker. There appears to be some tan/golden brown eyeshadow on outer half of the model's eyes. Adapting slightly from the photo to suit my differently shaped eyes, I applied the middle shade from the Shiseido Strata trio into my crease. A dark brown pencil smudged into the lashline, then a layer of brown mascara finished off the eyes.

Cheeks: NARS Zen, a nude blush, to contour beneath the cheekbones.

Lips: An orangey-red lipstick, applied with a lipbrush. I only have one warm red with me in Shanghai, Cle de Peau Beaute R2, so I used that. Sun looks like she was wearing a gloss over the lipstick, but I couldn't find one so I left the lipstick fairly matte.

Wearability: 7/10. A slightly bolder variant of my normal day-off makeup.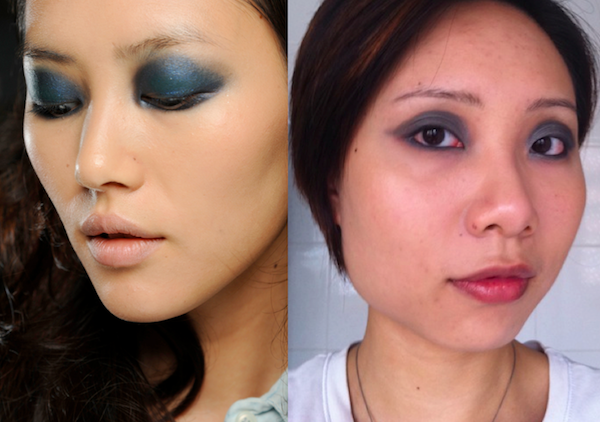 Look 2. Rodarte S/S 2011 - James Kaliardos for NARS
Round, navy-blue smokey eye with lavender lips. Beauty breakdown here, which shows the same look on a Caucasian model with deep-set eyes; the shape of my eyes are somewhere in between that and Liu Wen's monolid, so once again, I changed it from the inspiration photos.
Eyes: Instead of navy, I used a blackened teal (Chanel Murano quad), layered under a shimmery sky blue from Shu Uemura. A creamy black pencil went on my waterline, while mascara was neglected entirely. Brows had just the tiniest bit of NARS Bali brushed through them with the Shu Uemura 6OB to fill in gaps.

Cheeks: Skipped it. Kaliardos, however, used a NARS cream blush (Penny Lane).

Lips: Not having any nude or lavender lipsticks or glosses, I used the closest thing I had, a shimmering coral lipstick from NARS called Outsider. Ideally, though, I would have gone for something paler and more neutral, maybe a light mauve like Chanel Ingenue.

Wearability: 5/10. Strictly a night-time look, but not outrageous.
Look 3. Derek Lam S/S 2010 - Tom Pecheux for NARS
This circus-inspired makeup pre-dates Pecheux becoming the creative makeup director for Estee Lauder. A shame, because while his work is never less than gorgeous, I don't think he has done anything quite as weird and wonderful since going to Estee Lauder. This look he created with NARS products has stuck in my mind ever since I first saw it. Breakdown here.
Eyes: Here is where a few extra eyeshadow brushes would have come in handy, so all these colours didn't get muddied from being applied with dirty brushes.

Because I was working off just the image I had on my iPad, I had to guess at the colours and their placement. The purple I used was NARS Jolie Poupee (right side) mixed with MUFE 92, the blue in the inner corner a mixture of Jolie Poupee (left side) and the same light blue Shu Uemura shadow I used in Look 2. An orange shadow from Shu Uemura replaced NARS Mediteranee on the browbone, while a shimmery Shu Uemura green mixed with the olive side of NARS Nouveau Monde was my substitute for the emerald green from NARS Misfits under the eye. The lightest coat of brown mascara was used. Brows were left over from previous look.

Cheeks: I forgot about the cheeks, although checking the breakdown of the look now, I can see that Pecheux used a pink (Desire) and an orange (Taj Mahal) blush.

Lips: My lips are naturally quite dark, so I went with a sheer pink lipstick, Granville Dior Addict, instead of trying to tone them down with a lighter colour.

Wearability: 3/10 on me. I think this would be amazing on someone fairer, with light-coloured eyes, but with my features, it just makes me look unfocused and tired.
*My main residence and the larger part of my stash is in Sydney.
Labels: beauty notes, james kaliardos, nars, pat mcgrath, tom pecheux
10/15/2011 [7]
Globe Trotter: Finding Stillness in Shanghai
by Li Wen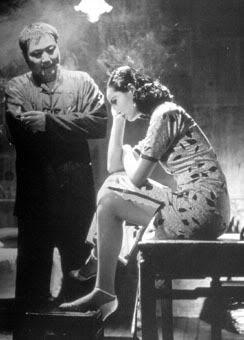 Scene from a silent film starring Ruan Lingyu (1910-1935)
A city of many faces, Shanghai is easy to describe in terms of cliches: crowded, materialistic, ruthless in business, giddy with self-admiration, cosmopolitan, fast-changing, obsessed with all that is new and foreign. Like most cliches, there are aspects of truth to all of these, woven deep into the reputation and the identity of the city.
Then there is also the fabled pre-revolutionary Shanghai of the 1920s-1940s, the "Paris of the Orient" (or, as it was also known, the "Whore of the Orient"), fictionalised so many times in the Hollywood imagination as an exotic, somewhat decrepit, shambles of treachery and vice, glamour and beauty - where East meets West, urban meets rural, and trouble and creative energies abound. A treaty port and a classic example of a colonial semi-periphery before 1949, Shanghai's fate and prosperity was always less synchronous with that of the rest of China. Spies, revolutionaries, gangsters and traitors pepper the city's cultural history and urban legend, contributing to much of its allure.
Though it has always been at the frontmost battle-lines of modernity in China, the Shanghai I left as a child in 1992 is very different to the city I return to now, two decades later. The most visible and striking signs of its recent development: elevated roads and Metro winding their way all over Shanghai, and the cluster of skyscrapers which map out the now-defining skyline of Pudong District, an area east of the Huangpu River that was sparsely populated farmland as recently as early 1990s.
Frequent trips to Shanghai since 2000 have kept me abreast of all the goings on, so that now, I can once again think of Shanghai as being "my city" - although it helps that I never lost my ability to speak Shanghainese. My apartment is located in the former French Concession, what people are usually referring to when they speak of "Old Shanghai", which has managed to retain a sizeable amount of its colonial-era architecture*. Within this little portion of the city, you will find live jazz, Shanghai's own international film festival, cafes and beer gardens, tailors and cobblers, and perhaps the only authentic French baguettes in mainland China.

"My Shanghai" is quaint, gaudy, a bit of the old and a bit of the new; it's charmingly savvy, undeniably elitist, but still refreshingly prone to quiet acts of class warfare. For every store attendant who is as polite and as helpful as service personnel in the United States, you will encounter one in Shanghai who will dump a handful of small change directly onto the counter rather than into your outstretched palm, just to derive some small pleasure in seeing you pick them up individually, like chopsticks scraping the bowl for the last grains of rice. And you have got to love that.
***
Grand Gateway at Xujiahui, where I do a lot of my grocery shopping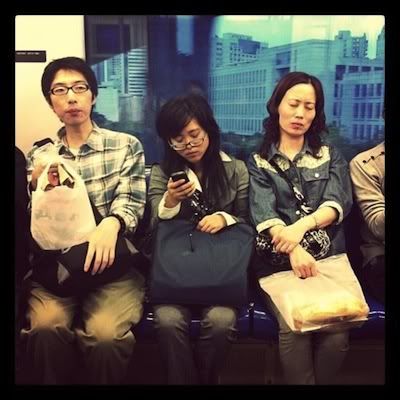 Afternoon commuters on Metro Line 3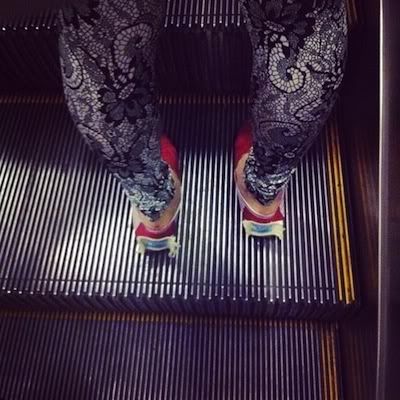 Spotted on the escalator at South Shanxi Road Metro Station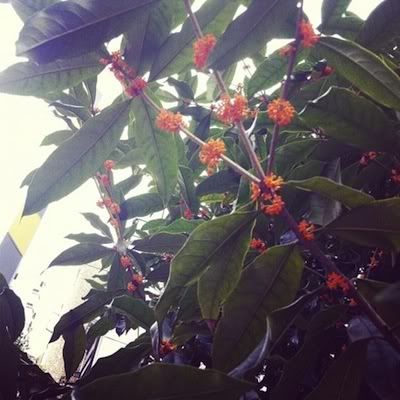 Flowers in the courtyard of my apartment complex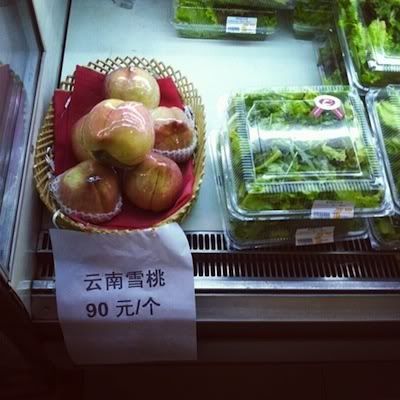 "Yunnan Snow Peaches 90RMB each" (at City Shop, Central Huaihai Road)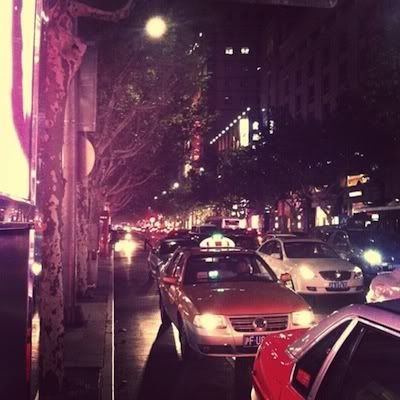 Huaihai Road, a major shopping boulevard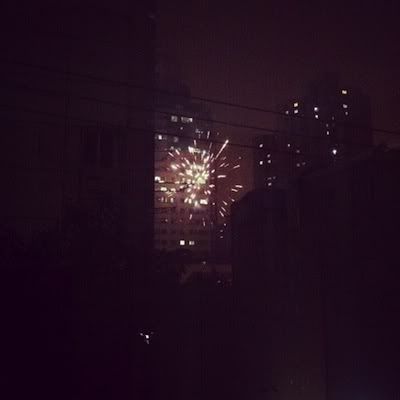 Fireworks seen from my bedroom window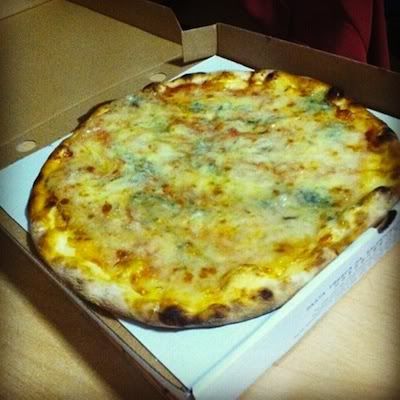 Pizza di quattro formaggi from Pasta Fresca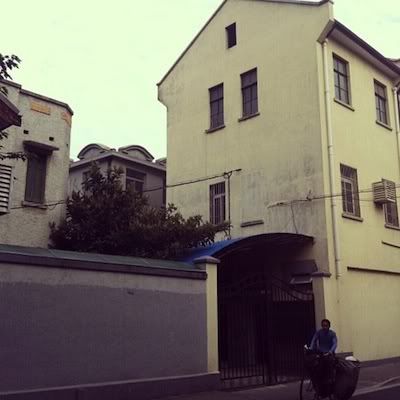 Huating Road, a quiet lane in the French Concession, running perpendicular to Huaihai Road and Changle Road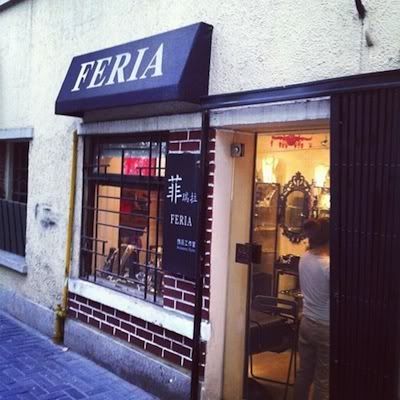 Feria boutique on Changle Road where I recently had some silk blouses made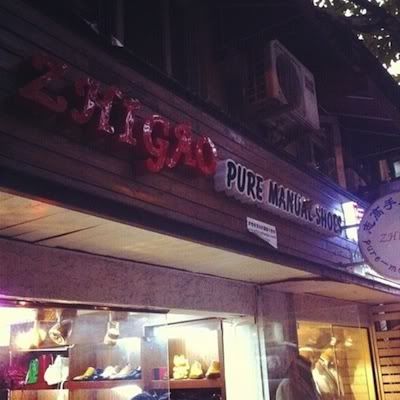 Zhigao Shoes, also on Changle Road, where you can order handmade shoes **
*One of the quirks of this part of the city is its underground: the colonial governments of the different occupying countries (among them France, United States, and England) each installed their own plumbing in their own concessions during the late-19th/early-20th centuries. Water and sewage pipes of different standardised widths and thicknesses still mark the leaky boundaries of those different occupied zones.**Expect a post later of my first experience with having shoes custom-made.
Parts of this article are adapted from the post "Shanghai girls" on Fire of Spring, 16 July 2011. Photos were taken on my iPhone using Instagram,.
Labels: globe trotter, ruan lingyu, shanghai
10/13/2011 [4]
Color Me In: Cassandra
by Dorothy
FIRST NAME Cassandra

HAIR COLOR Ranges from dark red to titian during a dye cycle - naturally medium blonde

SKIN TYPE Normal to a teeny bit dry, blackheads at nose, chin and hairline, sensitive, very minor breakouts, touch of pigmentation on the chin

SKIN TONE Fair, pretty even. Not a flusher or a blusher.

EYE COLOR Mostly blue

MAKEUP STYLE Minimalist, which is beginning to bore me. I dye my lashes and brows so I look alive in the mornings.

SPECIFIC CONCERNS Essentially, how to go a little bigger? I have a surprising quantity of makeup for a woman who's been wearing mostly lip balm, but work is very casual and I've fallen out of the habit. It took me till my 30s to understand I could use red lipstick, and now I wear a variation on red most days. I despise Nars Orgasm—gold glitter has no place on my face, and though the underlying color is very pretty there's something banal about the whole thing—but not sure about how to choose blush in general. I find anything beyond the simplest wash of eyeshadow with eyeliner really challenging. I feel like it all gets muddied up.

Basically, except for my affection for red lipstick, I am stuck in a very boring rut.

TOP THREE FAVORITE PRODUCTS Laventine normal/dry oil cleanser, Biologique Recherche P70V, and the Le Metier de Beauté Kaleidoscope I bought last week. I haven't used the last yet, but it isn't taupe. Which is very exciting.



***


As Cassandra likes her skin, there's not much point in covering it up. A bit of undereye concealer, the universal savior, and a blush that brightens her face, such as Shiseido RD401 Orchid ($30), should be sufficient to bring life to the skin.

Applied sheerly, the bright blush provides the perfect backdrop for her favorite reds, which can sometimes drain the face. To round out her collection, we recommend NARS Jungle Red ($24), a highly pigmented, retro-matte, bright cherry red. If you're going to do red, it might as well be unapologetically red. For a more mundane, easy-wearing alternative, we cannot choose lipsticks that skew too warm, like peachy nudes, as Cassandra's original coloring belongs to a blonde, her skin tone considerably cooler than a natural redhead's. We think a juicy pink with a bit of gloss to it, like Lipstick Queen Fly ($20), should flatter her better.



Cassandra has not experimented much with eye makeup, but with her big blue eyes and generous lid space, her options are practically limitless. Our first recommendation is a couple of fluffy blending brushes—Paula Dorf Sheer Crease ($30) is a good one for large eyes—to keep the pigments under control. If you're going to attempt more complicated eye looks, seamless diffusion is key.

With her cool complexion, it's no wonder that she often complains that taupes go "muddy" on her. So we chose, as the central pigment in Cassandra's eye palette, the blue-tinged graphite of Benefit Strut ($19). Since it's a cream shadow, it'll form the foundation for a quick smoky eye, when anchored by the bruised black of Laura Mercier Black Violet Eye Kohl ($19), with a surprising undertone of purple that's softer than your standard black. For an extra hit of color, she might layer a brighter pigment onto the center of the lid, a plum like Le Metier de Beauté Alexandrite ($30), for an intense tonal contrast of her blue eyes, though she could just as easily substitute a green or gold or sapphire blue, as the mood suits her. For a highlight, we suggest the crystalline mauve of Laura Mercier Dusk ($22). A thread of grey in its undertones ties it neatly to Strut and Black Violet, but there's enough pink-purple to pair, very simply, as an eye-opening wash on the lid with Alexandrite in the crease.

Labels: benefit, color me in, laura mercier, le metier de beaute, lipstick queen, nars, paula dorf, shiseido
10/12/2011 [3]
Beauty Notebook: Leonor Greyl
by Dain
Blame it on my Puritanical upbringing*, but I've never been able to quit my sulfate-based shampoos. It's an established fact that a healthy head of hair retains its natural oils. Still, I like a shampoo that feels fresh followed by a thick, unctuous deep conditioner: the conventional formula for long, naturally dry hair such as mine. It doesn't actually work. At least, it's never the transformative experience promised by advertising.

Whether your poison is Bumble & Bumble or Pantene, haircare formulations are all pretty much the same. Save a handful of oils, conditioners cannot penetrate the hair shaft and moisturize from within. Shea butter may sound better than cyclopentasiloxane, but they coat the hair in much the same manner: providing slip for detangling, smoothing down the rough cuticle, and sealing in moisture. So I kept trying new deep conditioners, one after another. Gallons of it. I even layer them: first a protein treatment from Kerastase, I layer a more moisturizing conditioner, a moisturizing conditioner, then an oil-and-silicone sealant. I stopped coloring my hair. I never touched blowdryers or irons; it's strictly air drying for me now. I switched to sulfate-free shampoos, ghastly stuff that didn't cleanse properly but stripped at the same time. I attempted conditioner washes, too laborious a procedure for someone who doesn't enjoy fussing over her hair, before devolving onto the lazier strategy of shampooing infrequently. It's not good for your hair, to wash it every day, but even so, a part of me can't help but cringe. But while I've rarely had a bad experience, no product has ever made a genuine difference to the condition of my hair.

I was resigned. After all, the hair is not alive. Once it's damaged, it stays that way, even if you've gone to these extremes to treat it well.

It took Leonor Greyl, the ne plus ultra of luxury French haircare, to break me of my addiction to squeaky clean. Call it delusional if you like, but the experience is nothing short of voluptuous. If you're not familiar with French haircare formulations, they'll come as a shock to American sensibilities. Instead of making up for an aggressive shampoo with a heavy-duty conditioner, the typical French shampoo is mild, so low on lather it barely seems to cleanse, buffered further by a pre-treatment of oils, while the typical French conditioner is light and thin, hardly more than a detangler. Every fibre of my cultural conditioning cries out in outrage, but not only does it leave my hair perfectly clean, but healthier, too.




Cultural differentiation: an indulgent spa treatment in Paris vs. an emphasis on expert styling in LA


The linchpin of the Leonor Greyl line, Huile de Palme ($49), comes first. You need very little, distributed through dry hair with a boar-bristle brush. Now swan around for a bit, the longer the better—watch a movie, work in your garden, catch up on your reading, cook dinner—work the treatment into the fabric of your life. The fragrant oil will seep into your strands, for the deepest conditioning you'll ever experience. It needs at least fifteen minutes, but you can leave it in as long as you like. The proprietary blend of vegetable oils includes coconut, so it nourishes your hair from within, and like coconut oil it can harden when the weather turns cold (run it under hot water and it will soon liquefy). I love this product. One might use straight coconut oil instead, but it is very heavy and requires some effort to rinse out. Huile de Palme is more versatile. In addition to coconut, it also contains oils that coat the hair, so you can also use a few drops on clean damp hair to seal in moisture and protect it from the elements, and its dry, lightweight texture becomes invisible once your hair dries, unlike the greasy feel of straight coconut oil. It provides all the necessary nourishment for my untreated virgin hair. I've been using it religiously for a month and a half as a pre-shampoo treatment, and it's been transformative: not a superficial silkiness but a substantive improvement in the quality of my hair. In fact, I haven't touched a drop of conditioner for a month and a half on the Leonor Greyl method, and my hair has never looked healthier.

Yes, you read that right, NO CONDITIONER.

It doesn't seem to matter what shampoo I use. Huile de Palme breaks up easily. Personally, I like to saturate my hair first; I reason the hot water helps the oil to penetrate the hair shaft better for a final deep condition. I squeeze out the excess water. Then, with a gentle shampoo diluted with a little water, starting with the scalp, I massage it into my hair, then leave it in for a few minutes, so the surfactants have a little time to emulsify the oil. Since my hair is dry, I'm not very particular about cleansing the ends; the shampoo that runs down the hair shaft from the scalp is enough. It's not as complicated as it sounds, a bit like a vigorous scalp massage.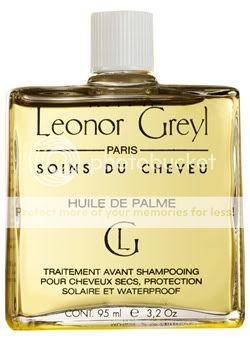 Ah, if only I had oodles of discretionary income, and a cute shampoo boy to wash my hair.


If I've got the time, I do the full Leonor Greyl treatment. It's the most luxurious experience imaginable for the hair. First, the Huile de Palme down the length of the hair. The scalp gets twenty-five drops of the Régénérescence Naturelle ($49). It's not always easy to distribute an oil through the scalp, but the dropper makes it easy to target the most sensitive, itchy, dry, dandruffy areas, perfect for a scalp massage. It also smells heavenly (I'm less fond of the powdery floral scent of Huile de Palme). Once an hour has elapsed, I hop into the shower. Instead of shampoo, I use Crème aux Fleurs ($43). Unlike a traditional shampoo, Crème aux Fleurs doesn't foam, like a cream cleanser for the hair, so it doesn't strip colored, damaged, long, or dry hair. It instantly soothes irritated scalps. Leonor Greyl pioneered its formula in the 1970s, long before conditioner washing was popularized, so you might say that Crème aux Fleurs is seminal, the original CO Wash. Like all condioner cleanses, you have to be generous with product, distribute it thoroughly, massage it vigorously, emulsify it slowly... It's labor-intensive, time-consuming, and hardly cost-effective.

Nevertheless, your hair is so bouncy, shiny, healthy, beautiful, because you've cared for it as it should be handled, with oils to nourish hair and scalp and very gradual, gentle cleansing. Believe it or not, my hair is not only clean, it stays clean for longer. If your hair is very damaged, the Leonor Greyl method won't restore its health, but it will maintain your hair in the best condition possible. The American formula of harsh lathers and unctuous conditioners, like so many American standards, is built on convenience. It's easy, quick. But that Puritanical clean damages your hair. You've got to wonder, how bad must our shampoos be for such heavy conditioners to become reflexive. These days, I always apply Huile de Palme before I shampoo, after I shampoo, and it's made all the difference. It's so simple, and yet it negates day-to-day damage so well.

One caveat. While I no longer require a conditioner to moisturize my hair, without one it tangles more easily. I'm thinking of adding a light detangler from John Masters Organics into this routine, so I won't be going without conditioner for much longer.

* At some fundamental level, America is Puritan culture, but it is certainly a stronger strain here in New England.

Labels: beauty notebook, leonor greyl
10/09/2011 [6]
Fashion Notes: Cocktail Hour
by Dain
I'm fond of dresses. For reasons not quite clear to me, perhaps because I look quite childlike, I look better in a frilly, decorative, feminine style. (Edgy androgynity makes me look like a jackass.) Perhaps to counteract my youthful appearance, I prefer formality from my clothes, and dresses look neat and pulled together with an absolute minimum of effort. All you need are a pair of shoes—maybe a cardigan if it's chilly—otherwise it's a one-step outfit for whenever the weather is clement. My main difficulty, when choosing silhouettes to flatter my figure, is the stubbiness of my legs: they're proportionately short, on someone already short. So I look for a trim torso, a high cinched waist, a full skirt that hits past the knee... Those are always reliable.

These are my favorites. They're all quite comfortable (consider how restrictive jeans are by comparison), and often worn. Prices are approximate, since not all were purchased in the US. The shoe paired with each dress is invariably the same. I don't try to be original about dressing; I rely on uniforms rather than constant reinvention. As with my makeup looks, once I hit on a combination I like, it tends to stick that way.



#1


Lucky Brand kimono dress ($140) // Manolo Blahnik Yambamod ($700)


This is only one of five or six floral print dresses I own, but this pseudo-kimono is the most unusual cut. Usually, I cannot wear clothes with a drape this loose, but luckily this has enough shape around the bust and waist. And for easy contrast against the coral tones in the dress, a pair of purple satin heels.



#2


vintage Japanese navy polka dot dress ($80) // Alaia Flats ($1200)


This outfit is one of my most reliable. It's cute but trim, very breezy for summer, but dark enough for cooler weather. With a shorter dress, I like flats, as heels can sometimes look terribly vulgar. Since I wear a lot of prints—it has to do with being a miniature person, I suppose—I'm fond of the clash between polka dots and zebra, sometimes adding a third tier with a flowery pink scarf. The jewelry is perhaps over precious, but I always feel like a cat in that choker.



#3


Club Monaco "Deena" dress ($199) // Prada cherry patent bow pump ($600)


White is my black, and I'm terribly fond of lace. A no-brainer, this dress. Plus a hint of sex appeal from glossy red patent leather.



#4


Korean street brand upholstery print dress ($60) // white tights // Manolo Blahnik Butterfly ($600)


Sorry about the wrinkling. I dug this one from my closet floor. The sleeves need trimming, so I've rolled them up; normally, I'd slip this under a sleek leather jacket as a sort of alternate cardigan. It's a straightforward design, but the print is an interesting mix between busy and drab. I rarely wear tights, but there's a Alice-in-Wonderland appeal of the textured white against the classical black pumps, my most-worn work shoes.



#5


long cobalt blue jersey dress ($75) / Emu Bellbrae ($90)


It's a trifle Grecian, from top to bottom, but the low-key flash of silver sandals is more chic than heels with a long, formal gown.



#6


white Banana Republic sundress ($99) // Banana Republic olive espadrilles ($68)


My favorite outfit, ever. I throw on a red cardigan, most of the time. This dress is a simple cotton sundress, but these are the proportions that flatter me most. It's so beloved it's conformed to my figure, and those espadrilles have taken me everywhere in the world: Hvar, Paris, New Haven, Seoul, Ubud, Boston, Sarajevo, Montreal, Bruges, Athens. I've had them since high school. Unlike makeup, clothes have a sentimental value for me, and I'm happiest when wearing them to shreds. I dread the day they give up the ghost, but they've proved the most durable in spite of being the cheapest shoes here.

Worn throughout: Hourglass Nocturnal Femme Rouge, Essie Borrowed & Blue, and Agatha pavé drop earrings. For a couple of picks, a handmade seed pearl choker.

Labels: agatha, azzedine alaia, banana republic, club monaco, emu, lucky brand, manolo blahnik, prada
10/04/2011 [7]
Subscribe to
Posts [Atom]. Or
follow on bloglovin'. If
you'd like to contact Dain,
feel free to email me.
I'm also on Pinterest.
Features

The Mnemonic Sense
Most Wanted
The Beauty Primer
Lookbook
Bestsellers
Consumer Diaries
Closet Confidential
On The Label
Beauty Notebook
The Hit List
Color Me In
The Makeup Artist
Wedding Bells
Globe Trotter
Desert Island
perfume notes
beauty notes
fashion notes
culture notes
minimalism
chypre arc
floral arc
fresh arc
masculines arc
gourmands
& orientals arc
Archives

August 2008
September 2008
October 2008
November 2008
December 2008
January 2009
February 2009
March 2009
April 2009
May 2009
June 2009
July 2009
August 2009
September 2009
October 2009
November 2009
December 2009
January 2010
February 2010
March 2010
April 2010
May 2010
June 2010
August 2010
September 2010
October 2010
November 2010
December 2010
January 2011
February 2011
March 2011
April 2011
May 2011
June 2011
July 2011
August 2011
September 2011
October 2011
November 2011
December 2011
January 2012
February 2012
April 2012
May 2012
June 2012
July 2012
August 2012
September 2012
October 2012
November 2012
December 2012
January 2013
February 2013
March 2013
June 2013
July 2013
Images

Photobucket