Announcements
If you're new to this blog, then read our guides to the basics: Skin (Part I), Skin (Part II), The Supernatural, Color Theory I, Color Theory II, Eyes, and Brushes.

Also, check out the blogsale.
Contents
· Consumer Diaries: March 2010

· Consumer Diaries: March 2010

· Beauty Notes: Out, Damn'd Spot!

· Fashion Notes: Male Finery

· Beauty Notes: A Full Set

· Culture Notes: Bigger Than Jesus

· Closet Confidential: Building Blocks

· Perfume Notes: Chemistry

· Beauty Notes: The Beautiful Bruise

· Bestsellers: SK-II

· Fashion Notes: Black with Brown

· Culture Notes: Kitsch

Favored

Art Tattler
the glamourai
The Non-Blonde
Perfume Shrine
Lisa Eldridge
Garance Doré
Smitten Kitchen
Into The Gloss
Grain de Musc
Lacquerized
Res Pulchrae
Drivel About Frivol
The Selfish Seamstress
Killer Colours
Bois de Jasmin
Glossed In Translation
Jak and Jil
Toto Kaelo
Worship at the House of Blues
I Smell Therefore I Am
Food Wishes
The Natural Haven
Messy Wands
1000 Fragrances
Moving Image Source
Wondegondigo
The Emperor's Old Clothes
M. Guerlain
Colin's Beauty Pages
Barney's jewelry department
Parfümrien
loodie loodie loodie
The Straight Dope
Sea of Shoes
London Makeup Girl
Sakecat's Scent Project
Asian Models
Ratzilla Cosme
Smart Skincare
Illustrated Obscurity
A.V. Club
Tom & Lorenzo: Mad Style
Eiderdown Press
Beauty and the Bullshit
La Garçonne
Flame Warriors
Everyday Beauty
Fashion Gone Rogue
Now Smell This
Dempeaux
Fashionista
The Cut
A Fevered Dictation
Nathan Branch
101 Cookbooks
Consumer Diaries: March 2010
by Dain
DAUBING
My favorite look at this moment:


Click for enlargement.


The Kindly One once wrote to us, in an email, "Very occasionally, though, a color is so beautiful that I just want to have it at home to look at, even if I never wear it", and so it was for me and the limited-edition Benefit Mermaid Velvet Eyeshadow ($18), a green so dimensional it shifts from silvery-blue to gold-dust according to the light. Though I generally hew to liners over shadows, Mermaid is astonishingly wearable even on my limited lid space. The rest of the accents are kept as delicate as possible: feathery, long, curly lashes with Kiss Me Heroine Make Volume & Curl Mascara, glossy, naturalistic brows with Laura Mercier Brow Definer ($20), and sometimes MAC Ego Starflash Eye Shadow ($15, not shown) to highlight the inner corners. For lips, I've simply recycled my bold, punchy NARS Schiap ($24). The colors complement each other, but the textural contrast adds extra interest: where Mermaid is sparkly and sheer, Schiap is matte and opaque.

I've discovered the most brilliant combination: SK II Facial Treatment UV Protection SPF 25 PA++ cut into Shu Uemura Face Architect Remodeling Cream Foundation SPF 10 ($45). Possibly the most luxurious BB cream, ever. Those of you in the Western world may think of it as a tinted moisturizer. I look airbrushed—nay, as if I were sporting a halo—that I gather queer, shocked looks from people. Best of all, it just looks like good skin; just an hour ago, the girl at the Chanel counter (Rouge Coco, at last!) assumed I wasn't wearing any base. Take my commendation with a grain of salt, however; I have dry skin.

SNIFFING
And the perfect "wear-it-to-death" perfume for the upcoming season? BVLGARI Black. For something so unusual (rubber?!), Black is oddly comforting, a chewy vanillic that smells like old thick paper. Though its sillage is so distinctive, it's also quite subtle.

EATING

Strawberries are in season in Korea—or, if they're imported, they're at least extremely cheap and far more savory than in America—and I've developed a habit. I like mashing them, no blender required, with a teaspoon of sugar to draw out the juices, to mix with yogurt and milk for a quick, cheap, nutritious milkshake. A great alternative to ice cream for dessert, possibly even more delicious, and on the run, they're surprisingly filling. My boy, who has a serious weakness for strawberries, adores them.

Thanks to my punishing hakwon job, I've lost thirty pounds since my shift to the eastern hemisphere—quite extreme, though I didn't quite approach the skeletal—but slowly, I've been gaining it back. Mostly, it's the lack of stress, more than any caloric gain. It's been a blissful two months, but I'm not sure whether to sigh over my now jiggly thighs or celebrate the return of my boobs.



WATCHING
A film represents a collaborative effort, and perhaps undue attention is paid to the actors (often the most important relationship is between the director and cinematographer), but occasionally, there is nothing that can make up for a powerhouse performance:




The perennial genius of Orson Welles.





I want to grow into Maggie Smith. The irony, that Sandy becomes a miniature
version of Miss Brodie through her condemnation, is laid on thick.


WEARING


Part of the frustration, and unexpected joys, about seasonal shopping lists is that they are so rarely fulfilled. For perhaps the first time, ever, I'm already finished. As usual, I've sourced a new dress (shown above), a new bottom, and a couple of new tops according to the vagaries of commerce and my own print-heavy taste. The accessories have a certain rough-cut bohemian aesthetic to tie them together, but attenuated to delicacy, so they're not too obviously thematic: Isabel Marant necklace ($125, above), silver gladiator sandals, a vintage cream/brown Bally saddlebag, my beloved olive espadrilles from Banana Republic, and a vintage tooled leather belt (to ground my skirts).

LISTENING



"Deny me and be doomed."


WISHLIST


I've been ruminating lately on the intentional design and accidental virtues of Asian skincare. I've long dismissed the anal-retentive multiple steps of oil-based makeup remover, cleansing foam, humectant-rich softener, concentrated essence, then a moisturizer according to need—emulsion or cream. This is before any "special care" like eye creams or masks get involved. There is, I've discovered, a kind of internal logic involved, and the products do work in tandem.

And—can I deny it?—my skin loves, loves, LOVES Shiseido. I don't get it. The ingredients reveal nothing special. But The Skincare, here I come!

Labels: benefit, bvlgari, consumer diaries, hedwig and the angry inch, isabel marant, kiss me, laura mercier, mac, maggie smith, nars, orson welles, shiseido, shu uemura, sk ii, the third man
3/30/2010 [0]
Consumer Diaries: March 2010
by The Kindly One
WATCHING





There has been exactly one season of America's Next Top Model that I've missed. Otherwise, there has not been one moment that I've missed, and the mayhem has gotten even better with the addition of Andre Leon Talley, who has become my New Favorite Thing.

READING




I've recently gotten back into reading American Vogue. It's something I fall in and out of touch with. The last couple of months have had more interesting articles and editorials to me than in the previous months. Plus, I think that step away made me appreciate it more. I get Vogue now. It's not meant to be taken seriously, really. It's meant to be some reportage of the real world of very privileged people saying very frivolous things and 90% fantasy, an exploration of what happens when you combine very fanciful, exquisite clothing with an Upper East Side sensibility. Because let's face it - even when Vogue does street, it's Lily and Serena van der Woodsen's* idea of "street," not Jenny's. Or even Vanessa's.

This image, sadly, is from Vogue Italia, which promotes captivating cover art, and not American Vogue, which does not.

DAUBING




Laura Mercier Metallic Creme Eye Colour in Burnished Copper ($22) has turned out to be a sleeper hit in my stash. I probably swatched this color for the first time a year or two ago and fell in love with its complexity, with hints of gold and orange suspended in shimmery red brown. I did not fall in love with the price or the likelihood of it's having very poor lasting power on my very oily lids. I finally caved on it a few months ago and find it's now one of my very favorite toys to reach for. I've found that using the smudger side of a cheap Sephora brush to thinly line my top and bottom lashes works beautifully to give a either a crisp, opaque line or a smudgier, sheer finish, depending on how I work the brush. I then either leave the line as is and tightline with black liner or add NYX's Eggplant or Red Bean Pie on top of Burnished Copper for a vibrant, shimmery pop of purple (the purple side of NARS Eurydice works well, too). The key to the look is Too Faced Shadow Insurance, which gives Burnished Copper lasting power and opacity (it's too sheer otherwise).

WEARING




I'm really not a fan of leggings as outerwear. I think they lend the wearer to laziness and are largely unflattering. However, I had to break down and buy some when my tights failed to keep me warm in an unreasonably cold, bleak winter. I ended up getting these brushed leggings from Gap ($19.50) in athletic grey and black on sale (which look like they've sold out, leaving only navy). I get it now; there is nothing more comfortable than wearing something formfitting, soft and soothing on the skin. I leave mine under clothes or for loungewear, though.

LISTENING





I have a job that requires me to sit in front of a computer eight hours a day. It is very tedious and very boring (and so are my coworkers). To get through it, I listen to YouTube videos all day long. My favorites are cosmetics reviews and Ricky Gervais podcasts/radio edits. This is one of my favorite Karl Pilkington stories. I just like how he takes something somewhat commonplace and normal - the discussion of cloning - and weaves it into this bizarrely fantastical tale that has its own sense of the commonplace and ordinary to it.

WISHLIST

This could take an age.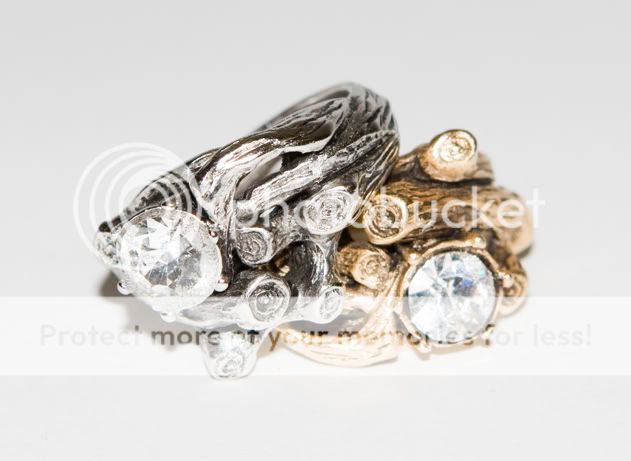 I knew I was in trouble when BleachBlack's Kristin posted this ring a couple of weeks ago. The site's coauthors have extended their collaboration with Urban Outfitters to include this ring. Though I typically don't wear jewelry, I think I could make an exception for something this stand-out and unusual, particularly as it is only $18 and I have a 10% UO code.




I've been excited about MAC's upcoming Art Supplies collection for a couple of months (US release date April 1; international release later in month). The collection features new Pearlglides and Pro Longwear Lipstain Markers, both of which I wanted to invest in heavily. I love Pearlglides; as I've discussed extensively with Dain, Dorothy, and Anne, my eyelids are too oily to keep on any gel pencil liners except these, which have the requisite grit to stay through the day. I was also excited to try the Lipstain Markers, having grown to prefer lip stains over gloss and lipstick. I'm a bit disappointed by the initial reviews, none of which are impressed with the color range of the Lipstain Markers, with some even saying they smell bad and taste weird. However, everyone's in agreement: the Pearlglides rock. I'm going to get mine on April 1 (I'll be damned if I miss out on these). The ones I'm particularly interested in are Undercurrent, a teal base with gold and green flecks, and Almost Noir, a browned-out plum.

While I'm at MAC, I'd also like a 208 Brow Brush ($19.50). I've never had a brush specifically made for the brow area, and let's be honest, some days it shows.

*In a total aside, perhaps Lily and Serena are the creepy Stepford, less cool, parallax universe version of Judy and Jane Aldridge?

Labels: america's next top model, consumer diaries, gap, gossip girl, laura mercier, mac, sea of shoes, urban outfitters, vogue
3/27/2010 [2]
Beauty Notes: Out, Damn'd Spot!
by Dain
When they make up, Korean women wear an awful lot. It's rarely colorful, nor so obvious as the Western vulgarity of smoky-eyes-and-nude-lips, but it's an awful lot: bulletproof sunblock, layers of BB cream and powder pact, sparkly lipgloss, falsies anchored by half a tube of mascara and a strip of black liner, both waterproof. For nights out, they add on the inner corners of the eye a coarse silver-white frost. Once married, rose and burgundy lipsticks enter the realm of the permissible. "You can always tell the fresh meat," complained my friend G. of her university campus, "they spend ages primping." Much of this stuff is waterproof, indelible well beyond your Colorstay, so how do they get it off?



Double cleansing, of course.


When we were researching non-foaming cleansers for Hit List, I bemoaned the dearth of milky cleansers, which languished under imported French labels, snowed under by an endless vista of cleansing oils and foams. I knew these formulations, though so opposite in their technology, were often used in conjunction, I even knew it was called "double cleansing", but I dismissed it as a gimmick. Cleanser is cleanser, was my surly determination, it all washes down the drain.

In theory, it should work. Cleansing oil, massaged onto dry skin, breaks down oil and dirt and the most stubborn eye makeup, then, upon contact with water, rinses almost clean. I've long been fond of AA favorite DHC Deep Cleansing Oil ($25) for its thoroughness, but I fretted it might enlarge my pores with continued use. There might be something to this double-cleansing business, I thought. Any lather would do, gel or soap, to clear the skin of any remaining residue, but the standard, demanded by the Asian consumer base, is a fine dense foam. A very little product yields hyperbolic lather, in texture only deceptively creamy, as they tend to be rather harsh and drying. I'm currently using Innisfree Olive Moisture Creamy Foam (7,000 KRW, about $5), a brand not available in the United States as far as I know, largely for an attractive price point, but I fully intend to upgrade to the luxurious Shiseido The Skincare Extra Gentle Cleansing Foam ($30). I suspect the differences between foam cleansers is very little, so a less expensive alternative to imported Asian brands might be Vichy's Purete Thermale Purifying Foaming Cream Cleanser ($16.50).

I quite favor the combination. It is not merely that my skin is so thoroughly, thoroughly clean. I might swear that it has diminished the congestion scattered minutely over my complexion, if only but a little. Even the blackheads on my nose seem to be shrinking. The cleansing oil loosens the plug (massage well), the cleansing foam prevents further impacting, and over time... but my imagination may be at work here.

The main drawback? Alas, it's quite stripping, even restricted to nighttime, and my dry skin needs those oils.

Labels: asiatica, beauty notes, dhc, innisfree, shiseido, vichy
3/26/2010 [1]
Fashion Notes: Male Finery
by Dain

It's been a while since I looked at an outfit and felt such uninhibited admiration. I don't particularly care to dissect this one, other than to say, for all that I bitch about Korea, it has its share of pleasant surprises. Would an American guy walk down the street in that fully confident in his masculinity? Nope.

From StreetPeeper.

Labels: asiatica, fashion notes
3/19/2010 [3]
Beauty Notes: A Full Set
by The Kindly One


This video is actually a very good resource on how to achieve full, separated, natural-looking lashes. It might seem easy on the surface to apply mascara - just swipe it on and go. In reality, though, unless you are born with naturally thick, long, curled lashes, achieving that effect takes real effort and technique. When done masterfully, it's an art form, just like applying red lipstick, and I like that this video nods to that.

Labels: beauty notes, makeup by tiffany d
3/16/2010 [1]
Culture Notes: Bigger Than Jesus
by Dain
My brother was musing over a friend of his, who reminded him of me. "She's a feminist," he said. "Oh?" said I, "am I feminist?" (It had never been a subject I had discussed explicitly with him.) "Yes," he shrugged, "aren't all intelligent women?"



It's ironic that Lennon comes from the first mass-explosion boy band, but consider this mildly pedophilic harem:
"We make her paint her face and dance.
If she won't be slave, we say that she don't love us
If she's real, we say she's trying to be a man
While putting her down we pretend that she is above us."
These girls (and let us not forget that they are products, not producers) are essentially owned, groomed, trained, surgically altered, promoted, and styled by others. No, they don't have talent. No, they don't have personalities. And no, none of their lady bits sag. The perfect kpop formula; the lack of substance is deliberately sought and refined into cotton candy. They're not looking for a Madonna, a great star whose charisma transcends the (sometimes dubious) music itself. They sell on the simple premise that they will never threaten you by turning into real women.

Honestly, I think kpop is bad for Korea's health. It's like cultural diabetes.

Labels: asiatica, culture notes, girl's generation, john lennon
3/15/2010 [4]
Closet Confidential: Building Blocks
by Dain
In some ways, fantasy clothes are an easy pursuit; Dior couture may be worn only by the fashion elect, but its appreciation surely belongs to everyone. Often, however, I feel myself driven to answer how real women wear clothes, how style can be effected in the real world, where one desires both the proper impact but not the fuss and spectacle of runway fashion (which, it cannot be emphasized enough, is not meant to be worn). For me, one formula that never fails is the perfect pair of pants, flattering in its fit and integrating with any variety of tops, with just the right pair of shoes. Get these two aligned in just proportion and as aesthetic complements, and the outfit is almost certain to cohere. And, because formulae do require illustration, here are mine...


Midnight navy wool Vanessa Bruno trousers, with a crisp pleat down the center and a modest straight leg, paired with zebra-printed calf-hair ballet flats from Alaia. The silhouette is stolen somewhat from Audrey Hepburn, an inevitability, perhaps. These are a cool-weather combination, because of the weight of the wool, but they manage nearly every top I own. My favorite neutral is navy—I wear neither black nor brown—and animal print in low doses is extremely wearable. A black-and-white check trench coat picks up the theme, and you can easily surmise that the top is rendered quite superfluous. My only concern is preserving these flats; I've nearly worn them down to the ground, so exquisitely comfortable from the first.


I dream of Manolos, but let's face it, we all live in our flats. I'm looking forward to wearing my white Lucky Brand jeans again, not soiled yet, currently the only denim I own (I'm very proud of the deficit of casual wear in my wardrobe). I've only recently discovered their ideal counterpart, however, as the ballet flats were too precious: silver gladiator sandals from Emu, by name of Bellbrae. A metallic flash, I find, is refreshing with warm-weather casuals, and nothing says summer quite equal to white jeans. Like any flat proper to its cause, these ultimately recommend themselves in terms of comfort rather than style, with a little sheepskin for cushioning. They also show off a nice pedicure excellently.


So sensible is the appeal of the classic black pump that it defies true utility. The gods of shopping are whimsical, and often it is the most unlikely objects, say, zebra ballet flats or antiquated low-support basketball sneakers, that in use prove the height of fashion. I'm very happy to report that these Manolo Blahnik Butterfly have borne their promise of utility. I'll have to get them resoled and cleaned soon. With plenty of toe cleavage gathering to an erotic point, they sharpen the silhouette of a voluminous J. Crew menswear trouser, and yet are kindred spirits in classical appeal.


I don't like to wear denim without special cause, so you can imagine my excitement upon spying these sapphire corduroys, a more textured alternative, from J. Crew, in that rarest of offerings, the wide leg. My sole caveat is that my tailor, when taking in the waist, ruined the properly baggy drape—now these pants are neither here nor there. Nostalgia for the 90s may mislead better judgment, but it strikes me that nothing better balances the fashion sneaker than boy pants. Chucks are the epitome of hipster—high brow masquerading as low brow masquerading as high brow masquerading as low brow—not to mention they are murder on your feet until thoroughly broken in—but if you must be casual, if you must be cool, nothing feels more just. Pale pink is my third; I wish I could have found the skull print.


These slate suede Roberto del Carlo boots were my first luxury purchase (ever), but they languished for the absence of the ideal pairing. This golden wheat velvet is a skirt, and I'd love to find pants in such a shade—no luck yet. They're weather-proofed and crepe-soled; in spite of the heel they were my go-to shoe during a freakishly snowy Seoul winter.

Labels: azzedine alaia, closet confidential, converse, emu, j crew, lucky brand, manolo blahnik, roberto del carlo, vanessa bruno
3/11/2010 [0]
Perfume Notes: Chemistry
by Dorothy
Like most of the Internet, I love this Old Spice commercial:





So archly funny and, unlike the craptastic Brut ads from last year, it plays on the "manly man" concept without being misogynistic, homophobic, or 10 years behind the times (mocking boybands in 2009?

Really?

).


Except that the premise of the ad, useful as it is from a marketing perspective, is flawed: in my experience, it's not that easy to stop a man from smelling like a man. Men and women apparently sweat a bit differently, but I've smelled a number of men just out of the shower, having used various girly bath products, and they still smell like men, not women. My boyfriend uses Dial almond body wash, which smells like a very low-rent take on Hypnotic Poison, and he still smells like a man. And I don't smell like a man, even when wearing Pour Monsieur, Guerlain Vetiver, or Troisième Homme.

(Of course, since North American culture still generally mistrusts femininity in men, it's far more socially acceptable for me to wear Pour Monsieur than for my boyfriend to wear Hypnotic Poison. More's the pity.)

Having this background, I was surprised to read in Turin and Sanchez's

Perfumes: The Guide

that skin chemistry doesn't affect perfume, or affects only the top notes, as this isn't my experience at all. Not only do women smell different from men, but we vary as individuals: plenty of people report that their skin amplifies some notes in perfumes and "disappears" others.

On my skin, most roses turn sour and boozy, even those that have a reputation for softness. Jasmine and tuberose have to be quite strong and indolic not to turn metallic and irritating, like the feeling of aluminum foil between one's teeth (hedione is apparently not my friend); green florals frequently turn into syrup or potpourri. But the real demon is melon. Le Parfum de Thérèse, widely loved for its jasmine and fruit salad aspects, smells utterly vile on me, like watermelon-flavoured Jolly Ranchers sucked on and spit out. And yet this is a very well-regarded scent: I have to conclude that it's my skin or my nose altering it this way.

This is what's especially difficult about writing about perfume, I think: most of us can see the same basic range of colours and call them the same things, and even guess, based on looking at each other, which makeup will flatter and which won't. But noses and skin chemistry are individual and not easily predicted; perfume really has to be tested.

Labels: old spice, perfume notes
3/10/2010 [1]
Beauty Notes: The Beautiful Bruise
by The Kindly One

I've recently developed a strong appreciation for the combination of brown and blue eye makeup. It's an unexpected pairing. One wouldn't think it would work so well, but the blue adds dimension to a brown smoky eye, as well as a vibrant pop. I am particularly fond of the blue glitter liner used here by Xteener. It's a beautiful shade of blue, and the pairing with the brown keeps the whole look sophisticated rather than tacky. Personally, I've never had the personality that could carry glitter liner, but if you can wear it and rock it, I say go for it, particularly if the end result is as refined as this. For a more subdued look, though, you could also try brown shadow paired with sky blue, as seen at Elle's Video Star.

Labels: beauty notes, elle, xteener
3/09/2010 [2]
Bestsellers: SK-II
by Dain
Not all bestsellers are cult classics. Next to basics like Definicils, as staunchly utilitarian and meticulously calibrated as a Volvo, you've got your sleek, expensive little sportscars: luxury skincare. Any skeptic penetrates easily through the hype—sumptuous textures, mythic ingredients, heavy and ornate packaging, extensive propaganda—a $300 cream is just not likely to support objective analysis very well. If you've paid these prices, however, you are more apt to be appreciative. Like most faiths, it is the believers who are most rewarded: in terms of quality, the products from a luxury brand are perfectly legitimate formulae. If the jump from drugstore to Neiman's isn't quite represented substantively... oh well. It's your money, and your decision to make.

As a skeptic rather than a believer, my forays into luxury skincare have been limited to single products, intensively researched and tested prior to purchase, never the entire package at once. Since this series would not be complete with one insanely expensive, utterly frivolous, so-called miracle wünderprodukt, I chose SK-II, arbitrarily, largely motivated by the massive hype that surrounds the brand here in Asia.




In the west, following the tradition of employing well-respected and flawless-complexioned actresses, the spokesmodel for SK-II is of course Cate Blanchett.

The linchpin of the line is the Facial Treatment Essence ($100-195), the "holy water", a cocktail of humectants arranged around Pitera, the fabled ingredient that provides the gravitational pull for this particular planetary system. The legend, if you haven't heard it, of the workers of sake factories and their exposure to the fermenting broth, supplies great charm. SK-II makes no effort to disguise the distinctively yeasty odor, a masterstroke of consumer psychology reinforced by the SAs who urge the consumer's indulgence. I can report nothing whatsoever on Pitera's efficacy as an anti-aging, sebum-balancing, texture-refining, super-brightening panacea—treatments are best reserved for problematic skin—mine simply registers it as a mild irritant.
pitera (Saccharomycopsis ferment filtrate), ethylhexyl isononanoate, hydrogenated coco-glycerides, sorbitan stearate, glyceryl stearate, PEG-100 stearate, cholesteryl hydroxystearate, myristyl alcohol, PEG-40 stearate, triethylhexanoin, tocopherol, water, sodium hyaluronate, hydrogenated lecithin, batyl alcohol, carbomer, polysorbate 65, sodium hydroxide, butylparaben, methylparaben, phenoxyethanol, propylparaben, butylene glycol, squalane, neopentyl glycol diethylhexanoate, glycerin, jojoba seed oil (Simmondsia chinensis), myristyl myristate, C10-30 cholesterol/lanosterol esters
Otherwise, the Facial Treatment Essence behaves in much the same manner of other Asian "softeners", in texture akin to the western "toner" but functionally a different breed. A toner clears the skin of leftover residue, a service rendered obsolete by the double-cleansing method (an oil-based makeup remover followed by a dense foam cleanser) espoused by most Asian brands; a softener by contrast is a high concentration of moisture-binding agents, applied in surfeit, to saturate the top layers of the skin and improve the penetrative capacities of pricey treatments and moisturizers. Hence, there is a trick to manipulating the Facial Treatment Essence: I saturate strong, gauze-thin cotton tissue (an entire teaspoon is recommended), less messy than fingers alone but far less absorbent than regular pads, to pat in gently (including eyes), and layer the next product while the skin is still damp.

The packaging, matte glass in counterpoint to red lettering and shiny silver metal, is almost demure.


My first entry into SK-II, however, was the Facial Treatment UV Protection SPF 25 PA++, a slightly matte, unscented emulsion that makes a nice base under makeup—quite the ideal daily sunscreen. Horrified by the expense? Me too. But sure as hell, I will be using this stuff up, and hopefully will turn sunscreen into a regular habit. Unfortunately, SK-II does not have consistent distribution throughout the world, and I do not believe this particular product is available in the US; instead, there is the Advanced UV Protect Essence SPF 15... I know.


On my dry skin, the featherlight UV Protection SPF 25 PA++ is quite insufficient; I returned to the counters again in search of a moisturizer. With prices ranging from $125 to $350, theoretical anti-aging provides the main conceptual thrust. Since "anti-aging" translates into nutrition-rich hydration, I expected to have little difficulty finding a product appropriate to my skin. Instead, I found myself dazzled and confused by the sheer array of serums and creams SK-II offers, nearly impossible to navigate without the intervention of an SA—what if you chose the wrong $200 cream!?—an idiom frequently seen throughout luxury skincare. I was loaded with generous samples of the relatively modest Signs Nourishing Cream ($160): a stiff, thick cream best reserved for nighttime use, humectant-rich (and therefore slightly sticky in residue unless given ample time to absorb), in deference to the Asian distaste for emollient textures. The tiniest dab goes a long way. In terms of performance, it is merely good-to-decent, very easily preempted by moisturizers at a mere sliver of the price, but you cannot deny the enormous sense of well-being that's contained in that attractive red jar.


As an alternate possibility, I also received a sample of the Blanchett-favored Facial Treatment Repair C ($160), though deservedly a bestseller for more concrete reasons. Repair C is a weightless yet powerful hydrator with four times the concentration of the Facial Treatment Essence. If Pitera works for you, this product is an investment in active ingredients. Indeed, my fragile, reactive skin, which barely tolerates Pitera at lower concentrations, testifies to its potency as nascent clogs flare into full-blown acne, in an orgy of irritation. I should add that Repair C is not a formula likely to be comedogenic; it is a beautiful product, on its own or to boost a richer cream. Luckily for me, I have good reason to avoid the expense.

Truly, the placebo effect inherent to the glamour of luxury skincare is in full force here. The C stands for "concentrated", not "vitamin C". There is unfortunately an echo that reverberates through reviews of this product, that complains that the percentage of vitamin C should be stated on the label, even going so far as to demand whether it is the stable form! Fer chrissakes...

Finally, the Facial Treatment Clear Lotion ($60), in which I have no personal interest, but would recommend as a mild chemical exfoliant (malic, lactic, and salicylic acids), a bona-fide toner used before the Facial Treatment Essence to facilitate the penetration of other products, in the same way that a scrub beforehand improves the performance of a mask. It is alcohol free, and like most of the SK-II line, features that Pitera-plus-humectants combination that sells so well.

The bottom line? The SK-II line was a heady little seduction, but like all beauty bloggers, I've a magpie's inattention for the next shiny object. Now I'm focused on the delightfully kitsch, dirt-cheap Sana Nameraka Honpo. And with the humility of the straying lover, this fling into luxury skincare has only deepened my appreciation of The Face Shop's Eco-Therapy softener and serum. I don't need any Pitera in my life, and hyaluronic acid is a powerful humectant regardless of whether it comes from the factories of Shiseido or Proctor & Gamble, which owns (surprise!) SK-II.

Labels: bestsellers, sk ii
3/05/2010 [1]
Fashion Notes: Black with Brown
by The Kindly One

As with most other fashion rules - no white after Labor Day, always wear hose with dresses and skirts, no shorts after summer - the rule against wearing black with brown has been thrown out the window. The pairing of black and brown can create a very rich look. The trick is to choose a brown that has some depth. Flat, matte true browns without depth cannot create a contrast against black, causing the colors to clash. Browns with depth, meaning those that feature an undertone color, create the illusion of depth and contrast with black, allowing the colors to work in concert. There are no particular undertones that must be paired with black, though I find medium-to-deep browns with warm undertones work best as they provide the most contrast. Should you wear a couple of brown items with black, there is no need to match the browns. The more depth, the better. Rather than getting hung up on specific shades, though, it's more important to focus on the visual depth you're creating. If the outfit has depth, you're on your way. If the brown and black you're wearing seem to clash, you probably need to find a more complex brown.

Labels: fashion notes, garance dore, sartorialist
3/02/2010 [0]
Culture Notes: Kitsch
by Dain
I need a deeply hydrating, but not too emollient (I have my NARS Potent EFA for a rich cream), moisturizer to layer beneath my sunscreen. I've been looking at The Face Shop and Innisfree, but then my eye was distracted by this:



Must find... somewhere... in Korea. Plus, it sounds just about ideal for my purposes.

And what's your favorite cheesy video? This one puts a smile on my face...


Labels: culture notes, dschinghis khan, sana
3/01/2010 [0]
Subscribe to
Posts [Atom]. Or
follow on bloglovin'. If
you'd like to contact Dain,
feel free to email me.
I'm also on Pinterest.
Features

The Mnemonic Sense
Most Wanted
The Beauty Primer
Lookbook
Bestsellers
Consumer Diaries
Closet Confidential
On The Label
Beauty Notebook
The Hit List
Color Me In
The Makeup Artist
Wedding Bells
Globe Trotter
Desert Island
perfume notes
beauty notes
fashion notes
culture notes
minimalism
chypre arc
floral arc
fresh arc
masculines arc
gourmands
& orientals arc
Archives

August 2008
September 2008
October 2008
November 2008
December 2008
January 2009
February 2009
March 2009
April 2009
May 2009
June 2009
July 2009
August 2009
September 2009
October 2009
November 2009
December 2009
January 2010
February 2010
March 2010
April 2010
May 2010
June 2010
August 2010
September 2010
October 2010
November 2010
December 2010
January 2011
February 2011
March 2011
April 2011
May 2011
June 2011
July 2011
August 2011
September 2011
October 2011
November 2011
December 2011
January 2012
February 2012
April 2012
May 2012
June 2012
July 2012
August 2012
September 2012
October 2012
November 2012
December 2012
January 2013
February 2013
March 2013
June 2013
July 2013
Images

Photobucket